Tripawds Community member thulshof1979 is recipient #76 of the Maggie Moo Fund for Tripawd Rehab. Read on for details about the benefits of free rehab including canine buja board exercises for three-legged terrier Benji, and learn how you can get a free veterinary rehab evaluation for your dog or cat.

See all Tripawds who have received free rehab sessions thanks to your support.
Canine Rehab Includes Buja Board Exercises for Benji
Benji is a 5 year old Maltese terrier mix. On January 6th we got hit by a truck while crossing the street in a crosswalk. Due to the accident, two days later the vet amputated his back left leg. Thanks to Shari Sprague, his physical therapist at PUP Rehab, he is doing much better. He gets around just fine, goes on walks and he even did great on a trail the other day! He was given 10 exercises to do. I am supposed to do 5 one day and then the other 5 the next day then give him two days off.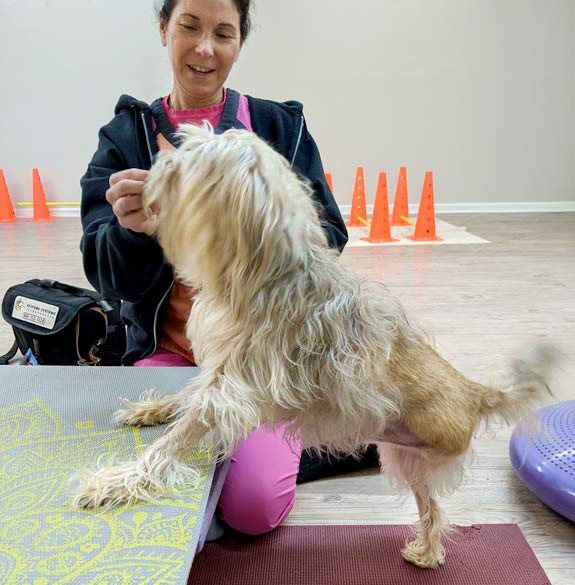 The exercises I do are, sit to down, sit to stand, high 5, high 10, circles, cookie stretches while on his buja board, balance two front paws on buja board, balance all 3 paws on buja board and circle in the opposite direction. I found details on the Tripawds Downloads website on how to make a buja board. It was very helpful and the board is a great asset as well.
From this physical therapy experience I learned how beneficial therapy really is. She took me through each exercise and explained how to do each one. I need to keep doing his exercises to make sure he stays fit muscularly. I can't just take Benji for walks and expect him to be at his best. Now, since he is a Tripawd I have to take extra care of him. He needs his exercises to build strength in his remaining muscles. Without the physical therapist, Shari Sprague I wouldn't know how to strengthen his muscles. She really is knowledgeable in her field and is a great asset to Benji's recovery.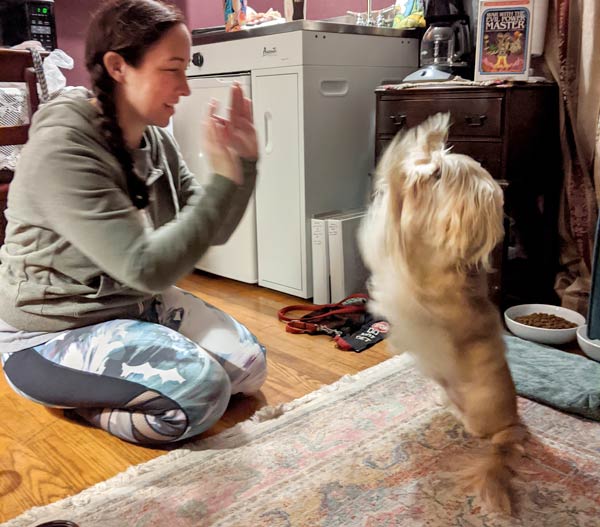 My time at the physical therapist was invaluable. I am so glad I made the appointment and went and saw her. I recommend her to anyone who needs a dog physical therapist.
Thank you,
~ Tracie and Benj (aka: thulshof1979)