Tripawds Community member puma is recipient #75 of the Maggie Moo Fund for Tripawd Rehab. Read on for details about the benefits of free canine rehabilitation session for three-legged Greyhound Puma, and learn how you can get a free veterinary rehab evaluation for your dog or cat.

See all Tripawds who have received free rehab sessions thanks to your support.
Free Canine Rehab for Three Legged Greyhound Puma
I'm writing to describe the initial rehabilitation consultation we had with our dog, Puma, a 12 year-old three-legged greyhound. We took Puma to Animotion, a certified animal rehab facility located in Stoughton, Massachusetts where she is going to primarily be working with Dr. Laurien Bean.
This was Puma's first visit to Animotion.
This was only Puma's second week as a Tripawd.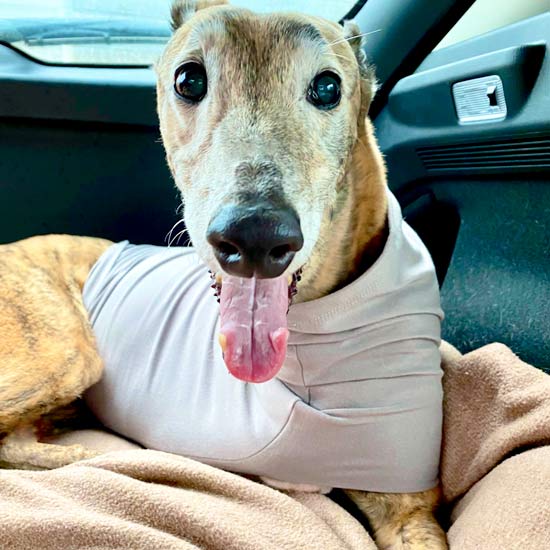 Puma's Canine Rehab Rehab Essay
We adopted Puma from a local Greyhound Rescue Association ten years ago. She was a racer but luckily for all of us, she wasn't very good and retired at the age of two. She likes to sprint and does zoomies around the yard in all weather. Well, she used to, up until about a month ago.
A little over a month ago, we were walking down the stairs and she yelped and froze. She refused to budge and I had to carry her back inside. She limped quite a bit the next day, favoring her right front leg. We assumed she must have pulled a muscle or strained something somehow. We put a heating pad on her leg, gave her some pain medication and she improved. But after a few days, she was still limping slightly so we took her to the vet. Puma was examined and. x-rays were taken. The diagnosis, osteosarcoma in her right front shoulder.
This cancer spreads very quickly so we acted fast. Within two weeks, her surgery was performed at the MSPCA Angell Animal Medical Hospital.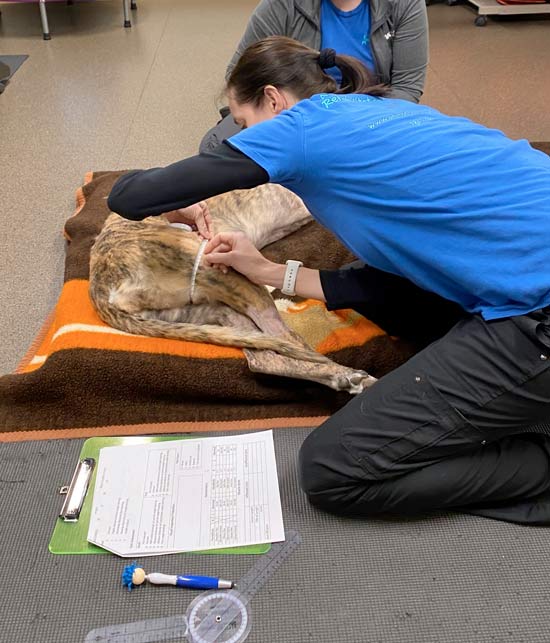 Puma is doing remarkably well. Dr. Bean even confirmed it, telling us that she is an ideal candidate for a Tripawd dog. I never doubted it. I knew this was the right decision the moment I was given the options.
An ideal Tripawd candidate is lean but with good muscle tone and good flexibility. Throughout most of the consultation, Dr. Bean focused on measurements and flexibility. She measured the width of Puma's leg muscles and she rotated each joint feeling for arthritis. Then she measured the range of Puma's movement for each joint. She used what looked like a rotating protractor to see how far Puma could stretch each leg out and how tightly she could contract. Dr. Bean recorded these measurements for Puma's hips knees, ankles and wrist. She then watched Puma walk and examined her spine. The rest of the consultation was spent talking to us about Puma's history, her diagnosis, and the specifics of our home and yard.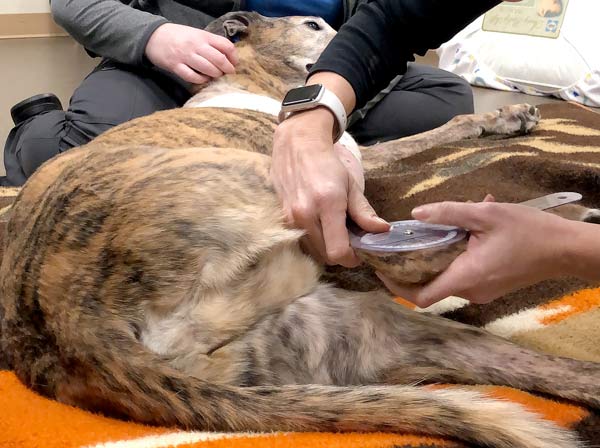 We will be returning with Puma once a week to continue working on her balance, agility and to strengthen her core. She'll be working on climbing up and down ramps, working on balance balls and doing figure eights through a series of cones, among other objects. She'll also be utilizing hydrotherapy by walking and eventually jogging on the underwater treadmill. The buoyancy in their exercise pool can be changed to accommodate her missing leg.
In the meantime, one of the best things we can do for Puma at home is massage. Dr. Bean showed us how to rub Puma's spine and remaining legs, keeping one hand on her body at all times to keep her relaxed. She showed us areas that can become especially tense with a front leg amputee. Puma seems to really enjoy it in the evenings.
After six weeks, Dr. Bean will take all the same measurements again that she took at our initial consultation and compare them. We'll be able to see how Puma is improving, if Puma is improving. Then we'll continue with or revise our plan accordingly.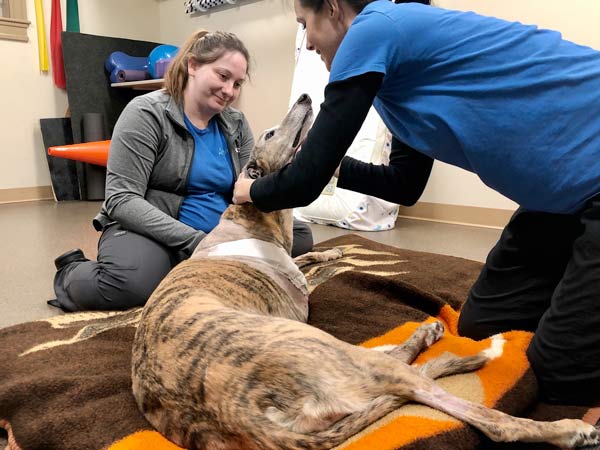 I think what we've learned the most is the importance of finding a certified rehabilitation expert, the importance of thinking outside the box, and not just settling for alright, but striving for her quality of life to be better and better for as long as possible.
Thank you for taking an interest in our precious girl. If you'd like to learn more about her journey as a new member to the Tripawd society, she and her sister can be found on Instagram as @puma.and.henry
~ Gregg, Britta and Puma (aka: puma)