The Tripawds Foundation ASAP grant #35 goes to Tripawds member chrishays1 to help pay for tri-kitty Franklin's hind leg amputation surgery. Read on for her story, and learn more about the Tripawds Amputation Surgery Assistance Program to see if you qualify for pet amputation financial assistance.

This grant is made possible by the charitable contributions of Tripawds fans like you. Thank you for your support!
Franklin's Feline Amputation Tale
I believe that my cat, Franklin, is one of the best cats ever. He was born among a litter of six, and although it seemed at first that he was as healthy as the rest of his siblings, that was not the case. When it came time to start walking, the other five kittens were already running around and playing, and Frank could only lay with his back legs extending awkwardly outwards behind him. We could not determine why he was not able to use his hind legs, and we were unsure that he would ever be able to. He crawled around using his front legs for a while, and one of my daughters said that he looked like a turtle when he moved.
I suddenly remembered a program the kids used to watch all the time when they were younger about a turtle named "Franklin"; 'Hey it's Franklin, coming over to my house'. He showed so much determination and sure enough, he eventually learned how to use his back legs and began to walk.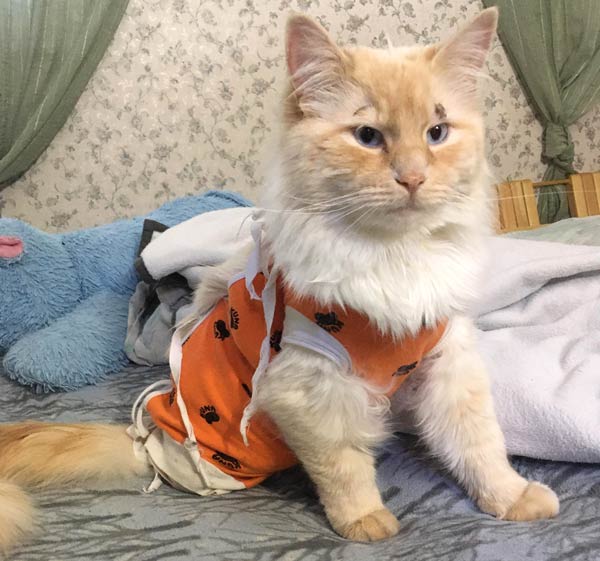 Of course, we could not give him away. Since then, it has been about two years and Frank has proved to be an amazing cat. He has constantly given us so much love and he can be quite the comedian. It was incredibly devastating when he was found in the ditch beside the highway. He was barely alive. We had wrapped him up in a blanket and carried him home, but we could not bring him to the vet until the next morning. Unsure of what happened and what his injuries were, we felt helpless. Once we had brought him to the vet, he was examined, and Dr. Ruth determined that Frank had been hit by a car and his hind leg was badly broken. Our only option was amputation. He also had fluid surrounding his heart from the impact of the car that hit him, which needed to be stabilized before the vets could successfully amputate his leg.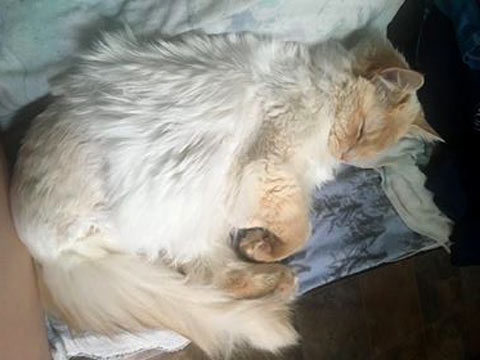 At this point I needed to make a decision. I had the responsibility to do as much as I can for Frank and the rest was up to him. If he survived the operation of draining the fluid from around his heart, then I knew he had the will to live. The next day, we were told he did great with the first stage of the process, and that they were now going to go ahead with the surgery. I admit that I was a little hesitant at first, as I did wonder what the quality of his life would be with only three legs. Regardless, I told Dr. Ruth to go ahead with the amputation.
I immediately searched the internet for stories about living with a three-legged cat and maybe possible help with the hefty vet bill, and I came across Tripawds. Reading about other animals that had three legs gave me confidence that everything would be perfectly fine. As soon as he came back home, I knew I made the right choice. He sadly does need to be an indoor cat now, but he is still as loving as a cat could be. We let him roam in a little fenced out area outside, which he looks forward to every day.
His recovery has been good so far, and he is learning how to walk all over again. He is a very happy cat, but it will still take him a long time to be as nimble as he once was. Thank you Tripawds for helping me realize "if there's a will, there's a way", and letting others share their experiences that gave me the confidence in Franklin.
~ Chris & Franklin (aka: chrishays1)