Tripawds Community member tobae is recipient #78 of the Maggie Moo Fund for Tripawd Rehab. Read on for details about the benefits of free canine rehab for Tripawd dog Toby, and learn how you can get a free veterinary rehab evaluation for your dog or cat.

See all Tripawds who have received free rehab sessions thanks to your support.
Toby's Canine Rehabilitation Story
My name is Toby, and I am a five-year-old mini aussie. I am an agility runner, frisbee catcher, good boy, momma's boy, tricolored, and I am also a Tripawd. When I was four, I slipped my collar while trying to make new friends on the other side of the road, but I didn't make it all the way without an accident. Luckily, my momma acted quickly and took me to the nice emergency vets, and next thing I knew, I was a Tripawd. Although I gave her and dad quite the scare, I healed from my amputation quickly and adjusted to Tripawd life even quicker.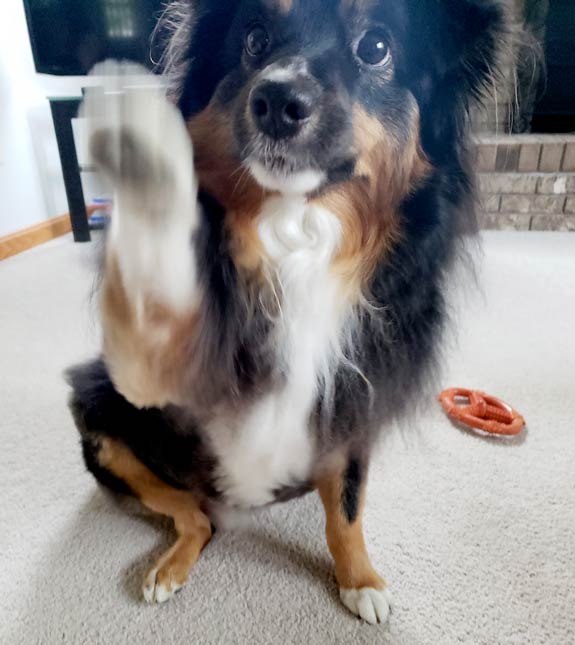 Now, we still run agility, I just don't run as long, jump as high, or climb as steep. Our walks are quite a bit shorter and re-routed so the terrain is the sidewalk over the trails, but I still love them. Recently, we visited Dr. Christine Nestor at Balance Veterinary Rehabilitation Services to assess how I was adjusting to the Tripawd life during my first canine rehabilitation consultation. Mom saw I was slowing down just a bit and wanted to ensure there wasn't any under laying pain or discomfort. Dr. Nestor informed mom that I was the "ideal" Tripawd, having a rear leg amputated, and was overall in great physical health. I had no trigger or pressure points along my spine, great mobility, and healthy joints; she even measured me with a compass! At the end, we cooled off with some hydrotherapy.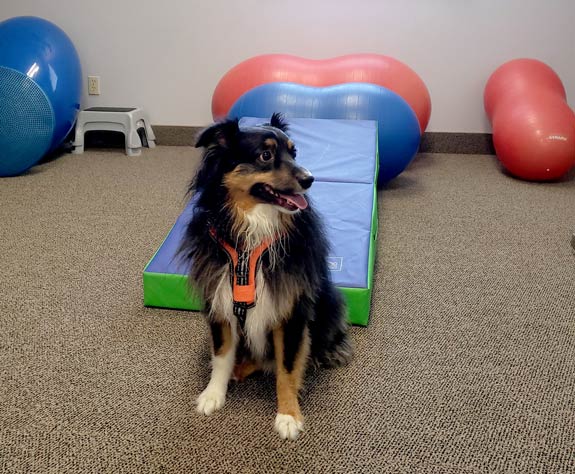 Although we received a clean bill of health, we learned a lot about Tripawd life! We were always worried about the back leg that was left after the accident, we learned how much the remaining front legs were working overtime too. We didn't think about them much before this. We also learned that with my new stride/gate, I wasn't getting a lot of full motion in any of my joints, so stretching them is important. Because of this, we were given exercises like, paw extensions, bowing, biscuit hips. Dr. Nestor also gave us stretches that work my elbow and hip joints where mom has to do most of the work while I sit nice and relaxed. Mom also learned how to give me great massages up and down my spine.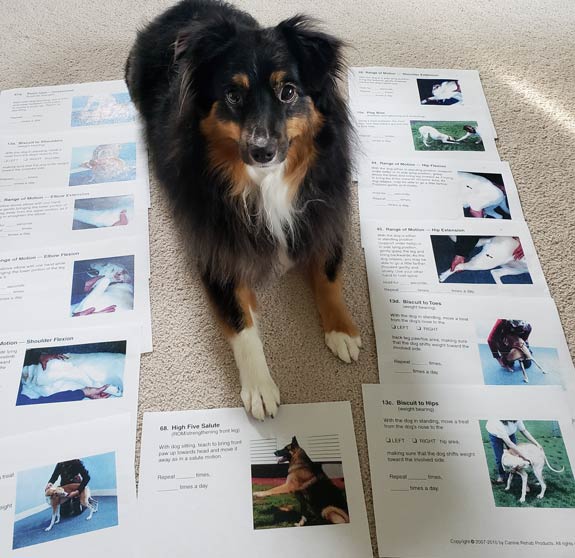 My user name at Tripawds is tobae, but I am not an active blogger, I just like to read the other stories and learn more about other Tripawds. If you would like to see more, I'm on Instagram @to.bae.thetripawd. I am much better with pictures than words.
Kiss and Snuggles,
~Toby and the Murosky's (aka: tobae)