Fundraisers help Tripawds resources remain free and keep the community online. The best campaigns are party fundraisers hosted by you. Never underestimate the power of community and connections, when it comes to supporting the Tripawds Foundation.
Pampered Chef Party Fundraiser Helps Tripawds
Did you participate in the recent Team WAG Pampered Chef Party Fundraiser? If not, that's okay, there are always plenty of opportunities to help keep the Tripawds community online! If you like to cook, and enjoy using quality kitchen gear, check out Sandy's Pampered Chef Shop to see what you missed. And tell her Tripawds sent you. 🙂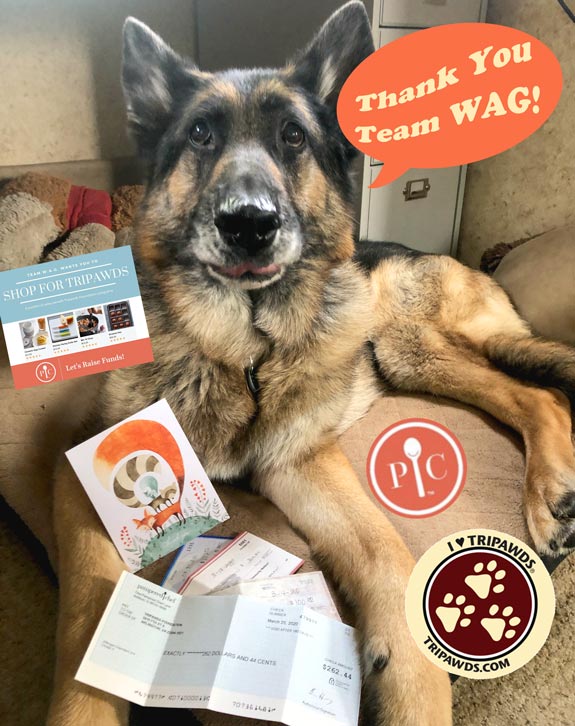 Team WAG helped raise $850 during their Pampered Chef Party. Many foodie fans saved on high quality kitchen gear while having fun shopping – knowing that a portion of proceeds from the party fundraiser were going to help maintain Tripawds assistance programs.
But here's the kicker: More donations came in from the party fundraiser than were raised from actual product sales. That is the power of community in action!

Host a Party to Help Tripawds
By hosting a party fundraiser, you can help raise awareness about the Tripawds Foundation and directly help amputee pets and their people everywhere. Are you a Pampered Chef or Scentsy representative? Do you have a PartyLite store? Are you a Creative Memories advisor or Mary Kay consultant?
Contact Tripawds now with your party fundraiser idea, and we will promote sales through the Tripawds blogs, forums, and social media channels. Together we can help Tripawds and their people everywhere!