The Tripawds Foundation ASAP grant #37 goes to Tripawds member joyflyer to help pay for Tripod Cat Dash's rear leg amputation surgery. Read on for his story, and learn more about the Tripawds Amputation Surgery Assistance Program to see if you qualify for pet amputation financial assistance.

This grant is made possible by the charitable contributions of Tripawds fans like you. Thank you for your support!
Financial Help for Tripawd Cat Dash
I'd like to introduce Dash. He's been our outdoor kitty for a couple years now, excitedly greeting us every time we'd come and go from the house, but a few weeks ago he came home and wouldn't use his back right foot.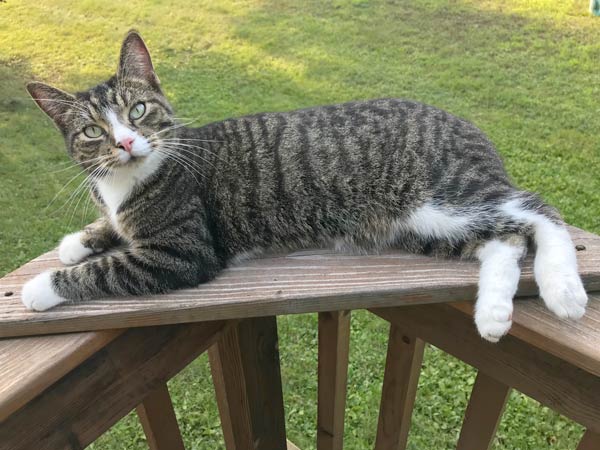 I couldn't see any obvious injury so I thought it might have been a sprain but after a few days of rest and ice and no improvement we went to the vet, at that point I had also noticed a small cut on his foot. The x-rays showed no broken bones, so we went home with antibiotics, pain meds, and a cone.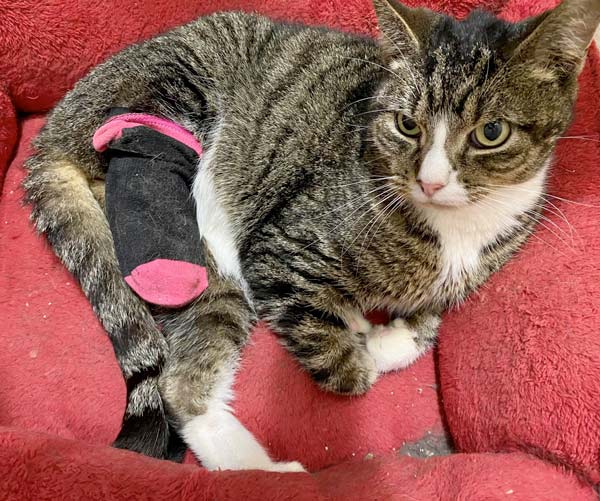 By the time of the follow up visit the infection had actually gotten worse and his foot was starting to hang weird/misaligned. I put a sock on his foot after it … uh popped? There was so much pus everywhere I thought he had peed on me at first. An added benefit of the sock is that we could get rid of the cone for a while. My dormant cat allergy had returned since he wasn't able to groom himself so I wanted that cone off just as much as he did.
It was at his follow up visit that we decided he needed to have his leg amputated. In addition to the worsening infection it appeared that he had some sort of soft tissue/tendon damage in the joint and corrective surgery would have been too expensive and had low chances of success according to the vet.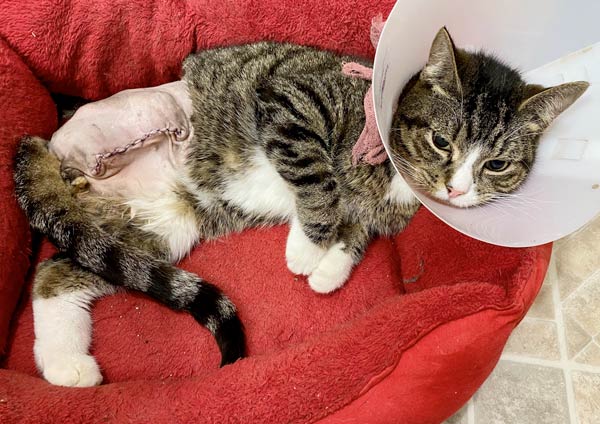 Since his amputation, Dash seems to be feeling a lot better. His pain has gone down and he's purring and smiling again. He's still a little unsteady but he's already running/hopping around the house. I'm glad to say we have our happy little idiot back again.
I'm so grateful for the Tripawds community. I've already learned so much here while preparing for Dash's future as a tripod kitty.
~ Cassie and Dash (aka: joyflyer)