Tripawds Community member Spohnge911 is recipient #81 of the Maggie Moo Fund for Tripawd Rehab. Read on for details about the benefits of a free canine rehab session for three-legged dog Mogul, and learn how you can get a free veterinary rehab evaluation for your dog or cat.

See all Tripawds who have received free rehab sessions thanks to your support.
Mogul is a 9 year old Pitbull-Rottweiler mix (His 10th birthday is actually next week-July 29th!). He was diagnosed with bone cancer Exactly 2 months ago this week after I noticed a large and hard tumor protruding from his left shoulder blade/scapula and his limping had significantly increased. I never would have thought anything more than arthritis getting worse with old age for a large dog, had it not been for a big tumor popping up so quickly.
After speaking with an oncologist and surgeon after more scans to make sure his chest was clear, I was told he was a candidate for several options. When I said that the ONLY option for me is to relieve him of pain and maintain the best quality of life he can possibly have, they told me that amputation would be the best route to go.
I decided to amputate without doing a biopsy first since we had ruled out valley fever and it was presumed osteosarcoma. A week after amp we had confirmation of chondrosarcoma. (I know cancer isn't something to be excited about but this type over osteosarcoma was a better prognosis and I'm counting that as a reason to celebrate!).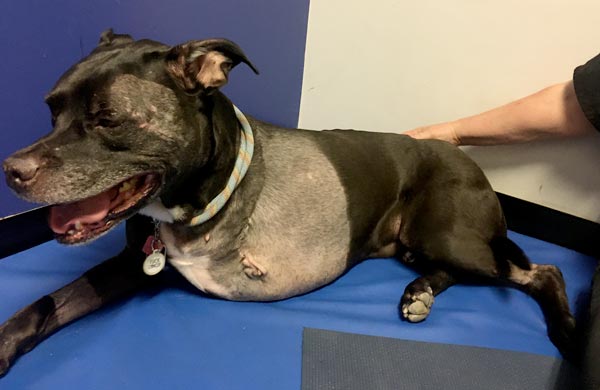 Mogul's Canine Rehab Session
We are officially one month post amputation. We are taking things one day at a time and Mogul seems to be getting stronger every day. I decided to get a consult with a CCRT/PT (Jane MacGregor) The K9 BodyShop.
In our initial consult she showed me how to massage Mogul and work on strengthening his core. I am doing massage at home 1-2x's/day for around 10 min each session. I am massaging the muscles along both sides of the spine while I gradually progress towards the pelvis.
I begin at the neck and work my way down towards the pelvis. I look for signs from dog if pressure is too much (if he tries to get up/turns around to lick my hand, looks uncomfortable, etc). She told me that the softer the muscles become, the more pressure I can apply comfortably. I massage in circles longitudinally along the spine.
When I get to the end of the rib cage, I move my hand down toward the sides and massage the mass of muscles between the ribs and hind legs. (Oblique muscles since they are part of the abdominal muscles). She told me that they are frequently very tight when the back is painful/not moving well.
Once I finish massaging Mogul, I bring my hand back to the base of his tail. Following the natural line of the spine/pelvis/tail; I begin pulling his tail, gradually increasing strength of the pull (I try to do at least 3 minutes if he will tolerate it and if I need a quick break between I slowly release the pull so he doesn't suffer pain caused by fast release/rebounding of the spine).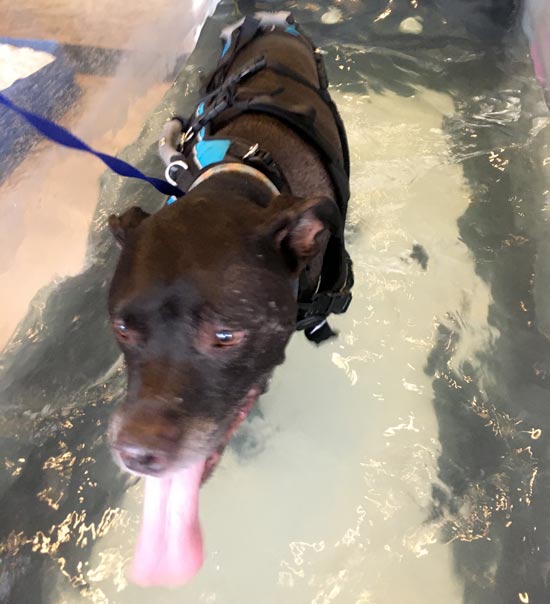 For scar mobilization:
Place 2 thumbs on either side of scar and gently move them together to "pucker" scar and surrounding skin. I move my thumbs to roll skin from one side to the other along entire length of incision scar.
Core strengthening:
Rhythmic Stabilization- with Mogul in standing position I apply gentle force to the trunk area in one direction and then quickly in opposite direction (but not so much force as to knock him over!)
I typically do this while he is standing to eat since it's the easiest way for me to get him to stand for a prolonged period these days!
Eventually I'll start putting him on my blow-up camping pad and play with the amount of inflation to make it harder for him.
On top of all of these at home techniques (I am supposed to be doing everyday) I've decided to do hydrotherapy once a week to help build his confidence and with his new gait. Every other hydrotherapy session Jane will do some massage and manipulations on Mogul.
We actually had our first hydrotherapy session today and he did great with some treat and frisbee motivation! He's completely pooped now.
What I learned most from this canine rehab session session was how to read my dogs body language/signs of pain. What I've learned from this entire experience is how resilient dogs are! They are so amazing and mogul continues to surpass all of my expectations!
I actually heard about Tripawds from a Facebook bone cancer support group and I am so glad I did! There have been so many inspiring stories that have helped keep me positive and tips and tricks that have been so useful!
Thank you so much for all the stories and support for this tripawd squad!
~ Gretchen and Mogul (aka: Spohnge911)