Calling all Teddy the Dog fans! Have you heard? 😮 Your favorite hound of great renown is showing his love for Tripawds everywhere. That's right, the cool canine with the witty and clever spin on all things dog is supporting the Tripawds Foundation with a fun new donation graphic for the full month of August! This month, August 2020, that is. 🙂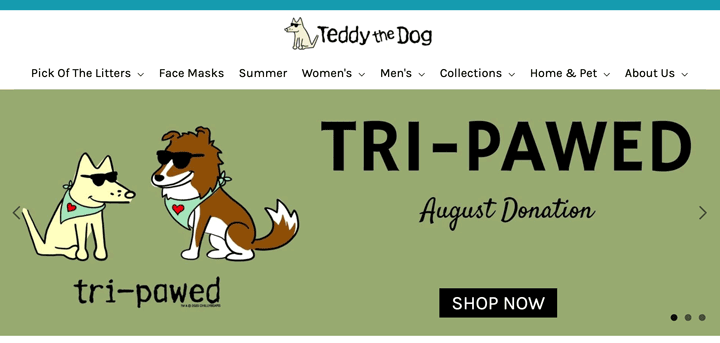 What an honor it is to have Teddy and his people select the Tripawds Foundation for this month's donation graphic. As expected, they came up with this cool design reflecting the fun spirit of tri-pawed dogs. Introducing…
Teddy the Dog TRI-PAWED T-shirts
Imagine our surprise when we received an email from one of the coolest pups on the planet – at least on the interwebs. Teddy the Dog had his crew reach out to us with this exciting news.
"…we are going to be launching a donation graphic during the month of August called "Tri-Pawed" for tri pawed dogs and we would love to donate to your organization."
How cool is that!? Now, you can get a cool Teddy the Dog T and help Tripawds everywhere!  This limited edition Teddy the Dog Tri-Pawed T-shirt graphic collection is only available from August 3rd until Monday, August 31, 2020. And these fine folks will be donating $3 from every item sold in this collection to help support Tripawds Foundation fundraising efforts.

"…we are very excited to be donating to your organization!"
We're excited too! Now it's you're turn to help spread the word.
Act Now for Tri-Pawed Apparel Featuring Teddy
So, how can you get your fun Tri-Pawed T-shirts and gifts featuring Teddy the Dog and his cool Tripawd Pal? Being a limited edition donation collection, here's how it works.
Shop Teddy the Dog apparel now to pre-order yours today! There will only be two rounds of production for the Tripawds donation graphic. The first round of orders close August 10th and start shipping August 17th. Then, the second round will close August 24th and start shipping August 31st. After that, this limited edition graphic will no longer be available, and donations to the Tripawds Foundation end. Then, we're sure Teddy will move on to helping other great causes.

So, you can be the first one at the rehab center – or the last one at the dog park – to own this cool tri-pawed t-shirt. As  result, you'll be helping to keep the Tripawds community and it's many pet amputation resources online and free for all.
Three paws up to Teddy the Dog and his people. Please share this news now so we can show the world how tri-pawed dogs and their people are as cool as Teddy!