Tripawds Community member mileyboxermix is recipient #89 of the Maggie Moo Fund for Tripawd Rehab After Amputation. Read on for details about the benefits of free canine rehab for senior Tripawd dog Miley, and learn how you can get a free veterinary rehab evaluation for your dog or cat.


Yes! Tri-kitties qualify for free feline rehab too. See all Tripawds who have received free rehab sessions thanks to your support.
Senior Tripawd Dog Miley Benefits from Free Canine Rehab
This is Miley, and my family adopted her when she was nine months old. She is a black lab/boxer mix, and she is 11 years old. Senior Tripawd dog Miley had her front left leg amputated in April 2020 due to histiocytic sarcoma. The growth was first diagnosed over two years ago as a viral papilloma. Our vet was able to extract a part of it, and the growth resolved for a few months. When the growth came back on her outside toe our vet performed another extraction. The growth came back again another few months later, and the vet removed the toe. The growth again rescinded for a few months, but then moved up to the hind pads of her paw. After the previous surgery, he said if the growth came back, then amputation is recommended.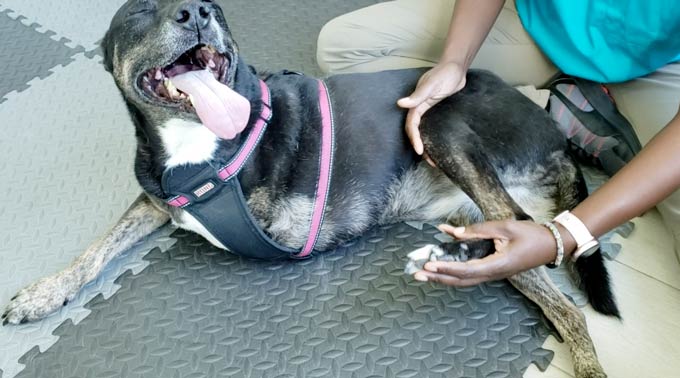 We received a second opinion from an oncology vet who recommended either amputation or chemo/radiation, but wasn't confident that chemo would be successful in shrinking the tumor enough to improve her quality of life. We decided amputation would give her the best opportunity to be pain and cancer free. Before her surgery, our orthopedic surgeon recommended Tripawds to us, and we happen to catch the first ever Zoom meeting for Tripawds. The following day, Miley had her surgery, and she did very well with her procedure and recovered well from her surgery. The surgeon sent the growth to a pathology lab, and it was determined to be a histiocytic sarcoma. She has had follow up diagnostics in August and has been given a clean bill of health.
When we noticed a change in Miley's gait and that she was losing some muscle mass in her back legs, we knew it was time to start rehab for her. We found Derriane Hope through the Canine Rehab Institute Find A Therapist website. She works at multiple locations for Tampa Bay Animal Hospital group throughout the Tampa Bay area.
Our first experience with Derriane was the beginning of an amazing journey to a better quality of life for Miley. Over a few months after her surgery, we noticed a slight gait change that left her prone to hopping with her back legs and she had a reduced range of motion in her front leg. I knew that if we didn't work on increasing her range of motion, the pounding each leg took with each hopping step would soon lead to swollen and painful joints. Miley was given a thorough evaluation before surgery that showed that she had no arthritis, and we didn't want her to develop it shortly after her surgery.
The first meeting with Derriane was so helpful in getting Miley back on track. She had a short evaluation with the veterinarian and then we took Miley on a short walk so she could see how moved. Her concerns, after a short time outside, confirmed what my wife and I had feared, that senior Tripawd Miley had developed a very stiff, hopping gait, and that we needed to slow down her walking and work with her range of motion. She recommended a short 5-minute leashed walk in the morning and evening, where Miley was encouraged to walk slowly so she would develop a more natural gait.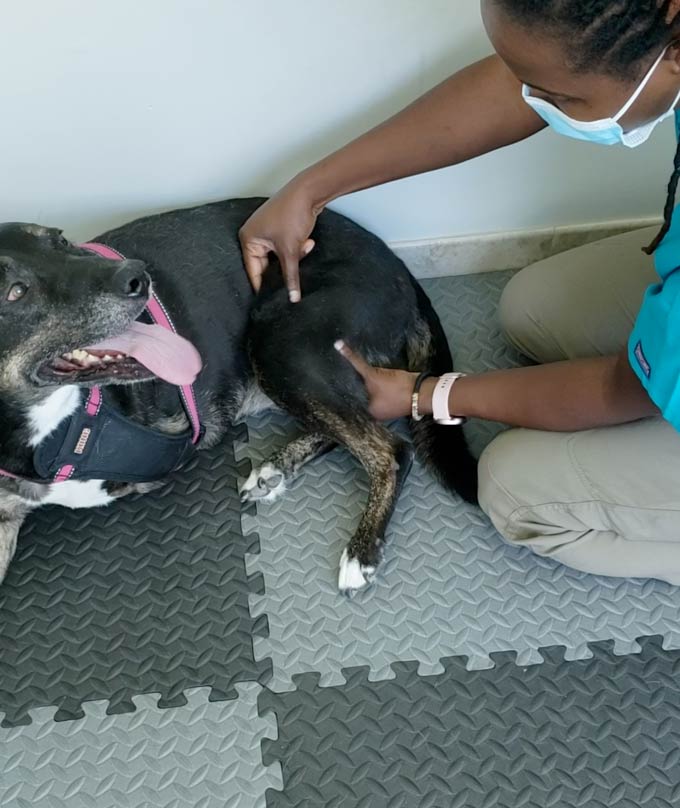 After the walk, we would have Miley lay on her operative side and we would massage her back limb for 3 minutes. She showed us how to carefully support and extend each limb, then work back to flexion, which was to be repeated 10 times with each limb. After the extension exercises, we were shown how to extend the limb towards the head and gently maneuver the limb back in passive range of motion exercises. We would do that 10 times with each limb.
Derriane asked that we do all these exercises and walking with Miley 2-3 times a day if possible. Miley was immediately responsive to the exercises, and within days, we were noticing an improvement in her walks. She is beginning to use her back legs more for support again and seems more stable in general. We are looking forward to continuing with the rehab visits so Miley will want to move around more in general and not just when necessary.
~ Kristin and Miley (aka: mileyboxermix)