Tripawds Community member mlarsson is recipient #93 of the Maggie Moo Fund for Tripawd Rehab After Amputation. Read on for details about the canine rehab exercises at home that help Tripawd dog Arnold, and learn how you can get a free veterinary rehab evaluation for your dog or cat.

Yes! Tri-kitties qualify for free feline rehab too. See all Tripawds who have received free rehab sessions thanks to your support.
Tripawd Arnold's At Home Canine Rehab Exercises
Our dog, Arnold is a tripawd. He is almost 3 years old and he is a mixed breed rescue. We have had him since he was 12 weeks old. On October 8, he was hit by a car in our neighborhood chasing after another dog. He spent about 2 weeks in the hospital and ultimately had to have his right back leg amputated. It has been a tough recovery but he has done great with his recovery now.
I researched options and issues for recovery after amputation and rehab seemed very important. We made an appointment with Paws for Rehab to have him evaluated. They are the ones who gave us information about Tripawds.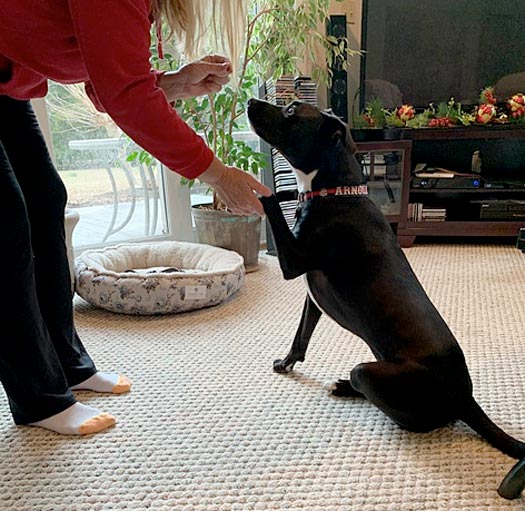 The treatment plan they developed for him, include the canine rehab exercises at home that Arnold has started on:
Shake hands – this helps strengthen the core
Commando Crawl – this exercise emphasizes spinal range of motion
Cookie stretches to the hip – this helps stretch out his spine
C-Spine Flexion sit – this also works on stretching the spine
C-Spine Extension Sit – this works on extending the spine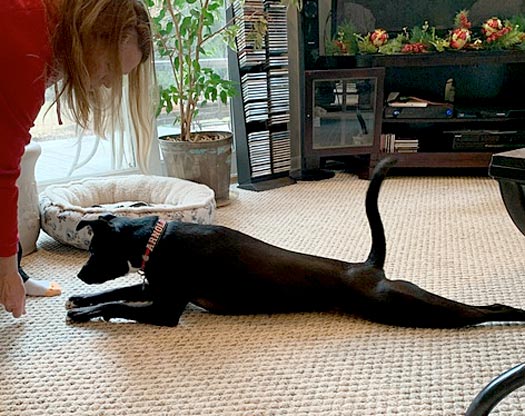 These canine rehab exercises are all to be done one to 2 times a day with him. More exercises will be given through his treatment plan but the main focus is aligning his spine and strengthening his core. He tends to lean and curve his back trying to compensate for the missing leg.
We have learned quite a bit through this experience but I think the primary thing right now is how we are to do the exercises correctly that will help him regain his strength and hopefully help him down the road not struggle with future issues like arthritis, etc. anymore than he will have to.
Thank you for the work you do. It is amazing to see how resilient dogs are.
~ Monica and Arnold (aka: mlarsson)