Tripawds Community member elisel is recipient #92 of the Maggie Moo Fund for Tripawd Rehab After Amputation. Read on for details about the benefits of free canine rehab for Tripawd Doberman puppy Oskar, and learn how you can get a free veterinary rehab evaluation for your dog or cat.

Yes! Tri-kitties qualify for free feline rehab too. See all Tripawds who have received free rehab sessions thanks to your support.
Free Rehab for Tripawd Doberman Oskar
When we began our search for our new dog, we knew we wanted a special needs animal. Being in the field of special education, I have a very large spot in my heart for these animals. We have already rescued two special needs cats. We stumbled upon a 7 month old Doberman Pinscher at Dumb Friends League in Denver in October 2020. When my husband called to inquire about him, we were told he had a recent amputation, and that sealed the deal for us. We found out that Oskar, our new pup, had been born with a front leg deformity. He was not able to walk on that leg, but he was still trying to balance himself with it, which was causing sores. Our therapist also said he eventually would have developed long term spinal issues due to the imbalance.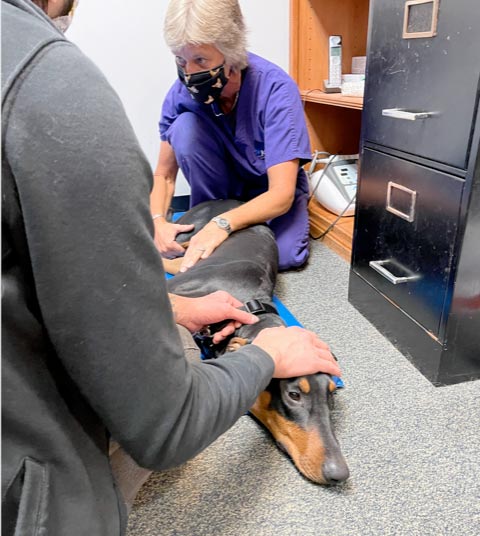 In my work as a special education teacher, I have worked with many students who needed physical therapy. I started wondering what kind of post-amputation support our new Tripawd Doberman Oskar may need, and eventually stumbled upon Tripawds. I began reading about different exercises Tripawds can do and thought I might need the help of a professional. Through the Rehab Reimbursement page, I started researching different clinics near me. After calling many, I went with K9 Body Shop in Arvada, CO.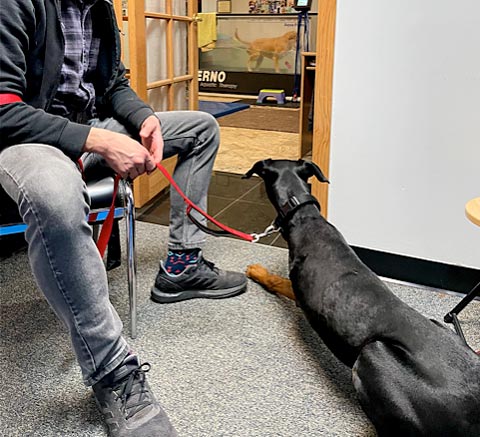 On our first visit, we met with Dr. Tammy Wolfe and I cannot speak highly enough of her! Almost two months after bringing Oskar home, we are still working on some training/behavioral issues, and Dr. Tammy was so patient with us and him. She took the time to make all of us feel comfortable and really focused on what our goals were. Dr. Tammy recommended weekly visits where Oskar would use the underwater treadmill. She would also do some manual spine work with him, as he is already displaying some rounding of the spine. She also gave us four exercises to do with him daily to improve balance and strength.
The first exercise is called "Rhythmic Stabilization". This consists of gently pushing on one side of his back while he is staying and then switching sides, increasing speed as you go. Another exercise involves lifting one leg up at a time and moving it around in circles. She also wants him to spend time walking backwards and in circles. On top of the exercises, she taught us how to massage the muscles around his spine, as they can be quite tight from holding himself up. Finally, she taught us how to gently pull on his tail, which can act as a traction or decompression of the spine.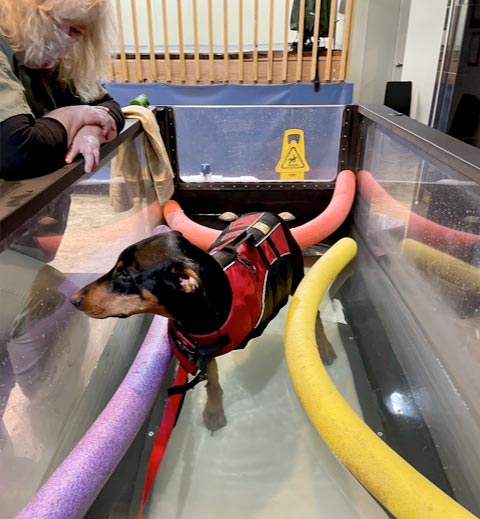 We have been back to the clinic once so far to get Oskar into the underwater treadmill (pictures attached). While it was clear he hated being in the water, he did it. While we have learned much from Dr. Tammy, the greatest part of our experiences with the K9 Body Shop was how they treated Oskar. Most people we encounter treat him with pity, but the staff at K9 Body Shop treat Oskar just like any dog. I absolutely love going there because, to them, he is the norm.
~ Elise and Tripawd Doberman Oskar (aka: elisel)