Tripawds Community member mlarsson is recipient #94 of the Maggie Moo Fund for Tripawd Rehab After Amputation. Read on for details about free Tripawd rehab for differently-abled dog Pi, and learn how you can get a free veterinary rehab evaluation for your dog or cat.

Yes! Tri-kitties qualify for free feline rehab too. See all Tripawds who have received free rehab sessions thanks to your support.
I met "Frank", now Pi, on September 9, 2020, through Rio Rancho, NM's Watermelon Ranch Rescue. I found him on their website and was immediately smitten with his blue eyes and big grin. And I couldn't see that he was a tripawd in the photo, but the description indicated that he was differently-abled and that he loved head scratches. As far as I can tell, Pi has no idea that he is differently-abled (right hind leg amputated), but it is true that he loves head scratches. Watermelon's records estimate that he is about 2 years (although I think a bit younger), and listed him as an Australian Cattle dog. Other intake records indicate possibly husky mix. He was received from Las Cruces, NM where he had been picked up with a broken femur (most likely a car accident). Amputation was deemed necessary and the surgery was completed in July, 2020 before he arrived at Watermelon Ranch. His surgery was above the femur and he has a little stub.
After about a month with Pi, I discovered Tripawd Talk Radio podcast and was introduced to the idea that adopting a Tripawd may involve additional care considerations that I had not thought of. Although he hadn't shown any difficulty in mobility or pain issues, I decided that I should take him to a vet who could assess him and give us appropriate exercises to do while he is young so that he can live a full life.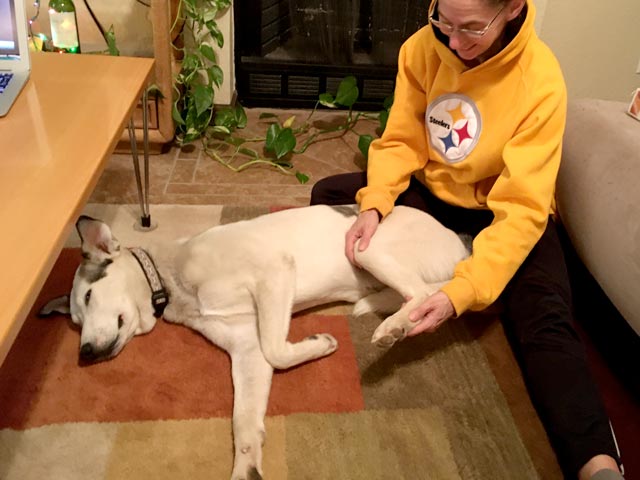 Tripawd Rehab Helps Differently-abled Dog Pi
We went on November 25, 2020, to Ace of Paws in Albuquerque, NM to see Dr. Ana Esquivel.
The initial visit indicated that Pi needed to strengthen his core and his hind left leg so that he is better able to distribute his weight and reduce some strain identified in his neck. To strengthen his core, we do a cross leg stand, 5 reps, holding for 30 seconds every other day (It took about a week for him to get to 30 seconds without being wobbly.) For his back leg, we do a high box stand and hold (also five reps with a hold of 30 seconds every other day). He is quite good at that exercise, so we are now working on me leaning into his back hind leg and forcing him to hop around the box to build even more strength. He is a bit resistant to this but is learning. Pi seems to have gained strength here because he can now hop on my bed and couch which he was very leery of when I first got him three months ago. We get to snuggle now!
Cavaletti poles have been recommended to keep Pi agile in his three limbs. We have created a "course" at the house and he is very good at this and compliant. We do this one to two times a week. It makes me think that Pi might enjoy agility course training if Dr. Esquivel feels it is appropriate.
Since his initial visit, our differently-abled dog Pi has had a follow up visit where Ace of Paws introduced him to the water treadmill. He was not thrilled but did not resist it either. He has another upcoming visit on December 21, so we'll see if he is more willing to partake in this water-based exercise. In addition, for hind leg strength, Pi has been doing moderate up and down hill exercises as advised. I walk him twice a day, and our nature excursions always give us an opportunity to practice hills.
Pi's Tripawd Rehab Exercise Videos
This video shows us doing his "push ups" and his core strengthening exercises. Pi also requires some massaging and stretching exercises. For the most part, this is easy to do. I perform Petrissage C-Spine to assist with cervical spine muscle tension, and I also do neck skin rolls for myofascial release. Pi is happy to receive these. The stretching exercises for his hind
leg tightness is still in progress. Pi is resistant to this (I can appreciate it – my hamstrings are tight too and it is unpleasant to stretch them). I wait until he is asleep and then perform the prescribed range of motion flexion and stretching for hip mobility.
In this video of me performing a stifle flexion exercise, you can see that even when tired, he is not fully compliant at first and it requires some patience and coaxing. We aim to do all seven of our stretching exercises each night for five reps each, but we haven't quite reached the goal of every night yet.
What Pi and I Have Learned about Tripawd Rehab
The experience of going to the rehab vet is similar to my own personal experience with rehab: simple daily exercises, done regularly and consistently, can do a body—canine or human—good! I have also learned how much my differently-abled dog trusts me. We are really bonding as a result of the exercises. He's becoming a better listener, and I suspect he probably just feels more secure in his own body. Finally, the vet stressed the importance of getting rugs and yoga mats down on the tile floors! Pi was really resistant to spending time in the house when I first got him. I figured it was a reaction to having been in rescue care from July-September. I now suspect that it was his unease on slippery surfaces. Although he walks fine on tile floors, I now know that this puts strain on him physically and mentally. No problem to put down floor coverings!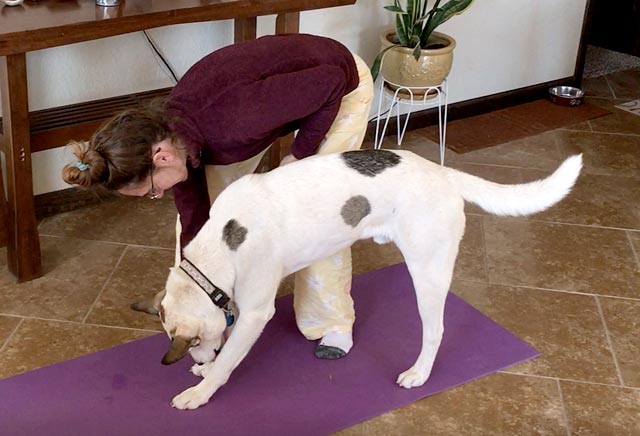 I learned about the Tripawds Foundation through the podcast Tripawd Talk Radio. I have only just started my blog which can be found here: dawnandpi.tripawds.com
Thank you for the opportunity to share about my experience.
~ Dawn and Pi (aka: dawnandpi)