Champ's Legacy Fundraiser supports the Tripawds Foundation programs to help amputee pets and their people everywhere!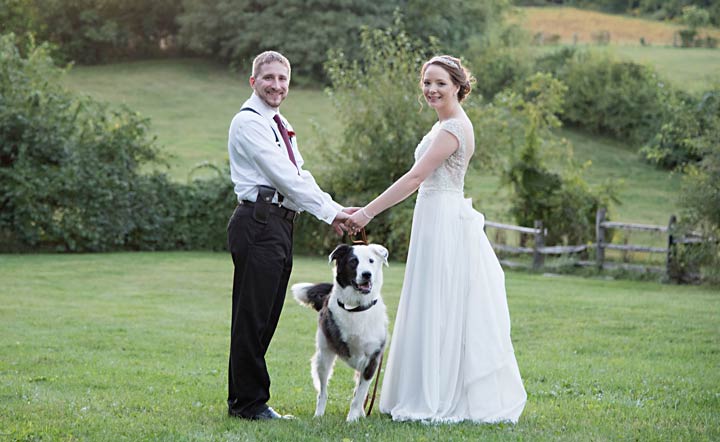 Champ's Legacy
Champ was born November 12, 2009, although he didn't officially join our family until January 2010. It was a random trip to Getty's Pets, a local pet shop located in East York, Pennsylvania. Our family already had a senior Saint Bernard, Delilah and we were not looking to add to the family. Champ, his brothers, and sisters were outside in a fenced-in area playing. As soon as I picked him up and held him, I knew. His name was Champ. The most perfect name.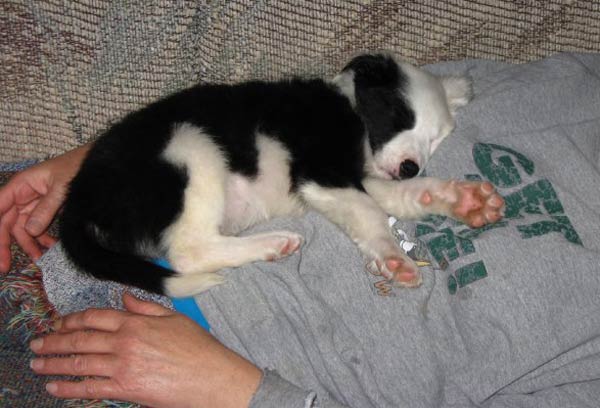 For his first four years, he lived with his mommy, auntie Katie, uncle Ricky, grandma, and grandpa in Manchester, Pennsylvania. For the rest of his life, he lived with his mommy and daddy in Dover, Pennsylvania, and Bechtelsville, Pennsylvania.
Champ was the typical mischievous puppy. Always full of lots of energy. He wasn't a super snuggly puppy, he enjoyed having his own space. He enjoyed sleeping in small confined spaces, under the bed, and under the kitchen chairs. As he got bigger, he didn't fit those as well and opted to sleep in his crate on his bed with the door open. The first few puppy years were a bit challenging with him, he was very curious. Always wanted to look out the window and his grandma loved to put up horizontal plastic blinds. If those blinds were in his way, he just chewed through them so he could see outside. He also decided to make grandma especially upset when he began chewing the drywall in the house. But the funniest puppy memory of Champ was how he perfectly perched and balanced on the back of the couch. We would laugh and call him a kitty cat.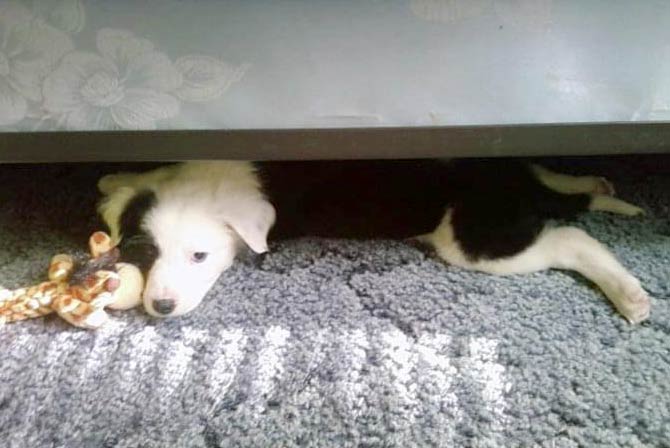 Champ filled a huge void for the family after Delilah passed away. He was lucky to have known her. When he was about 4 years old his grandma and grandpa decided to get another Saint Bernard, Bella. A few months later, auntie Katie got her Saint Bernard, Beauregard. Now the house was full of terror! Champ fit in perfectly with Bella and Beau! You would most often find him acting as a referee when Bella and Beau were playing. We think because he grew up around big dogs he just took on a big dog persona. Out of the three, he was definitely the most submissive.
In May 2014, Champ met his future Daddy. His mommy told him the best way to Champ's heart was with a stuffed duck that sounds like a duck (No squeakers allowed!!). Their bond was instant and they've been the best of buds ever since. Champ came to stay over for one weekend and ended up never leaving. He absolutely loved being the center of attention. He even tolerated Daddy putting boxer shorts on him. Champ loved sleeping in the Papasan right beside his mommy and daddy's bed and had the most peculiar ways of sleeping.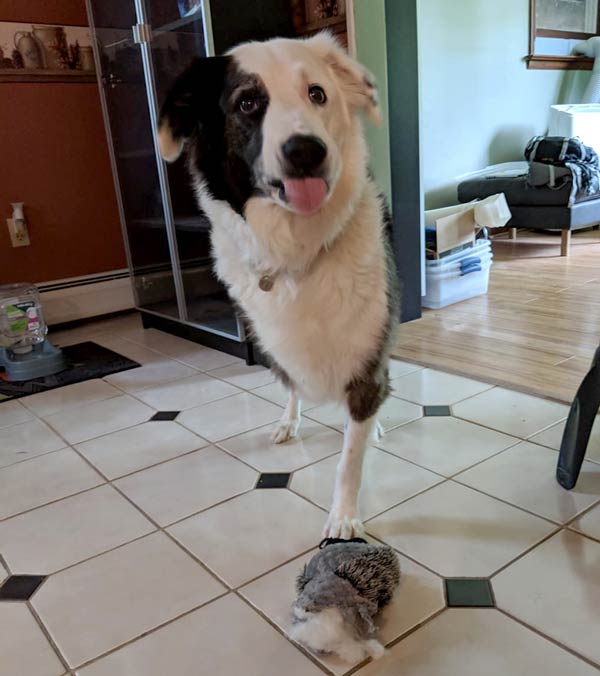 In March 2015, Champ was diagnosed with Osteosarcoma in his right front leg. His initial vet feared grim results even with chemo and radiation. We decided to take him to another vet for a second opinion. The next day he was scheduled to have his leg amputated. This started his journey as a happy tripawd. Post amputation, Champ received a holistic-focused treatment plan consisting of Chinese herbs and supplements, a diet change, physical therapy exercises, acupuncture, and chiropractic adjustments. These methods followed him for the remainder of his life.
We like to think that the real exciting stuff happened after he became a tripawd! On March 18, 2016, Daddy proposed to Mommy at Walt Disney World. Champ was the star in the engagement photos and attended the wedding ceremony and reception at a Bed and Breakfast in Carlisle, Pennsylvania. He spent time watching the chickens in Dover, Pennsylvania but mostly enjoyed being wherever his mommy and daddy were. In March 2017, Champ and his family moved to Bechtelsville, Pennsylvania to a new house with lots of land! Champ was in his glory!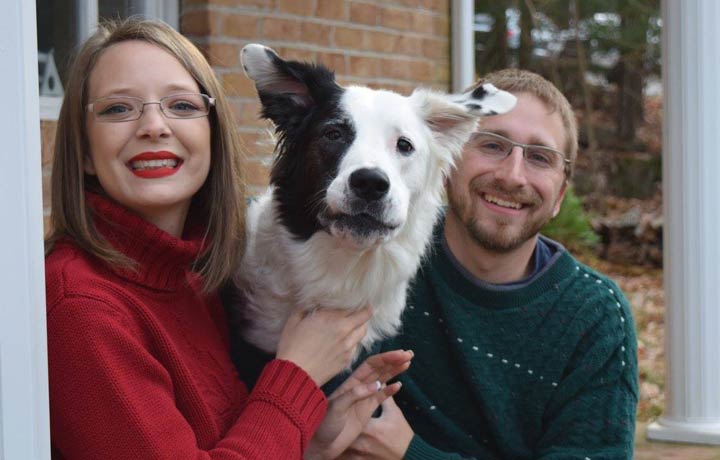 Although 2020 was not the year we thought it was going to be, it did allow Champ to spend lots of time with his mommy and daddy. He spent lots of time outside and enjoyed taking naps on the porch. Best of all Champ got to be his mommy and daddy's at-home work companion, which provided a great deal of reassurance during such an unpredictable time.
Champ recently celebrated his 6-year ampuversary in early March. This was a huge milestone for him, as he was a tripawd longer than a four-legged dog. His doctors were shocked at how healthy he was overall. Rarely needing any more than a slight chiropractic adjustment every few weeks. We started to notice a general decline in his energy level in the early months of 2021. He was resting more and was having trouble getting up on our bed. In January he slipped on some ice and sprained his back, which required extra rest time with some homeopathic pain management.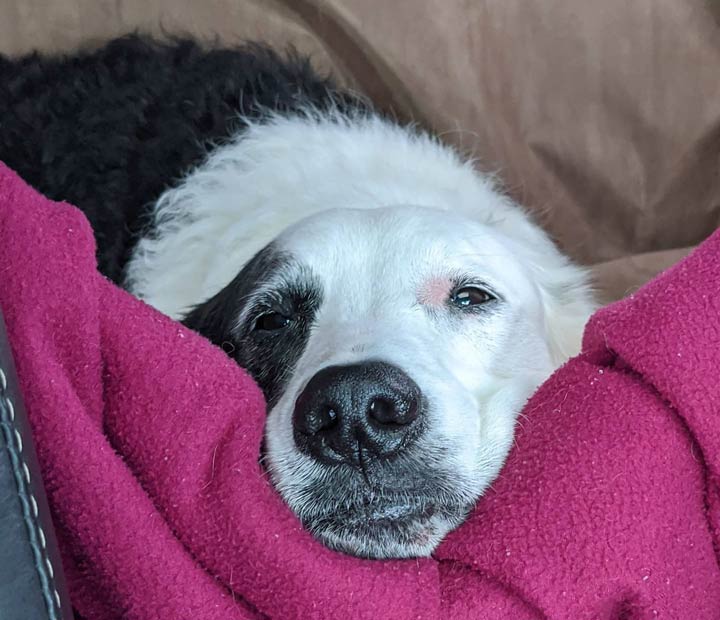 On March 16, 2021, Champ passed away due to a leg injury. Everyone who knew him loved him. He was our miracle, the real MVP (most valuable pup). He was our Champie. We miss him every single day. To honor the six years that Champ was a Tripawd, we have set up his Legacy Fund below so that Champ and his family can help raise funds for the Tripawds Community Foundation to help provide resources and education for other Tripawds and their owners for years to come.
Support Champ's Legacy to Help Tripawds Everywhere!
This Tripawds Legacy Fundraiser is made possible with generous support of Champ's family and friends.