Help from Tripawds Foundation ASAP grant #42 goes to Tripawds member tmarx6474, to help pay amputation costs for Trikitty Tag. Read on for her story, and learn more about the Tripawds Amputation Surgery Assistance Program. See if you or someone you know qualifies for our pet amputation financial assistance.

This grant is made possible by the charitable contributions of Tripawds fans like you. Thank you for your support!
Financial Help from Tripawds Foundation for Trikitty Tag
Twelve years ago I was walking through a local pet store and noticed a black longhair kitten in the adoption section. I could not resist his cuteness and had to meet this guy. As I approached, he began to pace and rub back and forth along the bars of his cage, purring and trying to reach out for me. I Immediately had to pet him and when I did I noticed he was missing a back foot. It didn't appear that he had any trauma or injury to the leg, and he wasn't in any pain. He had the biggest personality I had seen in a kitty so small and although I couldn't take on another pet, I made it my mission to get him adopted.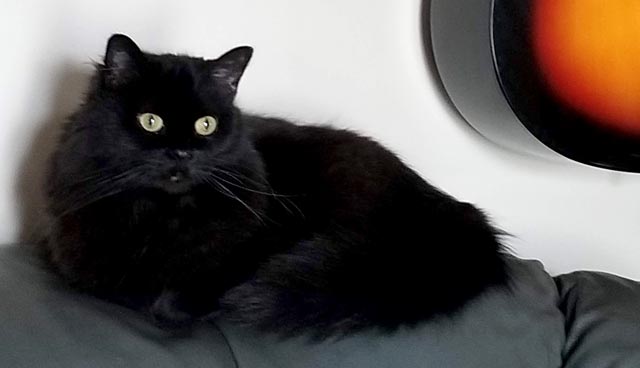 I begged my parents to adopt this cat, but they said no. They had always had pets and after years of long living cats, they wanted a break from cleaning litter boxes. Later that evening, I mentioned this kitty to a friend who promptly went to adopt him the moment we hung up the phone. She had him for a few weeks until she realized that he was causing her major allergy issues. I called my parents and begged them again to give this guy a home. This time they said yes!!! I took him to my parents that night. This Tripawd cat had a home. It took a few days to come up with a name, but my dad decided on Tag, naming him after a professional golfer.
My parents were concerned that maybe the leg stump should be amputated. The veterinarian suggested that amputation wasn't necessary, and that Tag would adjust to life as a three-legged kitty. My dad ended up modifying several areas of the home so that Tag could be more comfortable. He added carpet and a kitty guard rail to the basement stairs. He made several cat scratching posts and perches with ramps. He spaced these out in several rooms of the home so that Tag could easily access the windows to watch the birds. He was a spoiled kitty and lived a normal indoor cat life.
Tag is now 12 years old and my parents have passed away. He lives with me and my husband, our 13-year-old Lab Abby, 9- year-old Yorkie mix Whiski and 5-year-old silver tabby Comet. He has always loved other animals and had no problems adjusting to life with other pets. Despite having to share his space, he is still the spoiled Tripawd kitty my parents raised.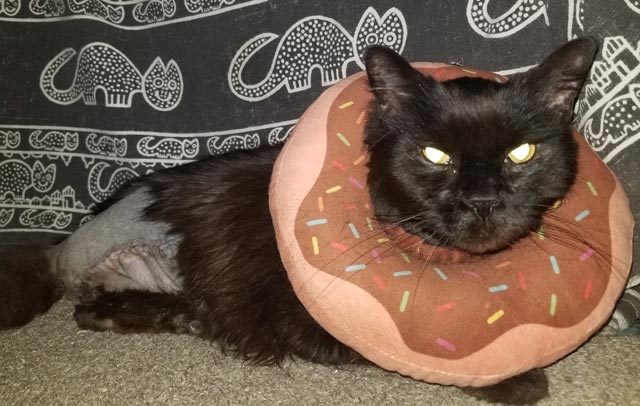 A few months ago, I noticed that his hind leg appeared swollen, and he had a small open wound at the base of his leg stump. At one point when I picked him up, he struggled, and I thought I saw his bone through the wound. We were across the country traveling with our pets and were challenged with finding a reputable veterinarian. Most vets in the area weren't taking on new clients due to Covid. We did finally find a compassionate vet who diagnosed Tag with a fistula and treated him with antibiotics. We kept Tag quarantined from the other pets to allow his wound to heal. At the two-week recheck, our vet said the fistula would most likely never heal and that Tag was likely in pain. He suggested amputation. My husband did tons of research and found a surgery-specialized veterinarian three hours away. We scheduled the surgery, packed up our RV and relocated for the big surgery day.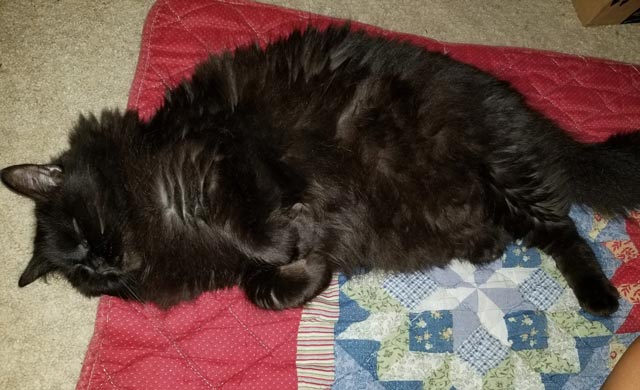 Tag is now three days post-op and doing great. Other than a little grumpiness, which is to be expected, Tag seems to be ready to enjoy life again. The day after surgery he was already expertly balancing himself without assistance and continues to use the litter box without help. Even though he is in kitty quarantine for at least a few more weeks, he seems to be ready to get on with his life and is impatiently waiting for the day when he can be free to run, jump and climb without restrictions.
~ Tamara and Trikitty Tag (aka: tmarx6474)