Tripawds Community member brtmom received grant #99 from the Maggie Moo Fund for Tripawd Rehab. Read about how free rehab helps Black Russian Terrier Tripawd Ruby stay strong, and learn how you can get a free veterinary rehab evaluation for your dog or cat.

Yes! Tri-kitties qualify for free feline rehab too. See all Tripawds who have received free rehab sessions thanks to your support.
Black Russian Terrier Tripawd Ruby Benefits from Free Rehab
My beloved Ruby was diagnosed with bone cancer on March 19th. Ruby is a Black Russian Terrier Tripawd, and she will be 10 years old next month.
While Ruby was in the hospital to have her right rear leg amputated, I started looking for answers and support, and that's when I found the Tripawds website. This has been an enormous comfort to me. I signed up with the username: BRTMom.
2 weeks post op I brought Ruby to Powers Pet Emergency and Rehab for a physical therapy evaluation.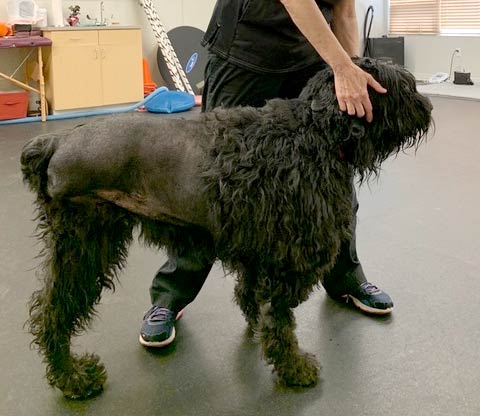 My main worry is that she might injure her remaining back leg, and then where will we be?! I want to make sure we are caring for her and building her strength in the best way possible. I also noticed that her back now has a bend in it when she stands so that her rear leg can be in the middle for her balance. I guessed that this may be putting new stress on muscles that aren't used to that position.
I was very grateful that they allowed me to stay and observe in this strange time of Covid! They were able to gain her trust and cooperation with fun treats (frozen baby food) and lots of genuine affection.
They showed us some exercises, stretches and massage techniques. They measured her muscles and said in 8-12 weeks we will notice an increase in size of her legs as the 3 do more work than before with 4 legs.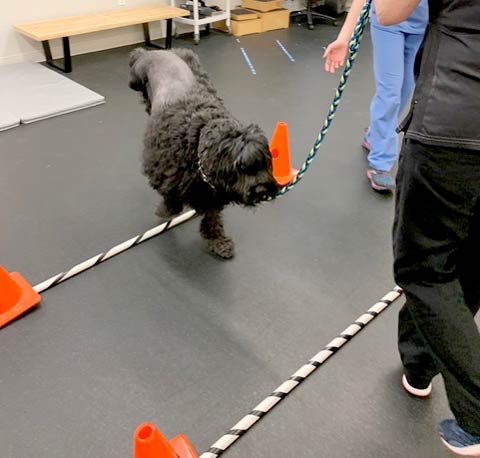 The main exercises for now will be twice a day and start with a 10 minute walk to warm up. First, ground cavalettis for a couple of minutes. Maybe 5 or 6 times back and forth over the obstacles on the ground spaced about a body length apart. Next have her front feet up on a low cushion and stretch up forward for 10 seconds. Repeat 5x. Then weight shifting (or perturbations) in back and then in front. I was surprised to see how small the prescribed movements were.
Last we do the "cookie crunch." This is a side crunch exercise oblique towards her right hind quarter while lying on her side. The hope is that these movements and stretches will speed up her ability to feel comfortable and easy on 3 legs.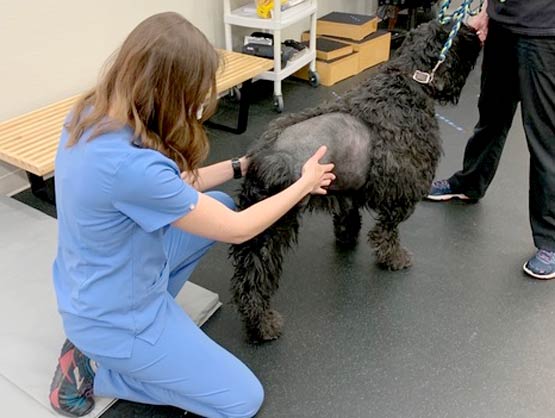 I particularly liked learning how to massage her tight muscles. She is using her body differently now, and it makes sense that she is a bit sore. We already spend lots of snuggle/petting time, and these have become massage sessions now.
Dr. Wilwerding is also certified in acupuncture, and I am interested in learning more about that and see if that is something Ru may benefit from after her incision is completely healed. I will be reading up on peoples' experiences with that on the Tripawds website in the coming days.
~ Tracy and Ruby (aka: brtmom)