Help from Tripawds Foundation ASAP grant #41 goes to Tripawds member camps1952, to help pay amputation costs for Trikitty Sweetie. Read on for her story, and learn more about the Tripawds Amputation Surgery Assistance Program. See if you or someone you know qualifies for our pet amputation financial assistance.

This grant is made possible by the charitable contributions of Tripawds fans like you. Thank you for your support!
Financial Help from Tripawds Foundation for Trikitty Sweetie
I am now the owner of a three legged lovable tabby cat. I know that cats are good at adapting to new situations. Unfortunately my cat had experienced the loss of her hind leg due to it getting caught in garage levers and had to under go leg amputation on March 19,2021. She did not show any emotional distress or disturbance. She was in so much pain I cried for her and now seems happier and more relaxed after the amputation. I have read that cats cope far better with amputation than people can imagine. She suffered a severe trauma and uncontrollable leg pain that they had to sedate her with pain medicines. I also read that cats start walking after 12 hours after surgery and yes she did it hobbled and was no more in pain and purring when I picked her up. Now for 2 weeks I sleep in the same room with her to care for her and see if she cries  or is in pain and so far no problems. As she is an indoor cat don't have to worry about her getting out.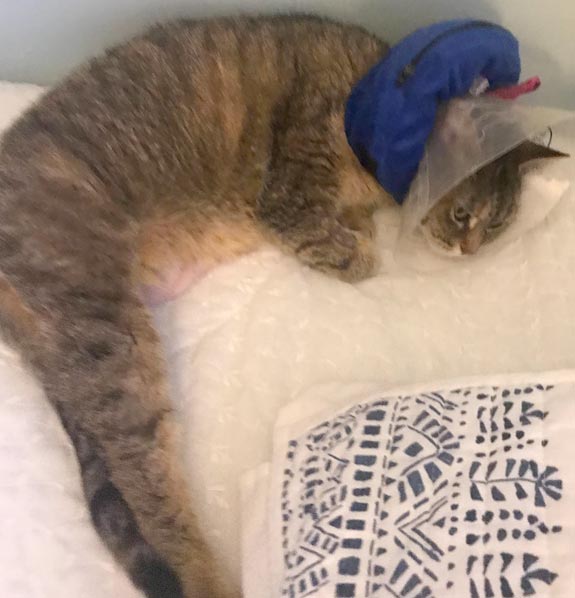 She will learn to adapt with three legs and live a happy life with adaptation of one missing leg and she will find that she is no longer able to perform some tasks as she could do before. I will devote my care and time and effort to help her recover from her bad experience and make my cat feel settled and loved and that there is life after amputation.
My life will never be the same as encountered unexpected expenses but the love I have for her I had to give her a second chance at life and has been an experience for me. Since I have a 3 year old cat I hope the bonding will make her feel secure as the younger cat sleeps beside her cage every nite. I can't turn the time back but all I can do is to show love and support and help her live a normal and happy life.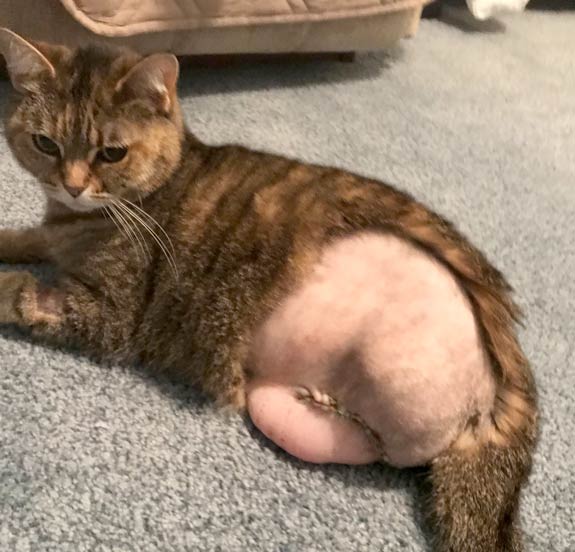 This is dedicated to my Sweetie who is 9 years and 5 months old and so glad I found help from Tripawds Community to reach out and talk with others to get the stories of their experience and support.
~ Carol and Sweetie (aka: camps1952)