Free pet rehab program grant #104 from the Maggie Moo Fund for Tripawd Rehab went to Tripawds Community member corina23. Feline rehab evaluation and at-home exercises will help three legged cat Fergie stay fit and strong. Read on for details about Fergie's feline rehab, and learn how you can get a free veterinary rehab evaluation for your dog or cat.

Yes! Tri-kitties qualify for free feline rehab too. See all Tripawds who have received free rehab sessions thanks to your support.
Fergie is my nine month old tabby cat whom I adopted as a Tripawd when he was 12 weeks old. I was not specifically seeking a 3 limbed companion and actually did not notice Fergie's disability until after I had already picked him out. Which made me love him even more. The vet tech informed me that he most likely was born this way considering no visible wounds or scars (which would most likely be noticeable at such a young age).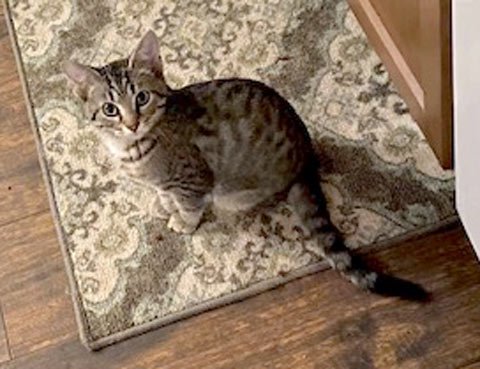 Six months after I brought Fergie home, he started to show some strange behavior with his shorter leg. After finding the Tripawds Foundation and receiving much needed comfort and support, it was advised I take him to see a rehab specialist.
Dr. Zimmermann at MedVet in Cincinnati, Ohio was absolutely amazing with Fergie (and me!); providing me with a number of techniques, resources, tools and exercises. We need to practice at least 2 of these techniques every day and complete 3-5 reps for each one. She encouraged that we take a fifteen minute break between exercises if not longer. For Fergie's condition, a lot of his exercises and techniques will focus on building his strength in his rear legs and some massage techniques when he shows any discomfort.
Feline Rehab Exercises Help Fergie Stay Strong
One feline rehab technique that has proven to be the easiest one to perform on Fergie is massaging along his spine. Since he occasionally tries to use his deformed limb to walk, he's caused some strain in his back. This massage really seems to help.
An exercise we do is walking backwards. In order to do this, I have to create a sort of barricade for him that doesn't allow for him to turn around. Holding a treat above his head and slowly moving it towards his rear, he is forced to scoot backwards, exercising his hind legs.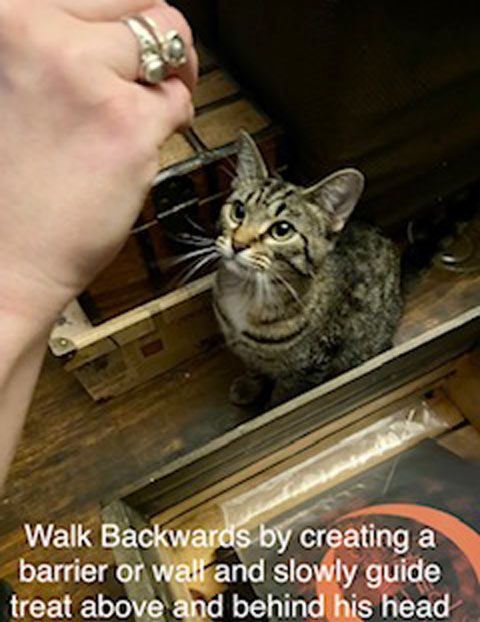 A third exercise that we do daily and he probably has no idea it's a therapy technique, is his laser pointer! By pointing at a wall and holding it just slightly above his reach, he stretches towards it putting all of his weight on his hind legs. This feline rehab method also lets us incorporate another exercise (squats) by repositioning the laser in a manner that causes him to sit and stand repetitively. Dr. Zimmerman really brought awareness to just how important it is to make certain exercises and movements a daily habit. It's this repetitiveness that will really make a difference in how Fergie interacts with his environment and in a pain free manner.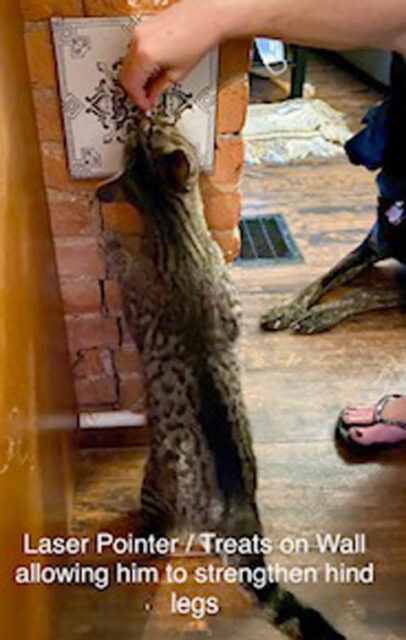 I genuinely think the information and guidance that I received from Fergie's feline rehab consultation with Dr. Zimmermann, is not something I would have been able to find elsewhere such as the internet. Everything was so meticulously geared for Fergie's specific needs. I'm extremely hopeful that this experience is going to make his quality of life so much greater. And we couldn't have afforded it without the help from the Maggie Moo Fund!
~ Corina and Fergie (aka: corina23)