You may remember Carmine the Painting Dog from our Tripawds Dog Art Auction. Recently, he created a very special masterpiece, then donated to Tripawds Foundation in honor of his muse. Who was she? You're about to meet this special girl. Tripawd Piper left a big impression on everyone she touched. Here's her story as told by mama Lindsey.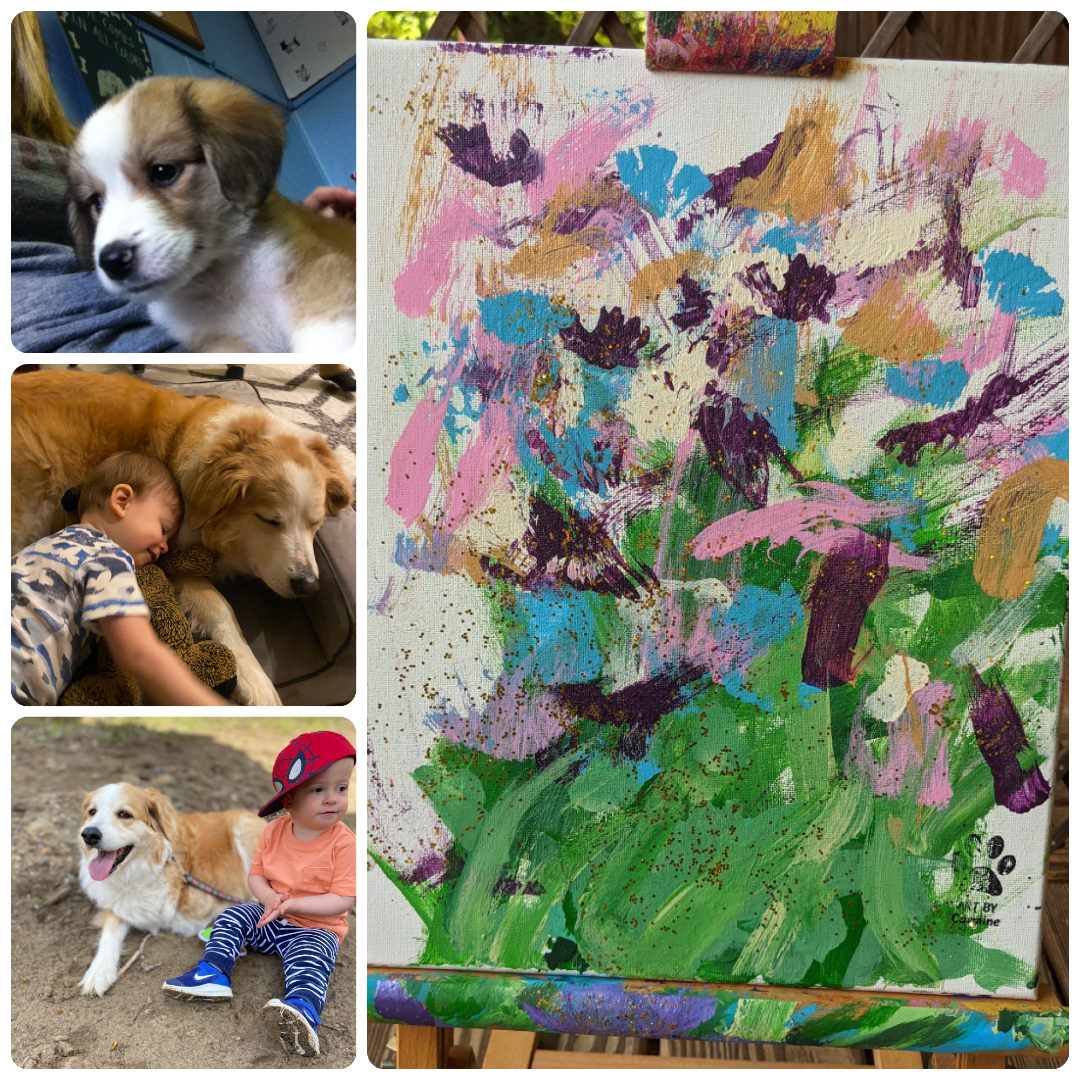 From Puppy to Big Sister, Remembering Tripawd Piper
Lindsey adopted Piper from Pets Without Parents in Columbus, Ohio in 2012. She was listed as a "border collie/aussie mix" and was 8 weeks old on her trip to the first of the 4 apartments and 1 house she would live in during her life. Piper went through her puppy stage while Lindsey was in Physical Therapy school. Piper spent several months with Will when Lindsey was out of town on clinical assignments. As a puppy, Piper loved chasing birds and squirrels. She loved running free on soccer fields and in dog parks. She loved being chased (not exactly what you would expect of a border collie). And doing just about anything for a treat.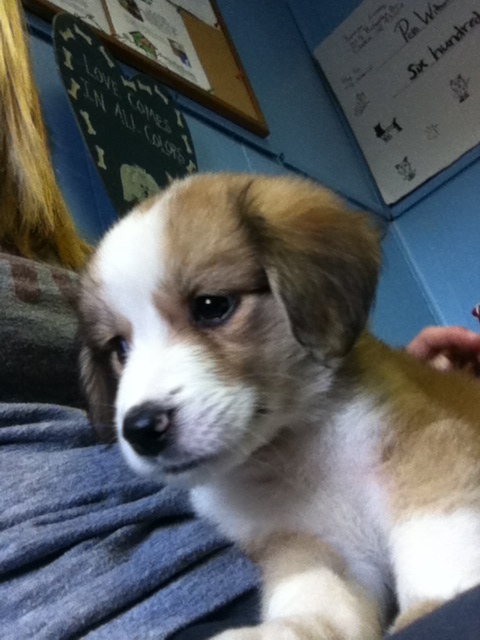 When Lindsey and Will were married in 2014, Piper was elated to have her favorite humans together at last. Lindsey, Will, and Piper moved to Cleveland in 2015. Piper's humans spent months searching for a house that met all of her requirements. A big backyard to run in, a large front window for watching the neighborhood, sidewalks for long walks, and easy access to the metroparks.
Lindsey, Will, and Piper moved into their forever home in 2016. Piper became a big sister to her little brother, Eamon, in October 2019. She quickly became a watchful big sis and made sure to test out all of Eamon's blankets and toys for safety before he played with them. When the coronavirus pandemic struck in March of 2020, Piper only knew that her favorite person in the world (Will) was spending much more time with her. Life couldn't be better for this four legged lady.
A life changing diagnosis for our happy girl
In June of 2020, Piper began limping on her front leg paw. Piper had a history of joint injuries and had done physical therapy in the past. At first, Lindsey and Will thought it was another typical injury that would go away in a week or two. A week or two went by with no improvements and swelling was noted around her wrist. Will took Piper to see the vet who reassured our suspicions that this was most likely a sprain that would improve with rest and anti-inflammatories.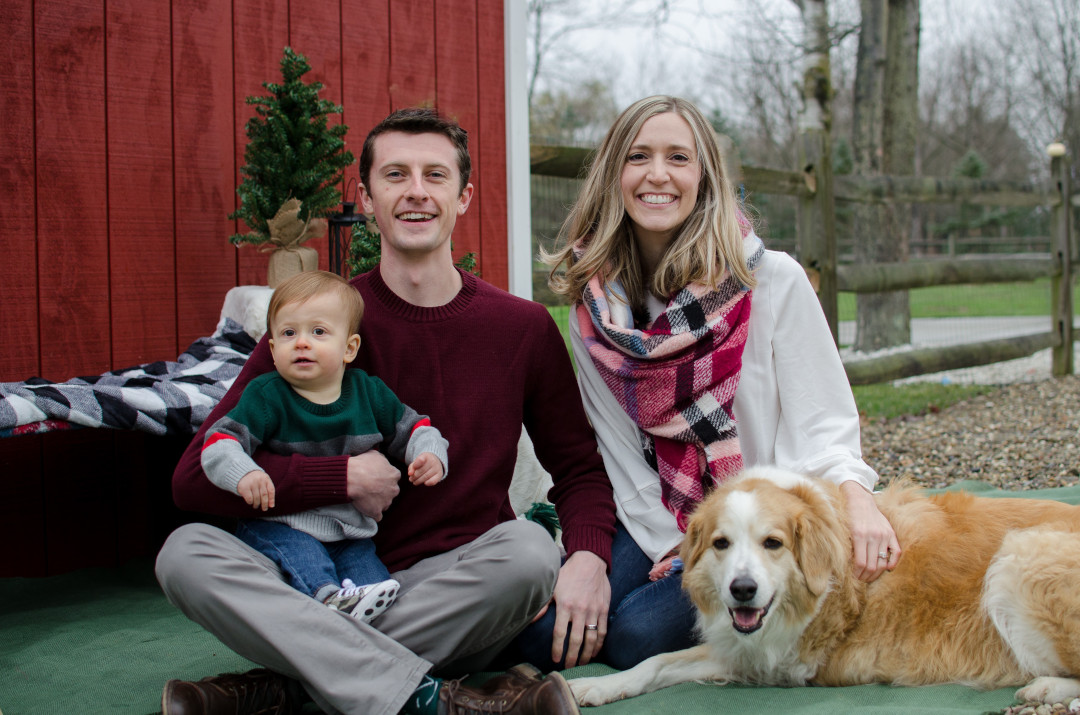 Another two weeks went by with no improvement. Will took Piper to the vet yet again. He called Lindsey at work that day and stated "well, Piper's been a great dog." We thought that was the end of Piper's story. She had osteosarcoma and the options were limited. We could let her enjoy the time she had left while spoiling her with all of her favorite things. Or we could put her through a surgery that would minimally increase her lifespan. That night, we made our decision. Piper was going to enjoy the next two-three months doing what she loved best. We were going to give her Pup Cups every day and tell her how much we loved her. The things Piper loved best: neighborhood walks, metropark hikes, chasing her ball.
There had to be another way.
Finding hope in the Tripawds Community
Lindsey went on the internet and found the Tripawds Community. She started thinking amputation was a better option than they initially thought. She found a Facebook page about three legged dogs. Then, reached out with a post asking for advice. The most notable response was a woman who posted a picture of her great dane. She said "Our dog only lived for four months after her amputation, but I would do it again in an instant. Don't give up on them. Ever."
Hope. Piper went to an oncologist at the end of that week who evaluated her and said she would "without question" recommend the amputation. There were a lot of things to weigh- an 8 month old baby, Lindsey and Will both working full time, wood floors, stairs, and medical bills.
We decided that Friday we would move forward with the amputation and scheduled it for the end of the following week. That Sunday, Piper's limp worsened. We feared she might not make it through the night let alone to the next week. We were afraid she would break her leg and have to be euthanized during Covid times- alone without her best friends by her side. We both said goodbye to her that night- just in case. The very next morning, Will called our regular vet. He called to see if he had availability to amputate Piper's leg that morning before things got worse. Will's mom came over and drove them there 10 minutes later.
Three Goals for her new chapter
While Piper was in surgery and the rest of that evening, we prepared our home for the arrival of our Tripawd with a patchwork of carpets, runners, and gates. We also made three goals for Piper and her new chapter.
For her to play in the snow one last time
For Eamon to say her name
And for her to go for a hike in the metroparks.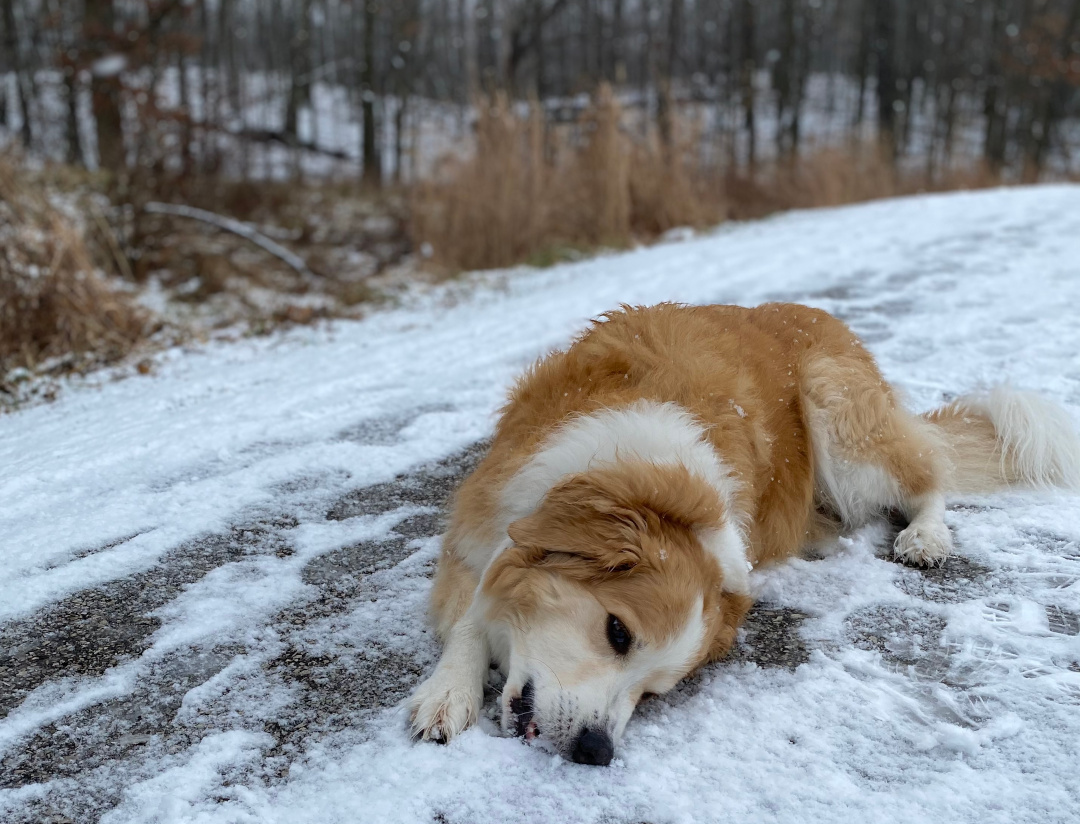 Piper's recovery from surgery was smooth. Within a month, we started to go on family walks and to the park. When we finally hit the trails with Piper again, Lindsey teared up thinking of a friend who recently lost a dog who made a post stating "if only I could take him for one more walk." Our family was blessed. We were given the gift of "more" with Piper for 10 wonderful months. Piper experienced countless more snowfalls, countless more walks in the park, and countless times hearing the nickname given to her by her little brother, "Pie."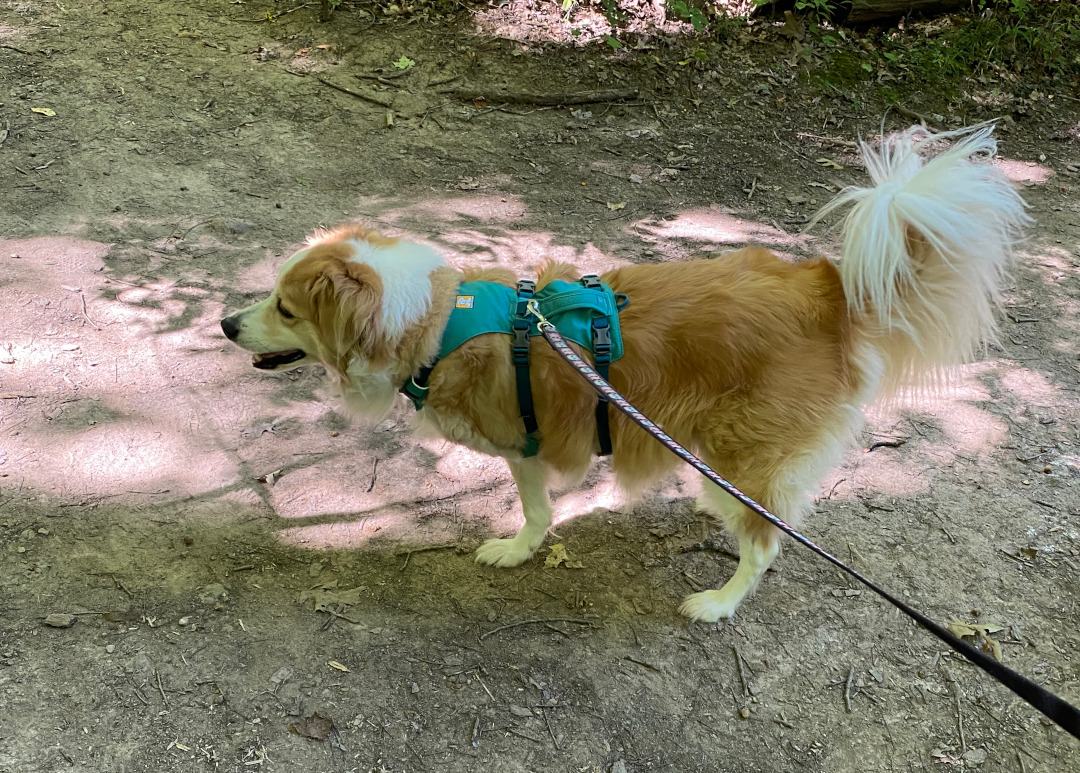 Piper's cancer spread to her lungs in March of 2021 and by April it was evident she was no longer able to enjoy the things that made her happiest in her life. Piper was euthanized in her big backyard with Lindsey and Will by her side. The birds were chirping and the air was cool. A perfect goodbye.
Carmine Paints to Honor the Legacy of Tripawd Piper
Lindsey recalled learning about painting dogs on a Tripawds Community Zoom call earlier in the year and saw they were planning an art auction. Lindsey decided she was going to bid on one of the paintings for Will as a Father's Day gift. When scrolling through the available paintings, she saw "Carmine's Springtime Bouquet by Carmine." She had to know more. She discovered Art by Carmine did commissioned work and reached out immediately.
Carmine's owner, Susan, spoke with Lindsey to discover what drew her to Carmine's painting specifically. Together they came up with the idea of having Carmine paint a bouquet using the colors of Piper's collar in the flowers. It was very important to Lindsey that purchasing a painting from Carmine would support the Tripawds Community. Susan agreed to make a specific donation in Piper's memory to Tripawds.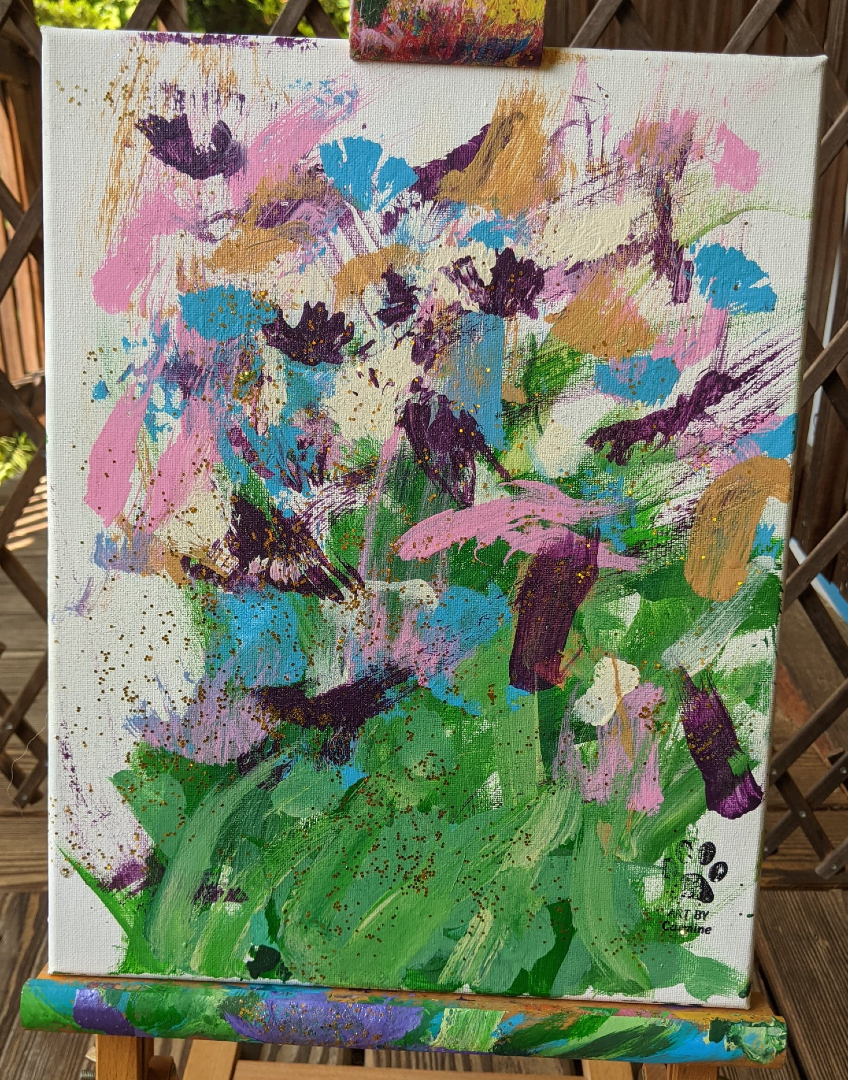 The painting now hangs in our bedroom. It is a daily reminder of the perseverance and resilience of our amazing Tripawd Piper and the support of the Tripawds Community through it all.