The Tripawds ASAP grant #47 helps Tripawds member poopypaws pay amputation costs for new Tri-kitty General Tso. Read on for his story, and learn more about the Tripawds Amputation Surgery Assistance Program. See if you or someone you know qualifies for our pet amputation financial assistance.

This Tripawds ASAP grant is made possible by the charitable contributions of Tripawds fans like you. Thank you for your support!
Tripawds ASAP Grant for New Tri-kitty General Tso
On the night of July 27, 2021, I answered an ad on Nextdoor to help rescue an injured stray kitten. The neighbor who posted was able to get him into a carrier. I took the kitten home, planning to bring him to a no-kill shelter in the morning. When I opened the carrier I saw the gaping wound on the kitten's arm. It looked bad. So I took him immediately to the Emergency Vet.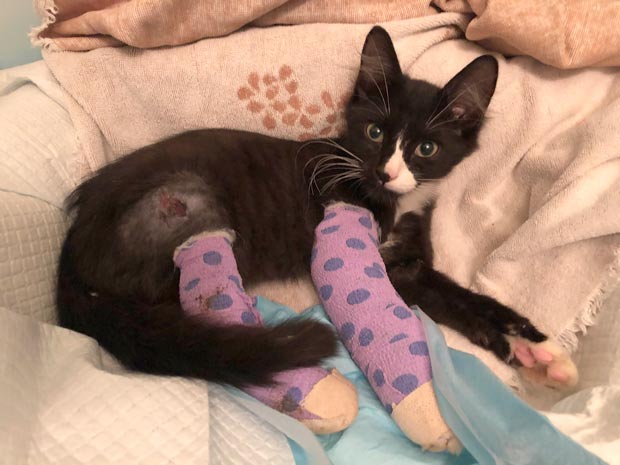 The ER veterinarian examined the kitten and found a puncture wound on his thigh, and skin torn from his toes. But his most serious injury was "severe muscle damage to the right forelimb. . . all extensor muscles transected at the proximal antebrachium." In other words, his arm muscle had been severed to the bone, probably from an attack from a larger animal. They told me that amputation was likely the best option. They sent him home with bandages on his arm and foot, with pain meds and antibiotics.
Three Legged Kitten Amputation & Recovery
For the next week I kept him safe and comfortable, gave him the medicines, and brought him to a local veterinarian for wound cleaning and bandage changes every 2-3 days as instructed by the ER vet. We waited to see if the arm would heal, but the wounds got worse and we worried he would become septic.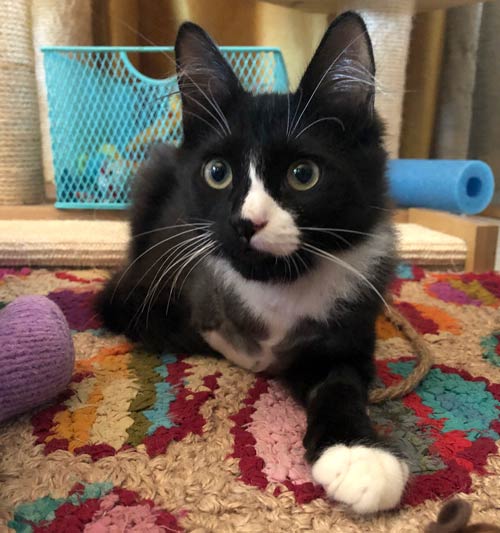 The kitten had anemia and we had to wait a few extra days to get him strong enough for surgery. It was a tense few days that seemed to last forever. On August 5, he had surgery from an orthopedic surgeon at the ER, to amputate his right forearm and scapula.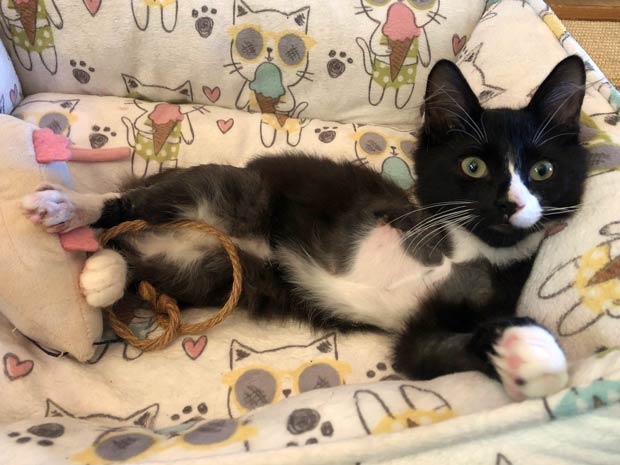 I am grateful that the kitten sailed through the surgery without complications or discomfort, healed quickly and seemed to be relieved to not have to drag a big useless cast around. The kitten – who I named General Tso – surprised me by being incredibly loving and snuggly – not what you'd expect from a kitten born on the streets. He is currently hopping happily around my apartment, befriending (and annoying) my resident cats, and living a safe life indoors.
General Tso's Healing Journey: video story of kitten amputee
~ Sascha and General Tso (aka: poopypaws)