Free pet rehab program grant #106 from the Maggie Moo Fund for Tripawd Rehab went to Tripawds Community member amfk. Free rehab for rear leg Tripawd Kili helps him regain strength and stay strong. Read his story, and learn how you can get a free veterinary rehab evaluation for your dog or cat.


Yes! Tri-kitties qualify for free feline rehab too. See all Tripawds who have received free rehab sessions thanks to your support.
Cabine Rehab Helps Kili Regain Strength
Kili, a 2-year-old basset hound mix, came into my life in May 2021. I first saw him on a Facebook post. Someone took a photo of him after he was hit by a car and stranded on the side of a road. A young woman and her mother saw the post and went to find him. They took him to the wonderful veterinarians at Salazar Veterinary Clinic in Taos, NM. A group of kind people rallied together to raise funds for his surgery and care. Both of his back legs were broken.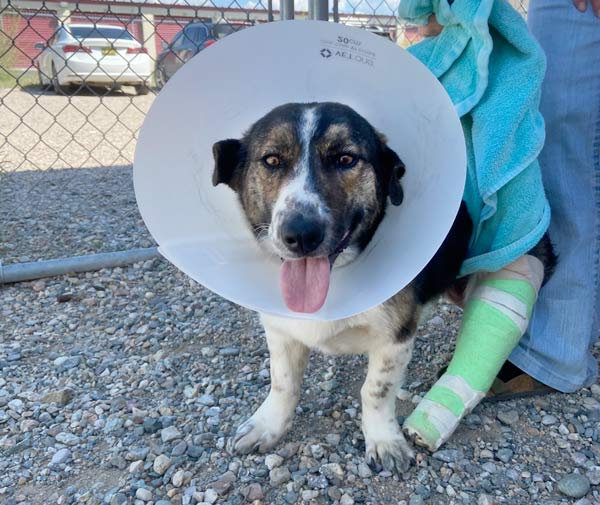 Kili had his right rear leg amputated and his left rear leg set in a cast. I offered to foster him while he recovered. He came to stay with me the day before Mother's Day. Needless to say, I fell in love with his brown soulful eyes, his quirky ears, and his indomitable spirit. I guess you could say I adopted him from the streets of life. I like to think he adopted me, too.
Kili's Canine Rehab Exercises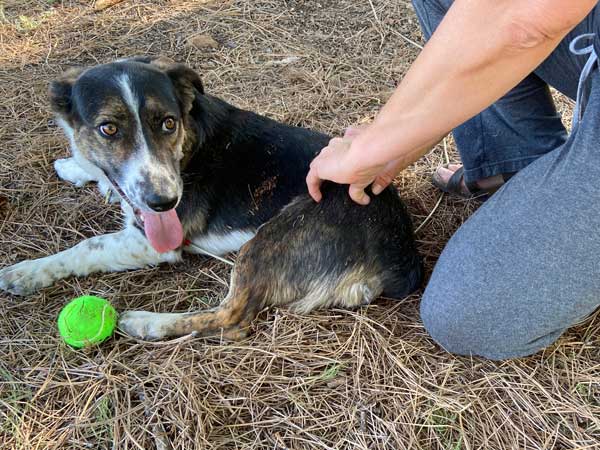 I took Kili to see Sue McKelvey, DVM, a Certified Veterinary Rehabilitation Therapist at Chamisa Mobile Vet in Santa Fe, to find out what I can do to support him lifelong. Dr. McKelvey gave Kili a glowing review. She was impressed with how well he is doing. She also said he was a good weight (he is on the thin side).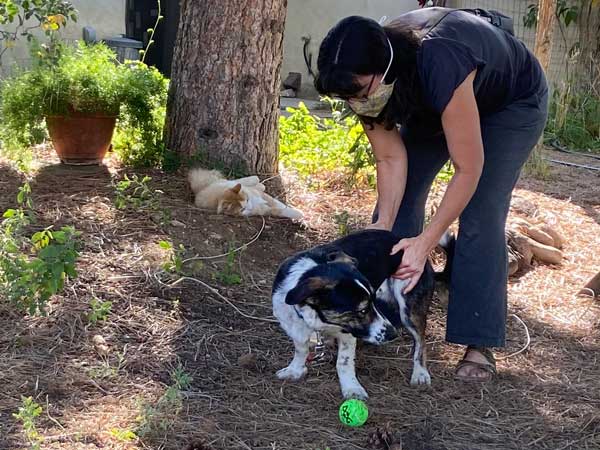 Dr. McKelvey showed me three exercises I can do to help Kili strengthen his back leg and promote balance and muscle tone. The first is called Biscuit to Hips. With Kili standing, I move a treat from his nose to his shoulders, hips and rear foot so that he curls his body to the back. We do this on both sides.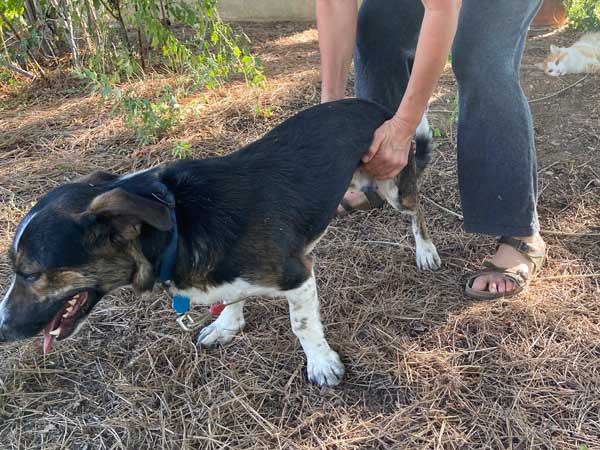 The next exercise is called Standing Sways. I place my hands on Kili's hips and gently sway his hips from side to side as he stands. The third is a massage technique called Skin Rolling and is meant to improve circulation to the skin, release fascia over the muscle, and prevent skin adhesions or scarring. It is also relaxing. I use both hands to pick up Kili's skin on his back between my thumbs and forefingers, and gently roll the skin through my fingers, traveling up his back.
Kili's Rehab Showing Results
Dr. McKelvey also said I could increase Kili's walks by a minute a day and slowly work up to walking him up to an hour at a time. I was very happy to hear this. She said the two best things I can do for Kili are to keep him fit and keep him lean. He is a short dog with a long body, so this is especially important for the health of his hip, shoulder, knee and ankle joints. She also recommended glucosamine/chondroitin/MSM and fish oil.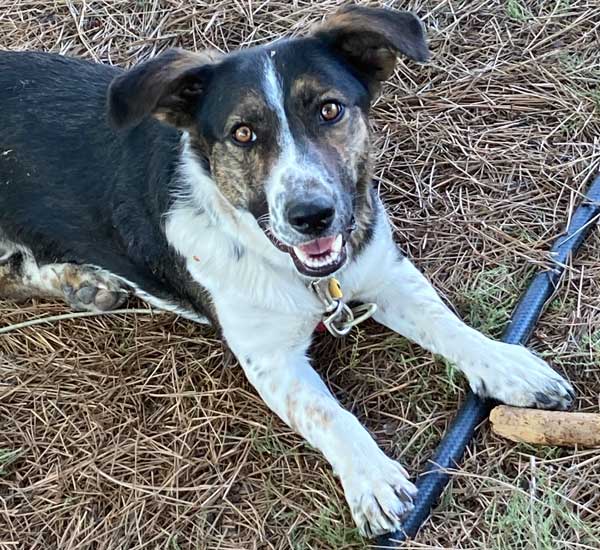 I came across Tripawds through a Google search. I'm grateful we could see a canine rehabilitation therapist! It set us on the right path for continued healing. Thank you, Tripawds!!
~ Ariana and Kili (aka: amfk)
At Home Rear Limb Tripawd Rehab Program