When Tripawd Toby got his wings, community friend and supporter Michael W sent a generous donation. We are furever grateful! Today, his gift is helping Tripawds everywhere. Get your tissues ready, here's a beautiful tribute he sent in memory of his sweet boy, Toby.
Tripawd Toby Leaves Pawprints on Everyone's Hearts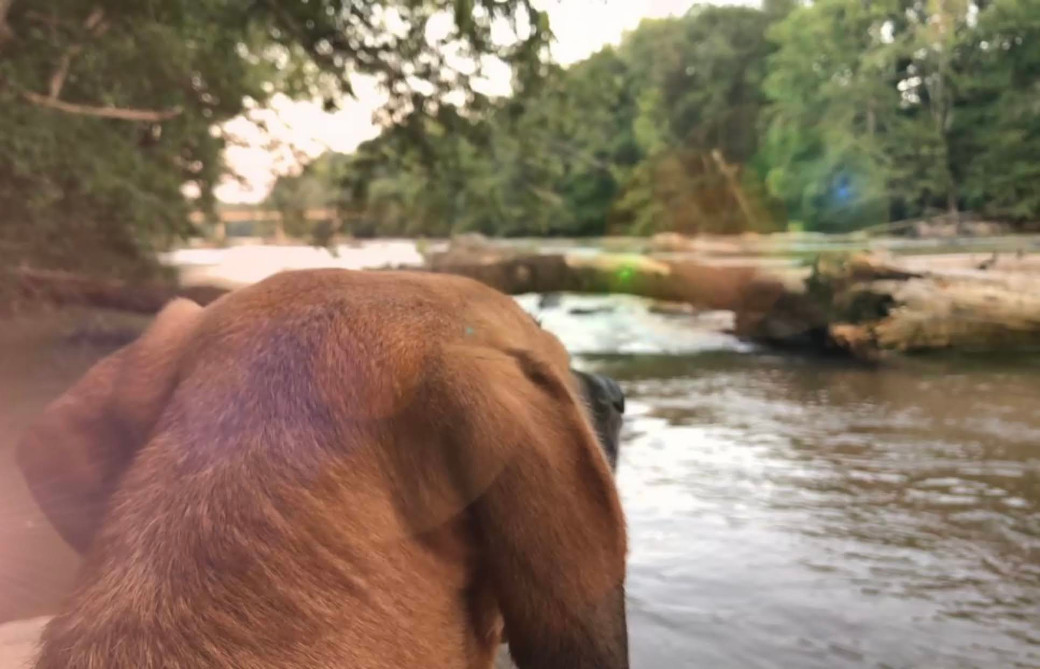 It's hard to sum up Toby in a few sentences.
He started out with us as a rolly-polly little guy that my kids picked out of the litter right away. After he threw up several times from car sickness on the way home from Raleigh (about an hour drive) he jumped out and immediately made himself at home.
That dog didn't ever see an object that he didn't want to chew. Deliveries had to be rerouted to parents' houses so they'd be safe. He even ate 2 Spanish dictionaries from Amazon. Not just once, though, he also ate the replacements. It's hard to explain just how much was torn up and strewn around our yard.
After about a year, and all of us really feeling like Toby hadn't yet earned a spot in the family, we found a wonderful trainer (again, about an hour away) who took Toby for a few months and made magic happen. As it turned out, he was an extremely intelligent dog — it was his owner that didn't know what to do with him.
Our Home was His Rightful Place
When he came home from the training school, he moved into the house and that's when he started really taking his rightful place. I work from home, so he immediately made under my desk his sleeping domain. He even got his own second bed so he could sleep while I worked. And snore! He was banned from the bedroom at night because of that snoring! (We'll return to that in a minute.)
Everything we did together, you could tell from his face that he was trying to make me happy. He always had that sense — just wanting to do whatever it took for you. It didn't take long before a nose on my knee meant it was time to go outside, or the school bus would arrive and that tail went crazy until the kids came in the door. And somehow, he could tell time, because at 8 pm sharp every night, it was dinner time and he would not let you relax until he was fed! We never could figure that out.
His favorite time of the year was when I would build a fire in the wood stove (especially for him, of course.)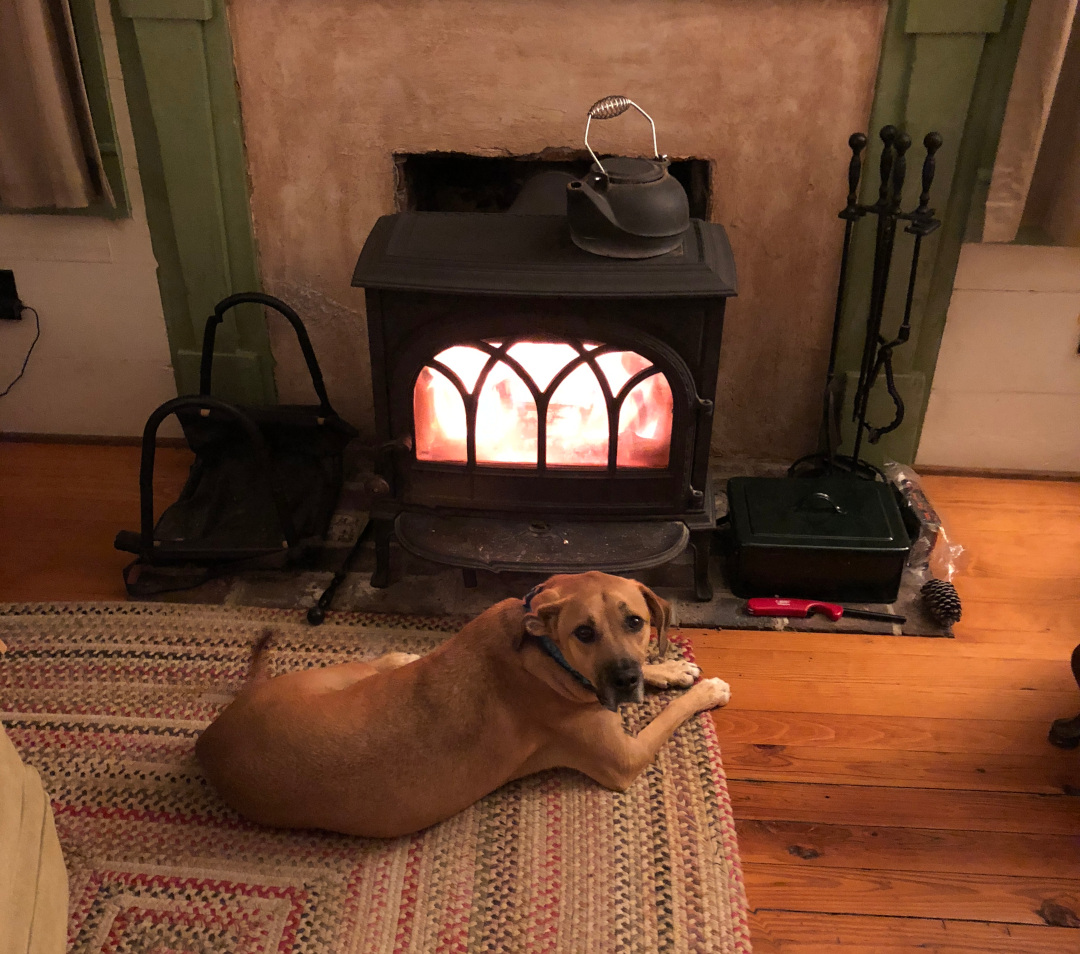 On the few days when I had to leave the house for work, he went to day care at his vet's clinic. I just wish a group of people would greet me the way he was greeted every time he went. Those ladies loved him. And more times than not, he'd have the end of his tail taped up because he had another case of "happy tail" and it was the only way to keep blood from getting everywhere. There are still a few streaks on the walls in the house, but until my wife sees them, I'm not saying a word.
My wife is a high school English teacher and during the pandemic had to work in our dining room for work. This was Toby's nighttime bed location, so he quickly divided his time under my desk with time beside Tracy. He made more than a few appearances on her Zoom classes, mostly because he fell asleep and snored so loud all the students went crazy. They decided he was just bored from English class.
Life was going well.
Then one day, I noticed a limp. After that, things happened quickly. From a misdiagnosis of a torn ligament, to lesions, to amputation, and finally to realization that the cancer had spread before we caught it. It all happened so fast, that, other than a few pictures, none of us seem to remember him in those days, which I guess is good. He handled everything like a champ, though.
The vet let us bring him home one last night and we showered him Little Caesar's pepperoni pizza, his favorite. And snuggles from the family.
I can honestly say that I've never had a bad dog.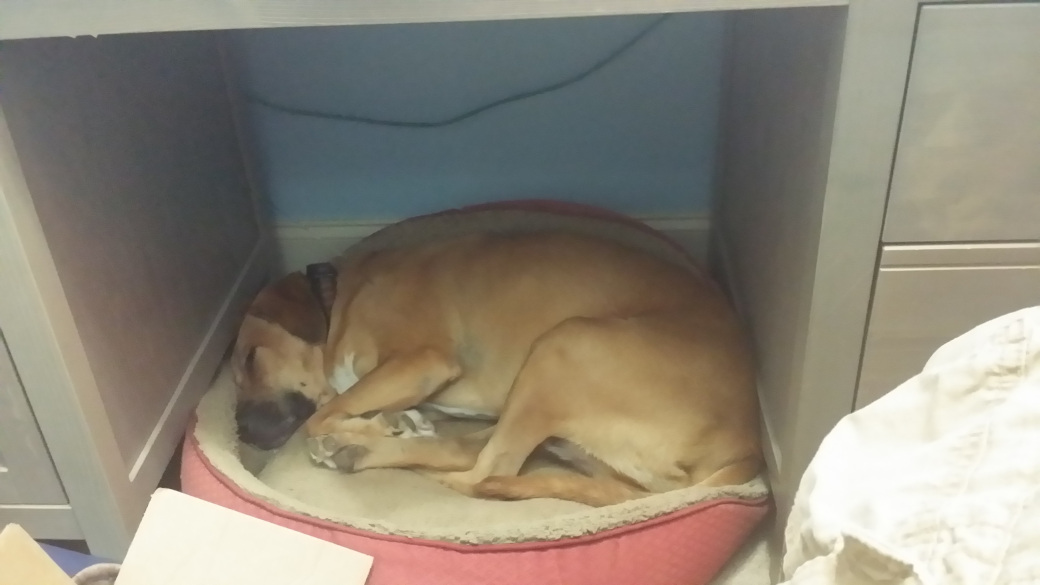 I think they all were great, but Toby was that once in a lifetime friend that will be hard to replace. We all miss having him around, me especially, but we enjoy sharing memories about it from time to time and always have a great laugh about something.
*One more thing — we needed to repaint our kitchen a few weeks ago. As I laid out the drop cloth on the floor, a perfect Toby-paw in white paint stood out in the middle of the drop cloth. (That's another great story, but I'll keep that one.) It was just really nice to have him there with us again, though.
Honoring Tripawd Toby for all he did
I think a recurring gift to the foundation is a great way to honor Toby, and also to be reminded of all he did for us. I hope it helps people who like me were just crazy with fear of what was happening. You do great work! Thanks again for everything!
Michael &Tracy, Corinna, and Holt
and
Toby "Juan Kenobe"
April 1, 2014 – April 9, 2021 ❤