Tripawds ASAP grant #52 is helping Tripawds member rhondawhitt1968 pay for rear leg amputation surgery for Tri-kitty Pebbles. Read on for her story, and learn more about the Tripawds Amputation Surgery Assistance Program. See if you or someone you know qualifies for our pet amputation financial assistance.

This Tripawds ASAP grant is made possible by the charitable contributions of Tripawds fans like you. Thank you for your support!
Pebbles' Feline Amputation Surgery
Pebbles is our 7 month old inside/outside kitty. We live on a farm and she loves going outside and was becoming an excellent mouser. On December 21, I let her outside. She had not been out long when I realized the neighbor's bloodhound was in our yard. I went to find her and I could hear her but could not find her. The bloodhound had attacked her in our driveway and she had escaped and ran up a power pole. As I was calling her, I heard a loud popping noise and heard her hit the ground. She was electrocuted and then fell approximately 30 feet.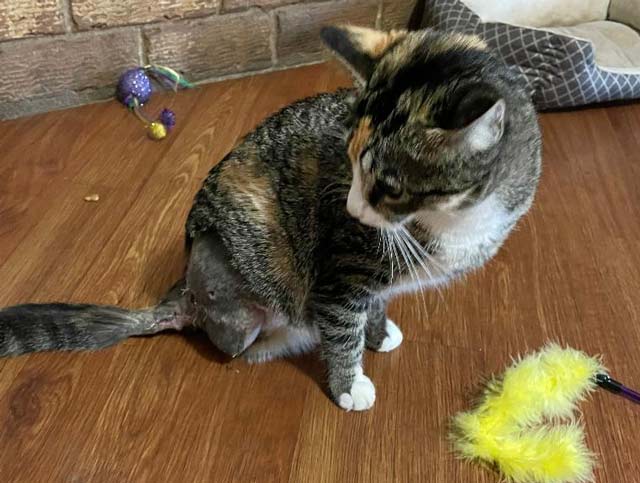 The noise she was making from the fall and from the shock was horrible. I took her to the vet and she had severe tissue trauma on her leg. She was sent home with antibiotics and pain medicine. I took her back to vet the next week because the lacerations looked infected and her paw was still severely swollen. I was told her leg would need to be amputated due to the tissue trauma and nerve damage so on December 30, the feline amputation surgery was performed.
She came home the next day with a drain tube and more meds. On January 3, I took her back to have the drain tube removed but was told the lacerations were still bad and to continue with the meds and bring her back on January 6th. On the 6th, I was finally told good news. The lacerations looked much better and the stitches will be removed January 10. Pebbles has been so traumatized from the attack and the vet visits.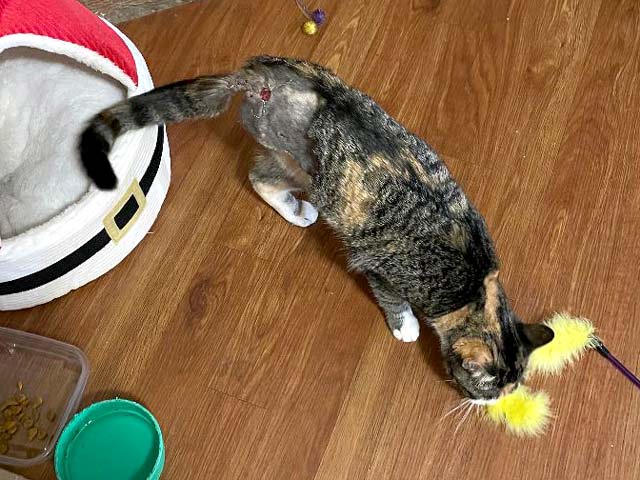 Every vet visit, I could hear her screaming and hissing while I waited in the lobby. Before the feline amputation surgery, Pebbles was a little spit fire, full of energy, loved her toys and was living her best little farm life. I hope and pray her personality will return fully. Her appetite has finally returned and she wants to go back outside and lay in the sun but from now on, she will have to be supervised. The fact that she even survived is amazing. She is a little fighter!
~ Rhonda and pebbles (aka: rhondawhitt1968)