Maggie Moo Rehab Grant #114 went to Tripawds community member teddiandsully. The free consultation and canine rehab therapy helps Sulli the front leg Tripawd sheepdog get strong and enjoy a happy healthy life on three legs. Read his story, and learn how you can get a free veterinary rehab evaluation for your dog or cat.

Yes! Tri-kitties qualify for free feline rehab too. See all Tripawds who have received free rehab sessions thanks to your support.
Free Canine Rehab Helps Tripawd Sheepdog Sulli
Our Tripawd Sheepdog Sully is an 11 year old Old English Sheepdog who a front right leg amputation on December 15th, 2021 due to synovial cell sarcoma. After his surgery, it became clear that Sully wasn't going to "bounce right back" like amputees who are younger (or thinner!). He had some scary stumbles and face-plants early on, so I reached out on the Tripawds Forums looking for advice. I heard about the Tripawds website through Google searching about dog amputations when we first learned about Sully's cancer diagnosis. On the Forums, I was pointed in the direction of canine rehabilitation/therapy. I was a little nervous about the cost, but I was assured that the Tripawds Rehab Reimbursement program existed to reimburse the initial consultation, so we decided to look into it. Sully's regular vet's office, the Animal Hospital of Dauphin County, has a CCRT vet on staff- Dr. Jennifer Fletcher Eckenrode, DVM, CCRT. We emailed right away and booked our appointment.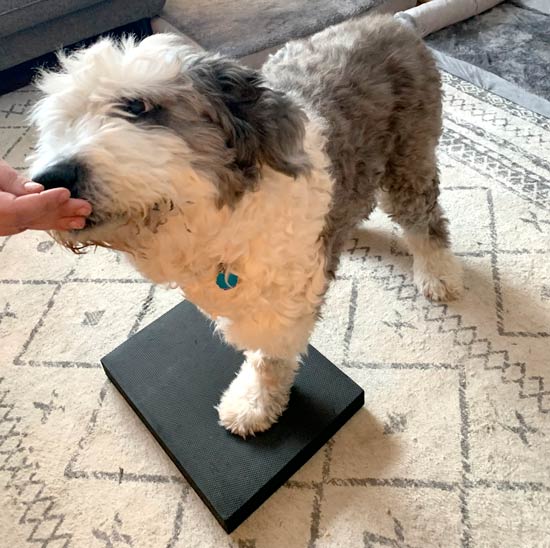 Sully's first rehab visit was five weeks post-amputation. We waited while Sully was taken back and evaluated by the rehab team. Once we were called into the room with him, we were pleased to hear that Sully looked very good overall for a new senior Tripawd Sheepdog. They explained that they'd try laser therapy, water therapy, and other various techniques to help with tightness from overcompensation, and to build his core strength. They explained that building his core strength would be very important to help make up for the pressure on his remaining front leg, and to help with alignment and balance and overcompensation of other muscles and joints. They prescribed 8 weeks of rehab, plus at home exercises, then a reevaluation.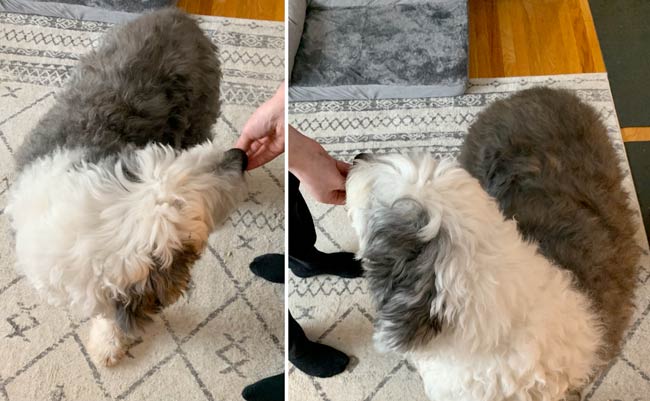 We've been working on the recommended at-home activities and exercises for core strength. Currently, Sully is practicing his Standing C-Spine Side Bends and Box Stands daily.
The Standing C-Spine Side Bends don't require equipment, just little treats to get Sully to turn his head and bend to each side. Sully holds each side bend for 5 seconds. He does 5 reps per side. He doesn't struggle with this activity and really likes the extra little treats!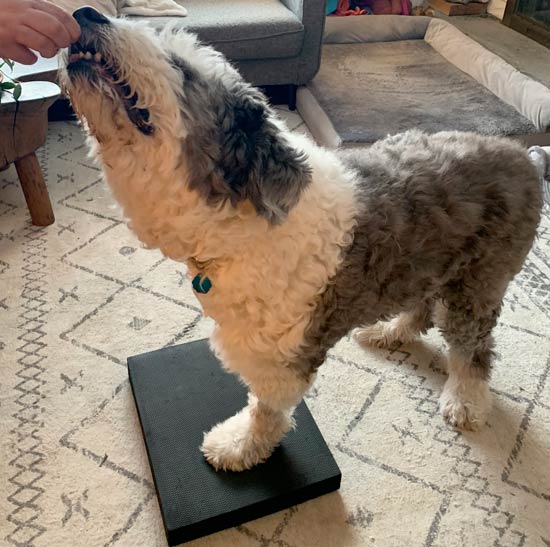 The Box Stands are more challenging for Tripawd Sheepdog Sully. We purchased a balance mat that is 2.5" high for this activity. After hopping up onto the mat, we hold treats just above Sully's head-level, so he has to stretch out a bit with his nose up in the air. He holds each box stand for 30 seconds, and does 3-5 reps, 2-3 times/day.
Because we're trying to reduce Sully's weight, we are carefully counting his calories, and have reduced his food intake to account for the extra treats he gets while practicing his rehab exercises.
From this experience, what we learned most is that all new Tripawds can likely benefit from rehabilitation/therapy, as their bodies adjust to their new gait and balance. We're so glad we were encouraged by Tripawds through the Maggie Moo Fund to explore this option for improving Sully's life!
~ Teddi and Sulli (aka: teddiandsully)