What a great way to start the new year! This month we received a big donation to Tripawds Kaiserin Pet Cancer Care Package Program. The gift came from none other than the founders of the program, Natasha and her painting dogs, Schultz and Wilhelmina!
Donation to Kaiserin Care Package Program Makes Amputee Pets Hoppy!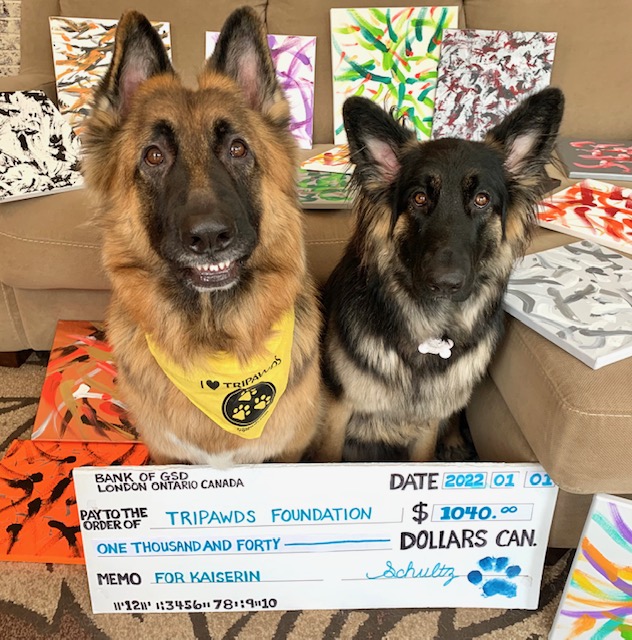 What a joy to receive a giant donation from our beloved and important Tripawds family members. Thank you to Natasha, Schultz, Wilhelmina and Angel Kaiserin! The Kaiserin Pet Cancer Care Package puts smiles on so many dogs and cats with cancer. It delivers healthy, tasty, and helpful gifts that make life better. And we couldn't do that without you, all the generous donors, and buyers of your amazing paintings by Schultz and Wilhelmina.
Natasha announced the donation on their Instagram account @thelifeofschultz on Kaiserin's birthday in heaven. She wrote:
Today we made a $1,040 donation to the Tripawds Foundation with the money raised from the sale of our paintings in 2021. Today would also have been Kaiserin's 11th birthday so it seems perfect to announce this today. If you see in the video, I touch my paw to Kaiserin's name on the big fake cheque. It made mom teary eyed!
View this post on Instagram
This gift was made possible because of purchases made through sales of Schultz and Wilhelmina's paintings. You can buy them in their Etsy shop, Art4TripawdKaiserin
Yes, you read that right. These two dogs who paint create the most beautiful original artwork! The pack donates $20 of every sale to the Kaiserin Pet Cancer Care Package.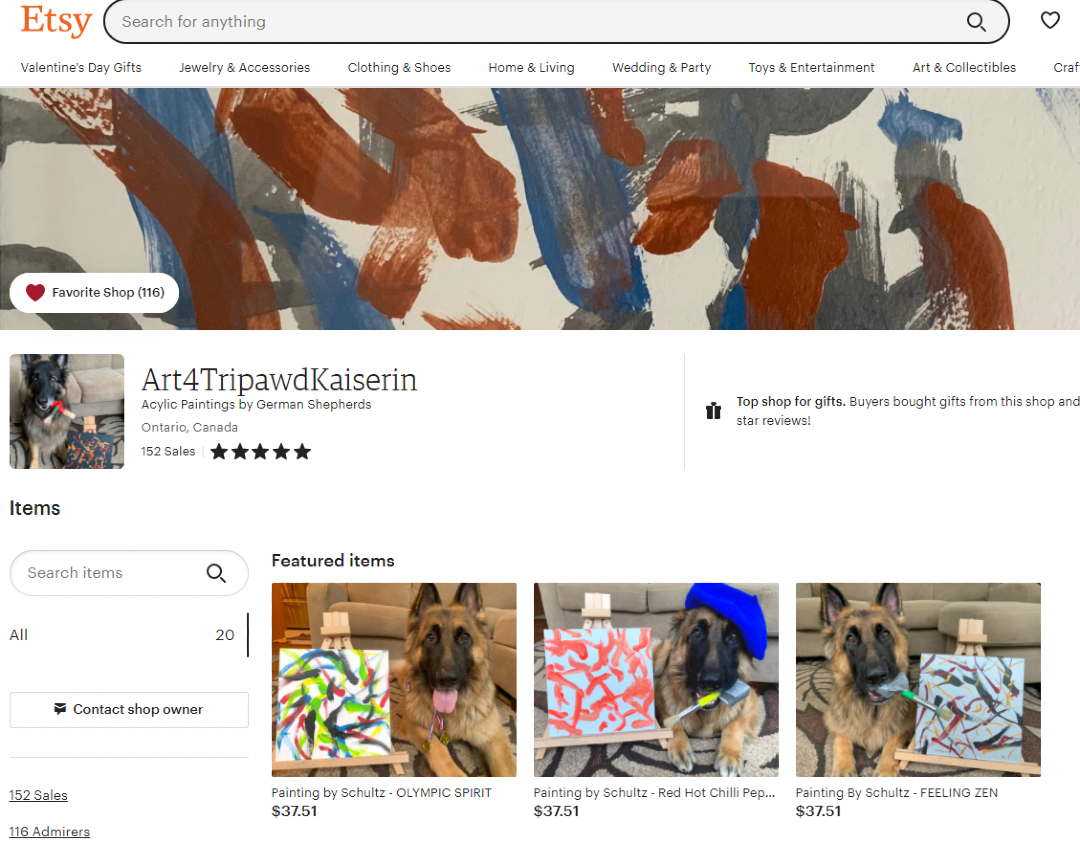 In 2021, Kaiserin's crew organized the first painting dogs auction to help Tripawds. The 2021 Dog Art Auction Results exceeded our wildest dreams! Over $4,000 was raised by people who bid on amazing paintings by dogs like Schultz, Wilhelmina, and painting dogs from around the world.
2022 Painting Dogs Art Auction Coming Soon!
We are so grateful for the hard work Kaiserin's pack puts into raising funds for this program. So many Tripawds with cancer have enjoyed their fun and tasty gifts.
Another painting dogs art auction to benefit Tripawds Foundation is taking place this year. Watch this space and subscribe to the Tripawds Newsletter for details.