Maggie Moo Rehab Grant #115 went to Tripawds community member luvvheather. The free canine rehab consultation helps rear leg Tripawd Lab Luka get strong and enjoy a happy healthy life on three legs. Read his story, and learn how you can get a free veterinary rehab evaluation for your dog or cat.

Yes! Tri-kitties qualify for free feline rehab too. See all Tripawds who have received free rehab sessions thanks to your support.
Rear Leg Tripawd Lab Luka Gets Free Canine Rehab
Luka is the happiest, wiggliest boy to ever run on three legs. He is a two-year-old Australian Shepherd and Labrador Retriever mix, or so we think. He was rescued by Soul Dog Rescue last summer after suffering catastrophic injuries to his rear left leg. For unknown reasons, someone decided to point a gun at Luka and pull the trigger, leaving him to suffer the consequences. Yet, he doesn't let it slow him down one bit! He continues to love every stranger he meets with his whole heart. The only sign of trauma that I have noticed is a mild fear of certain clicking sounds, which I imagine may be related to the sound of a gun cocking.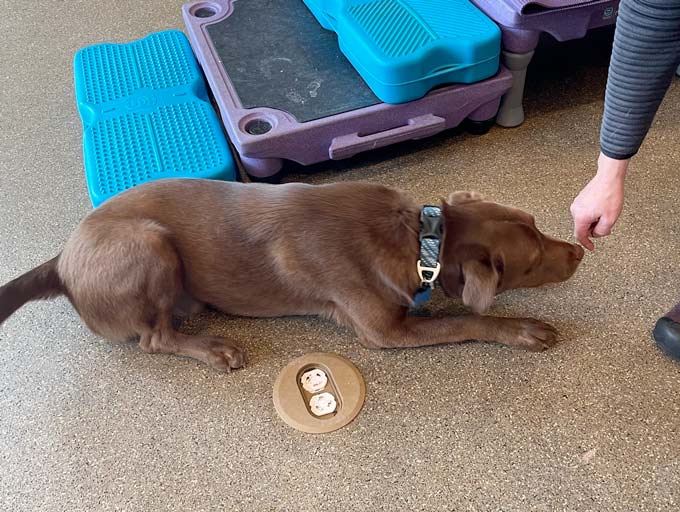 Luka is a very active dog and I often worry about him being unable to continue to do the things he loves, such as hiking and out-running the other dogs at the dog park, into his old age. To ensure he will be able to maintain his active lifestyle, I took Luka to see Dr. Morgen Deramus at Red Sage Integrative Veterinary Partners for his first physical therapy consultation. Dr. Dermaus gave us excellent pointers on different supplements and medications as well as various exercises we could incorporate into our daily lives.
These rear leg Tripawd exercises included:
Low level forelimb stands – Luka has his front legs on a somewhat unsteady surface, such as a pillow, and back leg on the ground. I then lure his head forward with a treat so more weight is on his front paws. From there, I lure his head towards his left or right shoulder and hold for 30-60 seconds. We are to do 3-5 reps every day, or every other day, to help build his balance and core strength.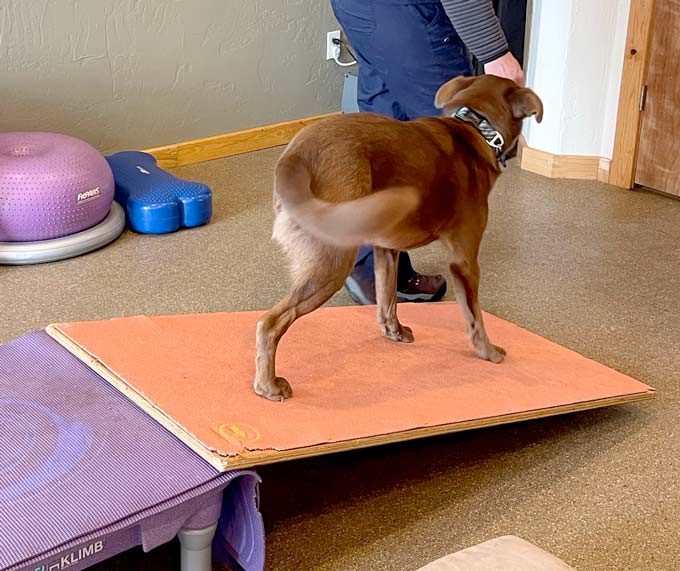 Down to stands – Luka goes into a down position then stands straight up with no sit in between. I do this by commanding a "down" then luring Luka into a stand by stepping back and offering a treat. This exercise could be compared to sit ups for humans as it also helps work out the core. We do 5-7 reps every day.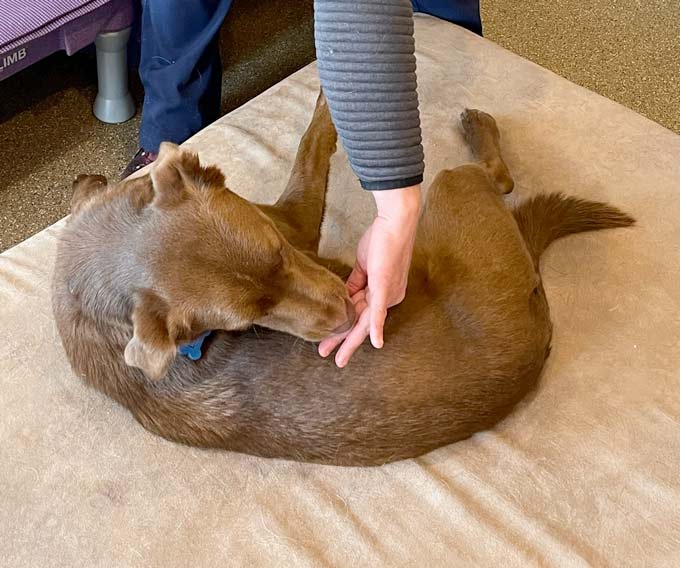 Diagonal stands – While Luka is standing, I pick up his left front paw and help support his body a bit by placing my other hand under his belly, allowing me to also feel whether or not he is engaging his abdominal muscles. I have Luka hold this position for as long as he is capable. It's basically a doggy plank! We are to do this for 2-3 reps every day, or every other day.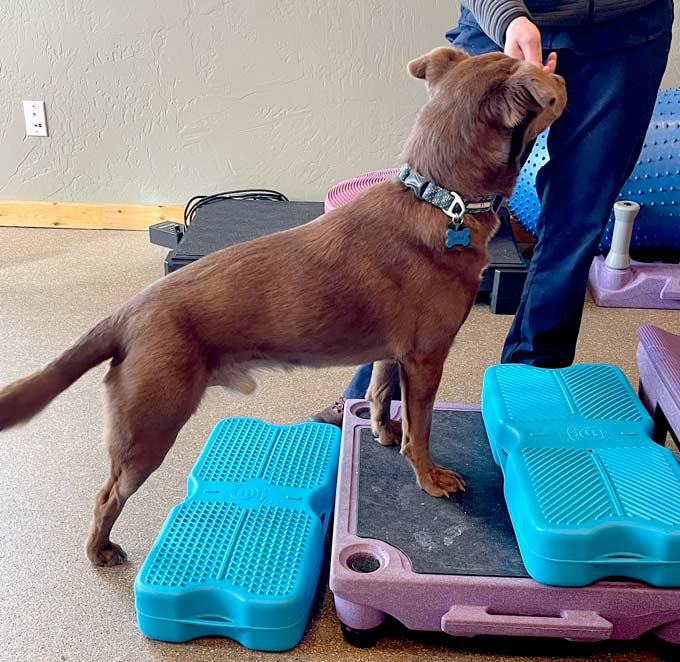 We will continue to visit Red Sage once a month for more exercises, and get acupuncture every 3-6 months. Per recommendation, I have also started Luka on Movoflex, fish oil, and Adequan injections for further protection of his joints.
Overall, Luka's action plan is designed to build up his muscles and reduce the strain on his tendons and joints, giving him the best chance of warding off osteoarthritis and maintaining his active lifestyle. Prior to my research into caring for a tripod (thank you Google for directing me to Tripawds.org!!) and our appointment at Red Sage, I had no idea about all the different preventative measures available to our tripods – and I have worked in the vet field for nearly 6 years and will be starting vet school this fall!!!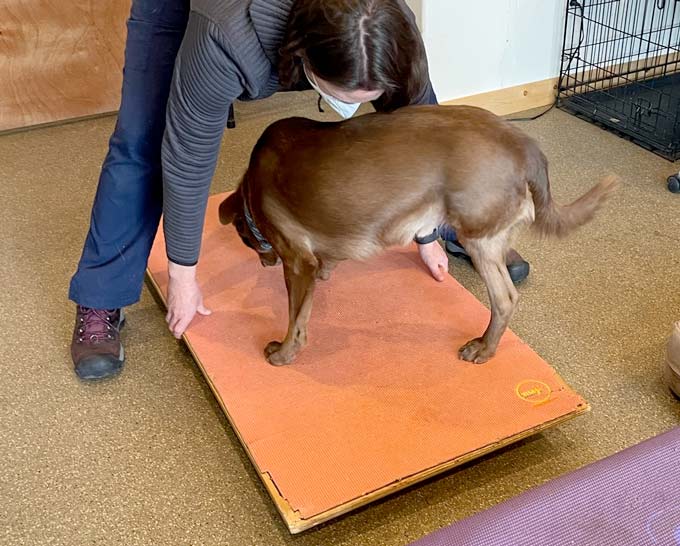 I have learned so much about the struggles that rear leg Tripawd dogs face long-term as well as all of the various tools we can give them to overcome such struggles. I have also discovered a passion for rehabilitation and am now contemplating a specialty in veterinary rehabilitative medicine.
Thank you, Tripawds Community, for all of the work you do in educating the public about tripods, and thank you for considering us for this scholarship. I would not have the opportunity (or knowledge) to provide such care for Luka without you and your supporters! You can continue to follow Luka's adventures on Instagram: @luka.the.tripod
~ Heather and Luka