Tripawds ASAP grant #53 is helping Tripawds member marie4poches pay for Juliette's cat limb amputation surgery. Read on for her Tri-kitty tale, and learn more about the Tripawds Amputation Surgery Assistance Program. See if you or someone you know qualifies for our pet amputation financial assistance.

This Tripawds ASAP grant is made possible by the charitable contributions of Tripawds fans like you. Thank you for your support!
NOTE: Submitted by a native French-speaking Canadian member, Juliette's cat limb amputation essay was submitted using Google Translate. Scroll down for the original French version.
Juliette's Cat Limb Amputation Surgery
The bad news fell on January 27: osteosarcoma of the shoulder.
Juliette had had an episode of lameness for which I had been to the vet. We didn't really know what it could be, maybe a dislocation. I left with anti-inflammatories and Gabapentin for 2 weeks. The medication worked well, and Juliette stopped limping for about 3 months.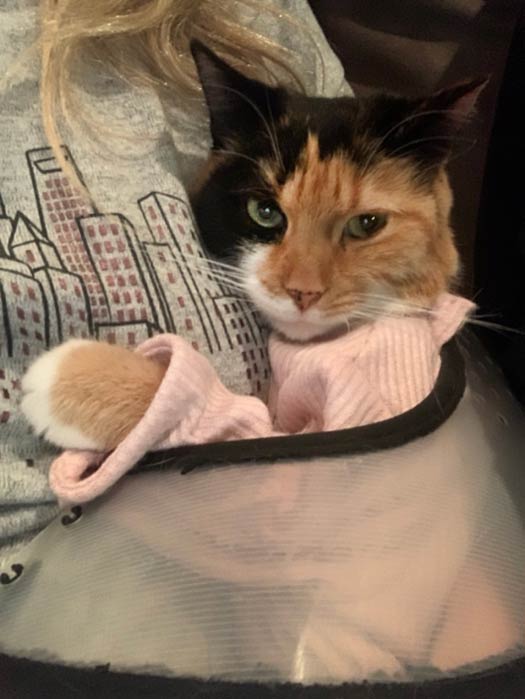 Subsequently, the lameness returned. At first, I wasn't very worried because I thought maybe it was a muscle thing or that she had hurt herself jumping because she likes heights a lot. Since it did not improve, I went to see an orthopedic specialist. It was while doing the x-rays that the diagnosis was made to everyone's astonishment. He told me it was a rare thing in cats, but the prognosis was very good. I understand that the solution was medically simple and rational, but I was really in shock because I did not expect such a diagnosis at all.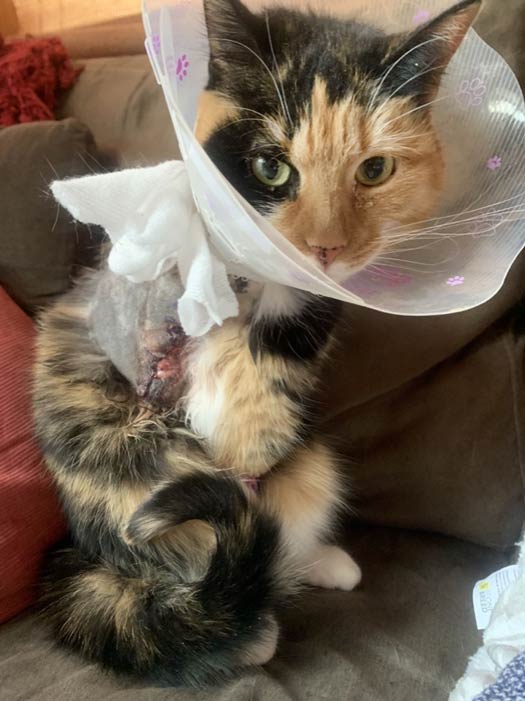 I didn't have the money at all to face such a cat limb amputation diagnosis, but I was unable to make any other decision. It's so annoying to have to consider money in this kind of situation. This should not be involved in our decision. I was also very emotional because I had to face cancer 3 times. I was afraid of making my decision for the wrong reasons. Was I doing it for her or for me?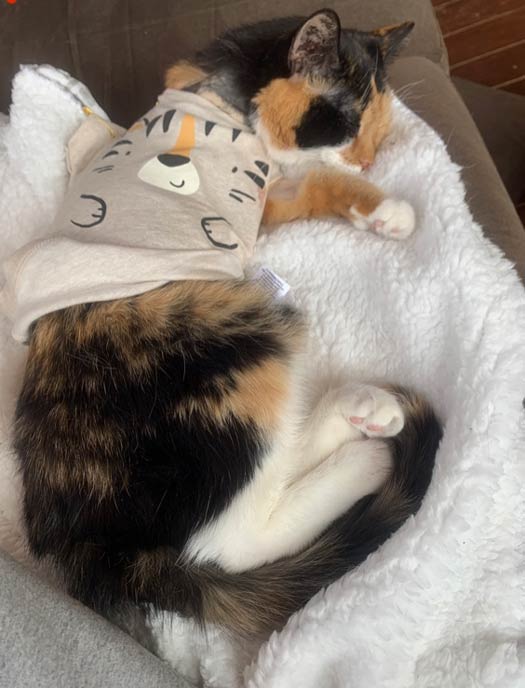 Obviously, I have done a lot of research on osteosarcoma and cat limb amputation. It was then that I discovered Tripawds. It was like a real lifesaver because I felt adrift like Rose in Titanic! I found here a lot of comfort, information, encouragement, and there were many people who patiently answered my many questions. You can have more details and photos here in my first Tri-kitty Forum post.
The amputation took place on February 15. I found it difficult to see her like that on her return because she was unwell, very disoriented and the wound had bled in transport. The first few days, she was knocked out with medication, and she was fine. Then the next two days it started to bleed a little bit and ooze again. I was worried, but luckily it resolved without complications. I found a lot of support here from everyone, it made things easier.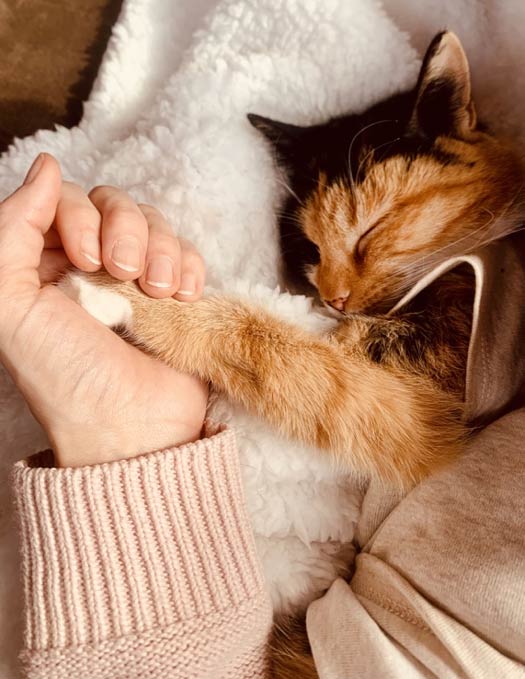 Juliette continues to recover from her cat limb amputation. We are day 13 post-op. The medication will end tomorrow, so I'm a bit apprehensive, but I'll trust fate. Then, it will be the removal of the stitches this Thursday, I can't wait and Juliette even more!
I hope things will continue to go well for her and that we will be rid of this bad cancer for good.
~Marie-Hélène & Juliette (aka: marie4poches)

Chirurgie de l'amputation de Juliette
La mauvaise nouvelle est tombée le 27 janvier dernier : ostéosarcome de l'épaule.
Juliette avait eu un épisode de boiterie pour lequel j'avais été au vétérinaire. On ne savait pas trop ce que ça pouvait être, peut-être une luxation. Je suis repartie avec des antiinflammatoires et du Gabapentin pour 2 semaines. La médication a bien fonctionné et Juliette a cessé de boiter pour environ 3 mois.
Par la suite, la boiterie est revenue. Au début, je n'étais pas très inquiète car je me disais que c'était peut-être un truc musculaire ou qu'elle s'était faite mal en sautant car elle aime beaucoup les hauteurs. Puisque cela ne s'est pas amélioré, je suis allée voir un spécialiste en orthopédie. C'est en faisant les radiographies que le diagnostic est tombé au grand étonnement de tous. Il m'a dit que c'était quelque chose de rare chez les chats mais que le pronostic était très bon. Je comprends que la solution était simple sur le plan médical et rationnel, mais j'étais vraiment en état de choc car je ne m'attendais pas du tout à un tel diagnostic.
Je n'avais pas du tout les sous pour faire face à un tel diagnostic, mais j'étais incapable de prendre une autre décision. C'est si fâchant de devoir tenir compte de l'argent dans ce genre de situation. Cela ne devrait pas être impliqué dans notre décision. J'étais aussi très émotive car j'ai moi-même dû faire face au cancer à 3 reprises. Je craignais de prendre ma décision pour de mauvaises raisons. Est-ce que je le faisais pour elle ou pour moi ?
Évidemment, j'ai fait beaucoup de recherches sur l'ostéosarcome et l'amputation chez les animaux. C'est alors que j'ai découvert Tripawds. Cela a été comme une vraie bouée de sauvetage car je me sentais à la dérive comme Rose dans Titanic ! J'ai trouvé ici énormément de réconfort, d'informations, d'encouragement et il y a eu de nombreuses personnes qui ont patiemment répondu à mes multiples questions. Vous pouvez avoir plus de détails et de photos ici: forums/3-legged-cats/a-lot-of-stress-and-questioning.
L'amputation a eu lieu le 15 février dernier. J'ai trouvé cela vraiment difficile de la voir comme ça à son retour car elle était souffrante, très désorientée et la plaie avait saigné dans le transport. Les premiers jours, elle était assommée par la médication, et ça allait bien. Ensuite, les deux journées suivantes, ça s'est remis à saigner un peu et à suinter. J'étais inquiète, mais heureusement ça s'est résorbé sans complication. J'ai trouvé énormément de soutien ici auprès de tous, ça a rendu les choses plus faciles.
Juliette continue de se rétablir. Nous sommes jour 13 post-op. La médication se terminera demain, donc j'appréhende la situation un peu, mais je vais faire confiance au destin. Ensuite, ce sera le retrait des points de suture ce jeudi, j'ai bien hâte et Juliette encore davantage !
J'espère que les choses vont continuer de bien aller pour elle et que nous serons définitivement débarrassées de ce foutu cancer.
Commencez ici pour obtenir de l'aide sur l'amputation d'un animal de compagnie