Maggie Moo Rehab Grant #117 went to Tripawds community member sarahe. The free canine physio consultation helps front leg Tripawd Kimani get strong and enjoy a happy healthy life on three legs. Read his story, and learn how you can get a free veterinary rehab evaluation for your dog or cat.

Yes! Tri-kitties qualify for free feline rehab too. See all Tripawds who have received free rehab sessions thanks to your support.
Canine Physio Helps Rear Leg Tripawd Tai
Please meet Tai , our newly adopted Tripawd boy!
Tai is a 6 year old Spanish Greyhound or Galgo Espanol who lives with us on our narrowboat on the River Soar in Leicestershire UK.
We adopted Tai on Jan 28th 2022 from Greyhounds In Need , a UK charity who specialise in rescuing these noble, gentle souls. Sadly, they have very tough lives as "working" dogs, often followed by abandonment and worse. The numbers of dogs treated like this is in the thousands every year. They make such loving companions and their ability to trust again, always amazes us.
Tai was rescued by Galgos del sol in July 2021 with his leg already missing. He appeared to have healed and adapted well so the best guess is that he lost his leg in a hunting accident ( he also has a lot of scarring on his belly which could be related). Our best guess is he was a good hunter and was very lucky to have a galguerro who was prepared to spend money on saving him and after his amputation was maybe kept for breeding. He was certainly very lucky. He is a happy, trusting and loving boy who is keen to learn and he is our inspiration, every day.
He came to the UK in November 2021 in a group of 16 Galgos looking for their forever homes but sadly as a Tripaw he was overlooked and was one of just three dogs left at the shelter.
We are experienced sighthound owners but had no idea what to expect as Tripaw parents, so when the shelter suggested him to us, we were worried that boat life might not work for a boy with three legs. However, after some research ( unfortunately we didn't find the Tripawds site until a bit later on) which mainly involved contacting Tripaw owners and chatting with them, we decided to go and meet him.
Of course, he stole our hearts as soon as we met him . A happy confident boy, we are so glad that we have him in our lives . In all honesty he has saved us a lot more than we saved him.
Once we had agreed that this could work , our Tripawd education began in earnest as we discovered the Tripawds Foundation site and community. We felt that we had ( and still do!) such a lot to learn… How far could he walk? How do we make sure he is living his best life as a Tri? Should we be giving him supplements? How do we best help him up and down the steps in to the boat? It all felt so overwhelming…
Thankfully , all our questions were answered by the Tripawds crew (Rene & Jim you are *legends*) and it felt as if we had been thrown a life raft. Phew! We were also excited to find out about the Maggie Moo Rehab Reimbursement scheme , without which, we would have struggled to access canine physio for Tai.
We chose to go with Valiant Veterinary Physiotherapy. Tai sees Claire Richardson (Vet physio MsC) who is a fully insured & registered member of The National Assocaition of Veterinary Physiotherapists.
As Valiant are still operating under social distancing guidelines, we were not allowed to accompany Tai in to the surgery for his canine physio session. But we do have some photos and a video of him having his assessment, massage and performing his excercises. We received a print out of his rehab plan and were able to assist of questions too. He has a plan involving home massage and guidelines on walking, home adaptations and supplements.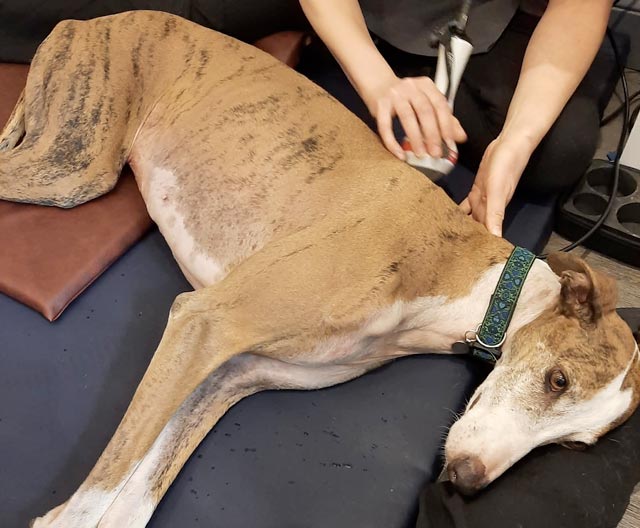 He also has a tailored canine pgysio excercise plan for strengthening his core stability, proprioception, balance and extension and flexion.
We can choose to do 2-4 excercises each day increasing reps as he gets stronger.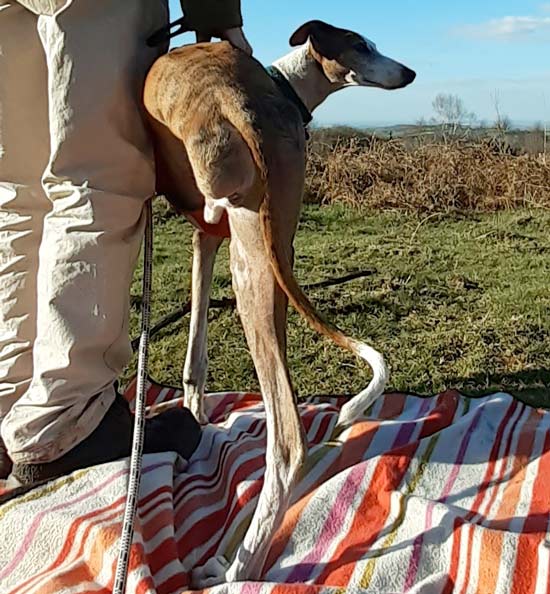 We have assisted balance excercises of 2 reps for 3 secs. We support him in a standing position with hands either side of his hips holding him in the correct standing posture.Using one hand to press gently on his upper right thigh and push very gently to the left. Hold for 3 secs, then release. Repeat on the left side.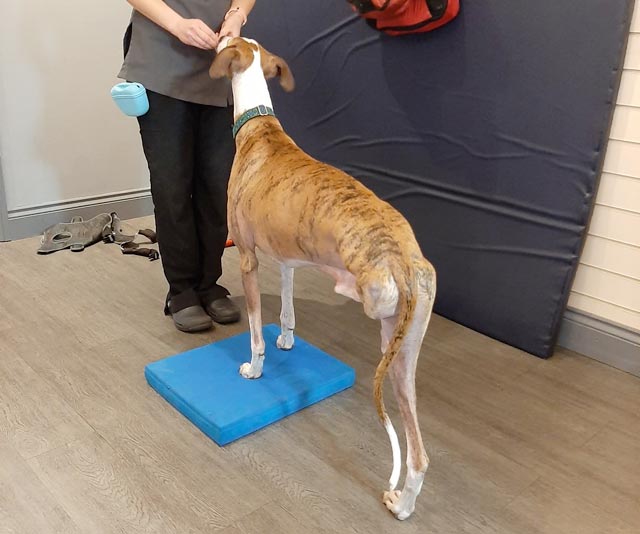 We then have unassisted balance excercises with him standing with his front paws on a stable step holding for 5 seconds x 5 reps.
To progress from this we will be using the 5 second reps but on a balance board. And the final step will be to do this but with head turns on each side. We also have some Cavaletti Pole work excercises which helps with his flexion & extension.
This involves just walking him over poles several feet apart on the ground then raising them slowly to his carpus (wrist) height as he gets more capable. We can then place the poles in a zig zag pattern.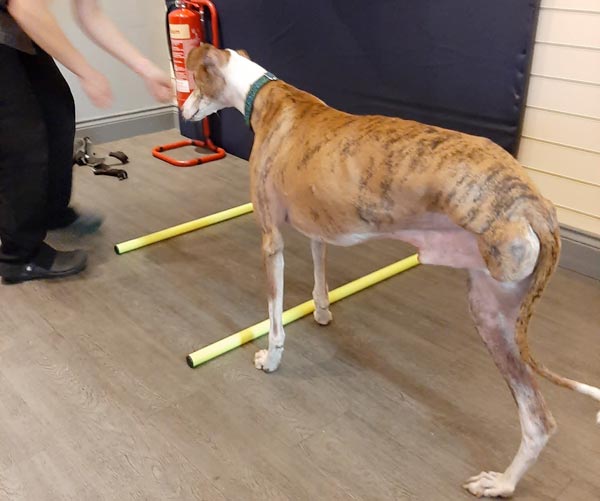 As Tai has a few sore spots on his right shoulder , lower back and right hamstring , we have instructions on applying a heat pad to these areas , each evening and then some basic massage techniques for us to try.
We are so happy that we have had the opportunity to get this help for Tai at tye beginning of our journey with him. The most important things we have learned from this are :
Core strength is key for Tripaws and helps to support their joints and keep them injury free .
Walking alone will not increase his muscle strength ( a big suprise for us) only his endurance.
Keeping his weight low is key! We are pleased to say that we have managed to drop Tais weight to the ideal level suggested by our physio, even though he has gained more muscle in the 7 weeks that he has been with us.
We are looking forward to many adventures with our lovely boy and are so happy to have the opportunity to give him, hopefully, the time of his life!
~ Sarah, Huw & Tai (aka: sarahe)
At Home Rear Limb Tripawd Rehab Program