Three legged dog Maya benefits from canine physio thanks to Tripawds Foundation Rehab Grant #133. The free consultation and at home rehab exercises will help her stay strong on three legs. Read her story, and learn how you can get a free veterinary rehab evaluation for your dog or cat.

Yes! Tri-kitties qualify for free feline rehab too. See all Tripawds who have received free rehab sessions thanks to your support.
Canine Physio Helps Tripawd Maya in Austria
Maya is one-year old, mixed collie type breed. She came to us as at the end of 2021, she had a severely broken humerus from life on the streets in Croatia. Over the following months, she underwent two major operations. Sadly neither were a success and amputation of her front leg was our only option.
It was extremely difficult for us to go ahead with her amputation. But we knew it was best for her and we were reassured that her recovery should not be too challenging for her and she will adapt with time on three limbs. Our first canine physio appointment was really positive and Maya clearly had a good (and tiring) time. We began by discussing her past, her injury and our current lifestyle . This included her current exercise routine and food. We also discussed any concerns I have with her development as a Tripawd.
Next we went to the outside of the canine physio clinic and walked down the road to assess her gait. All of my concerns, such as her curved spine, seemingly shorter front remaining limb, and her hock extending inwards were reassured to me. These were quite normal problems associated with a front limb Tripawd. And, we could work on improving these over time with improved core and leg strength. Next, Maya had a full physical examination. The practitioner felt all over her body. She was actually quite impressed with Maya's flexibility and movement. She didn't show any pain, and already has quite strong hind legs.
Then we discussed many topics. These included supplements, correct harness fitting, correct lifting, and raising her feeding bowls. We ensured she has a low, well padded bed, and a ramp for the sofa. We were told to support with her with the harness going down the stairs. And we put non-slip rugs around the apartment to prevent her from slipping and causing other injuries to her remaining legs. We also discussed safe playing. Sadly, this means no ball games allowed but some tug games are allowed as they can help her stretch and strengthen her abdominal muscles.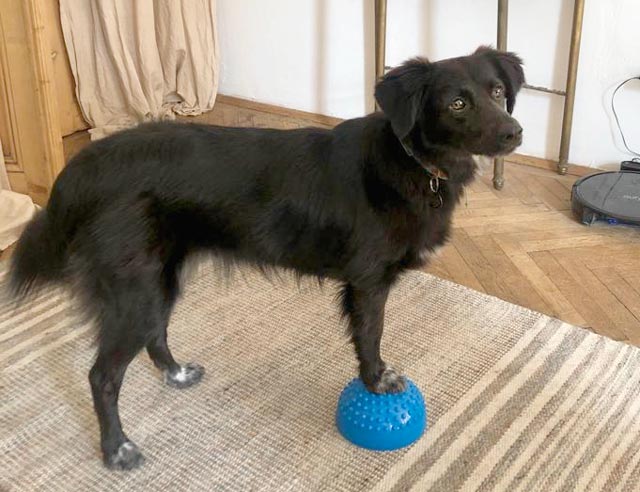 Maya's At Home Physio Program
Next up came the canine physio exercises, we started by learning about massage and stretching. It's important to do a daily massage of Maya's muscles, spine and her skin folds to loosen the tissue and increase circulation.
Next, I was shown how to carefully flex and extend her joints in cycling movements to promote her joint mobility in the remaining front leg and hind legs (2 x 20 repetitions).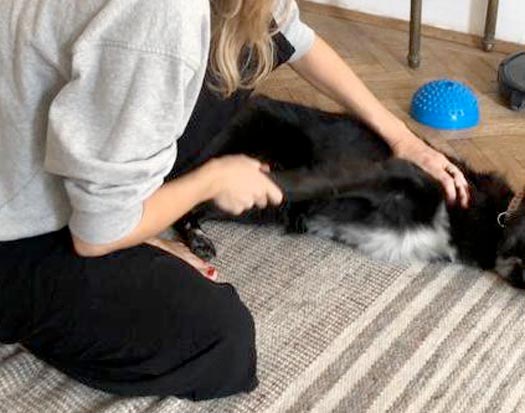 I was shown multiple stretches, including 'cookie stretches' downwards (2 x 2 repetitions) and to the side (2 x 6 repetitions).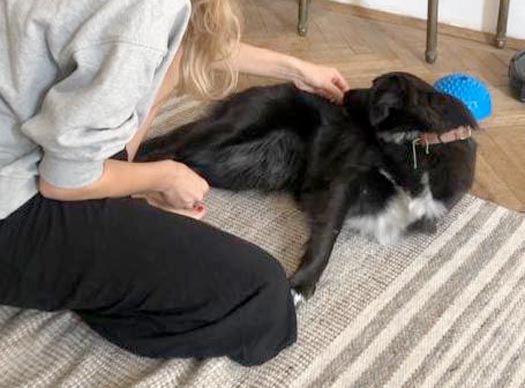 Other exercises included side crunches (2×5 repetitions) so that Maya can build a stronger core.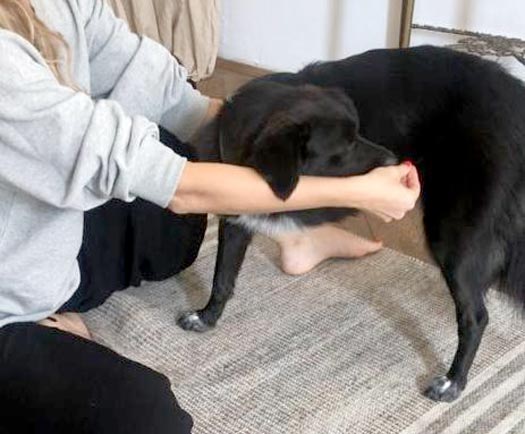 We also do various types of cushion balances – on a 'soft' and 'textured' surface – (3×10 daily). The cushion balances focus on Maya standing, then sitting and standing again on the cushion with her front remaining limb. Then we repeat the same but with her back limbs. Once this is understandable for her, we can progress onto having two balance cushions for both front and back limbs.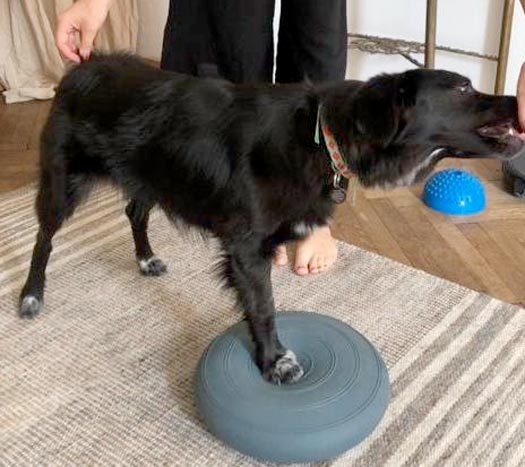 Our first session of canine physiotherapy was really a great success and we are already noticing a difference in her mobility from doing the exercises and stretches daily! At the moment, we are aiming for most exercises daily and one day off per week. What I learnt most of the experience was how important core muscles were for front-limb amputees and that these small exercises can make a huge difference long term.
Thank you very much to the Tripawds Foundation and Maggie Moo Fund for giving us this opportunity. We went to our local canine physio clinic PHYSIOBELLO (Tierarztpraxis für Chiropraktik, Physiotherapie und Rehabilitation)
Many thanks again and greetings from us in Vienna, Austria!
~ Josephine & Maya