Tripawds Foundation ASAP grant #56 helps Tripawds member jenn1372 pay for front limb amputation surgery for new Tripawd Gus. Read on for his story, and learn more about the Tripawds Amputation Surgery Assistance Program. See if you or someone you know qualifies for our pet amputation financial assistance.

This Tripawds ASAP grant is made possible by the charitable contributions of Tripawds fans like you. Thank you for your support!
Tripawd Gus and His People Heal Each Other
Six years ago we lost Cocoa. She was a chocolate lab and was 12 years old. My husband Marty got her as a puppy. Marty was so depressed it changed his personality and outlook on life. I knew he needed another dog to have any kind of happiness. So we went to Orange County Animal Shelter in Chapel Hill. There we met Gus. He was so sweet, going from person to person. He wanted all the pets. We were a little discouraged to hear that there was a waiting list for him 4 people deep. But we thought what the heck, lets get on the list too. All 4 of them passed up Gus because he had heart worms. We knew he'd be worth it. So we got a cage and followed the shelter's instructions. He came through that without a hitch.
Even before he recovered from the heart worms, he had solidified his place in our hearts. He loves to cuddle and give hugs. When you are sad he knows and insists that he hugs you. He quickly became an emotional support dog for Marty. Marty is disabled with limited mobility and chronic pain so having an animal that responds to emotional distress goes a long way to improving his days. Marty's illness has been getting much worse in recent months and with that his emotional state declines. Gus is a key component to keeping Marty from going off the deep end.
Marty and I both have been through an emotional roller coaster since Gus's tumor got big. It started as a small spot on his leg, the size of a quarter. Gus would lick at it occasionally but not much. Since we live on Marty's disability payments, money is really tight for us. So we put off taking him to the vet. Over the next several months it grew and grew. One day I woke up to find our soon to be Tripawd Gus licking like crazy and the tumor is bleeding all over the place. I bandage him up and call the vet.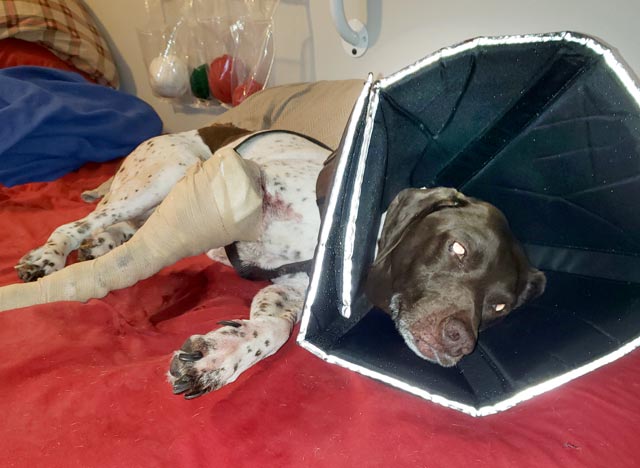 Front Limb Amputation Due to Mast Cell Tumor
It was a mast cell tumor. Thankfully it had not spread to his lungs and his blood work looked good. He recommended that I go to an oncologist. So I called for an appointment. They were booked 3 months out. Meanwhile, the tumor keeps growing and bleeding more. After a month I call around to veterinary hospitals to see if I can get him seen earlier. Durham Animal Hospital had an opening in a few days. Perfect!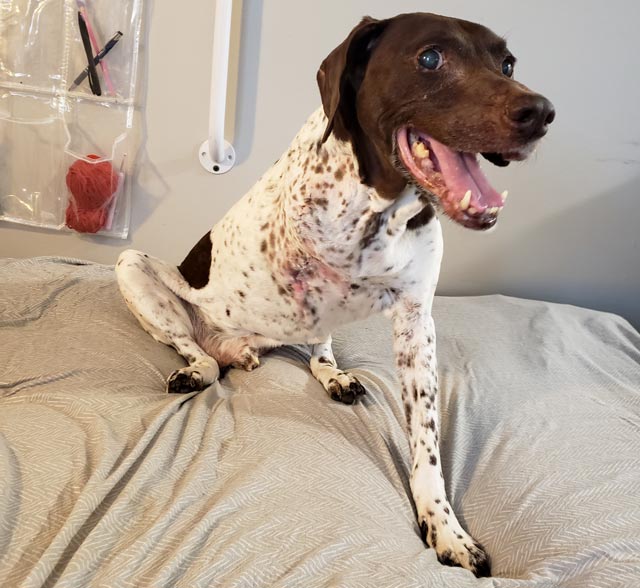 Dr. Miller determined that Gus needed surgery urgently and bumps another animal to a different day so he can fit Gus in that week. We discussed the possibility that Gus may lose the leg. I say that I would rather have Tripawd Gus than the sore leg. During surgery it is determined that the leg had to be amputated. I went to pick him up the next day and he was so happy to get home. He was walking already, although slowly. I hadn't realized how much pain the tumor was causing until he came home and had some of his old spunk back. I had to keep an eye on him because he kept trying to jump on and off the bed.
Tripawd Gus continues to recover and improve. After he gets his stitches out and is all healed up, I plan to take him to the dog park to encourage him to run and play. He can be a little lazy and I have been carrying him out to potty. I can't wait to see him jumping and running again like he used to.
~ Jenn & Gus