Rear limb Tripawd Dalila benefits from canine rehab thanks to Tripawds Foundation Rehab Grant #134. The free consultation and prescribed rehab exercises help Dalila get strong and stay fit. Read her story, and learn how you can get a free veterinary rehab evaluation for your dog or cat.

Yes! Tri-kitties qualify for free feline rehab too. See all Tripawds who have received free rehab sessions thanks to your support.
Canine Rehab Helps Rear Limb Tripawd Dalila
I adopted my 1-year-old German Shepherd mix rear limb Tripawd, Dalila, from Puerto Rico in September 2022 and wanted to stay on top of her health from the start. She suffered trauma to her rear left leg when she was 2 months old after her mother tried to move her, and she required amputation after the wound became infected. Even before I met Dalila, I found support groups on Facebook who referred me to Tripawds, which served as a great resource for learning some of the fundamental issues that arise when caring for a rear limb Tripawd.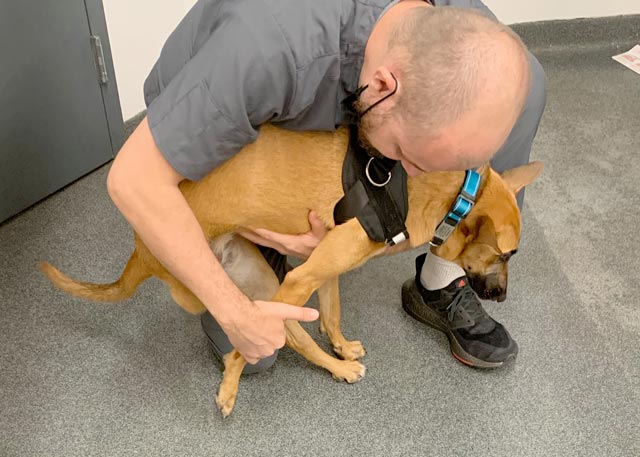 Since she grew up as a rear limb Tripawd, Dalila moves well but I noticed she became fatigued at times and sometimes would appear a little shaky when playing with other dogs. I wanted to ensure that she would not be at risk for acute injury and not develop early arthritis, so I asked my veterinarian to refer me to a rehabilitation facility. Soon after, I obtained an appointment for an initial evaluation with Dr. Francisco DiPolo at Water4Dogs in New York City.
I had a great experience at Water4Dogs from the time we arrived. The staff all ensured Dalila was comfortable, and Dr. DiPolo worked with me to develop a program that fit with my logistical and practical constraints and limitations.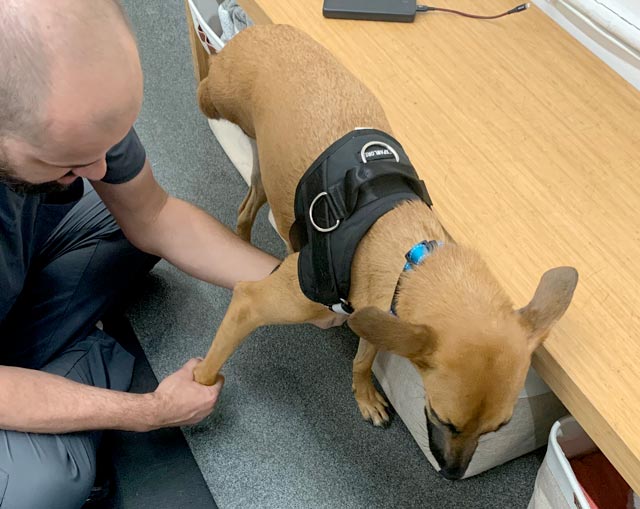 Dalila's At Home Rehab Regimen
The prescribed exercise regimen includes:
two sets of daily pushups to strengthen her front legs which take the brunt of the force when walking and playing;
two-legged balance for the three combinations of pairs of legs once daily to improve proprioception;
stretching her legs with flexion and extension once daily to improve flexibility;
and massaging paraspinal and leg muscles daily or more frequently as desired or needed, especially after more intense exercise.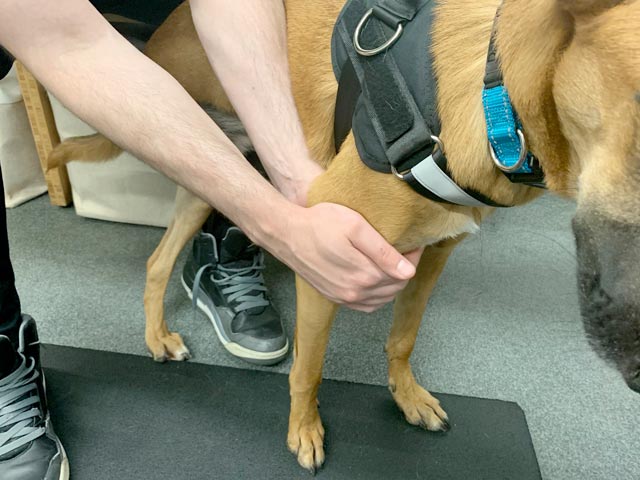 They even provided options for progression of the strengthening and balance exercises by adding sets of pushups and rocking her back and forth for the two-legged balance. All in all, these exercises enhance Dalila's front leg strength and endurance, balance, flexibility, and muscle relaxation. These help her confidently live a regular life including playing with other dogs while minimizing her chance of injury and risk of arthritis and helping her remain pain free. Most of all, my experience with Water4Dogs gave me the knowledge and skills to confidently optimize Dalila's musculoskeletal health and the peace of mind knowing that I am giving her the tools to navigate the world with confidence.
~ Jon & Dalila