Tripawd Golden Retriever Charlie benefits from free canine rehab evaluation thanks to Tripawds Foundation Rehab Grant #141. The free consultation and at-home rehab exercises help Charlie stay fit and strong. Read his story, and learn how you can get a free veterinary rehab evaluation for your dog or cat.

Yes! Tri-kitties qualify for free feline rehab too. See all Tripawds who have received free rehab sessions thanks to your support.
Meet Tripawd Golden Retriever Charlie
My name is Melissa, and I learned about Tripawds a week after we amputated our dog's leg due to bone cancer. My husband Google searched info about living with a Tripawd Golden Retriever. And the Tripawds resources had been a godsend for us at a time when we were completely lost and beyond devastated at the turn of events after amputation.
First, I would like to thank you for establishing the Maggie Moo Fund and allowing individuals like us to be considered for reimbursement for our first rehab consult. To say that our world changed a little over two months ago would be an understatement. On September 6th, I took our 9-year-old Tripawd Golden Retriever, Charlie, in for an exam, thinking they would diagnose him with arthritis in his front left leg, only to learn he had osteosarcoma. From that moment on, the next seven days moved so fast, and everything was a complete blur. Once we learned that the cancer had not yet spread elsewhere, we decided to amputate his leg. Given that this is an aggressive and painful cancer, there was no time to waste, and the surgery took place one week after diagnosis.
Post-operation, our boy had a setback and developed pneumonia which delayed his Elias treatment and rehab consult. Once Charlie was clear, our oncologist referred us to their in-house rehab doctor. We were fortunate that she was within the same hospital giving the rehab doctor full access to Charlie's medical team and records right at her fingertips. The team works so closely together, making the difficult process more palpable.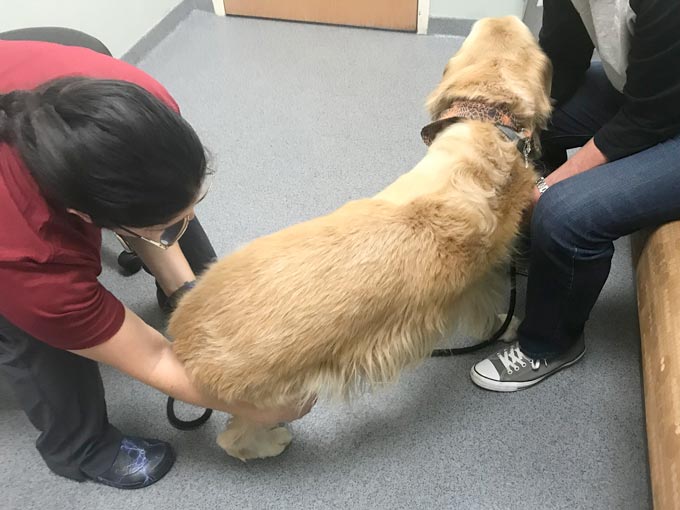 Charlie's initial rehab consultation was on 10/19/22 at Blue Pearl Pet Hospital in Maitland, Florida. After her initial exam, Dr. Jennifer Freeman described Charlie precisely how we would describe him…"Simply Perfect." She stated that overall he looked good, but his hind legs were a bit weak, and we would need to start with two specific exercises to start the strengthening process.
Rehab Exercise 1 
Sit to Stand – to strengthen the hip and stifle range of motion / encourage proper limb placement/ improve hind limb strength, flexibility, & posture.
Dr. Freeman chose this exercise because when Charlie sits, he can sit on his own, but he tends to lean to the right and slightly stick his left leg out. So when we have him sit, we are to tuck the left hind leg under him so that he stands up from a more square form. When we want him to stand from the sit position, we hold a treat in front and slowly pull it away from his face. We must ensure he uses both hind limbs equally to stand up.
Perform 3 to 5 repetitions
Frequency – 1 to 3 times per day 5 to 6 days per week.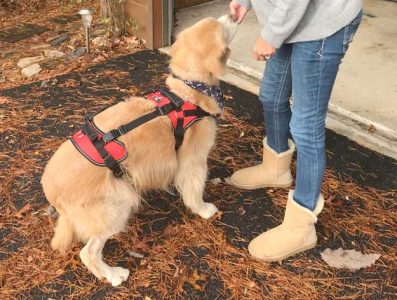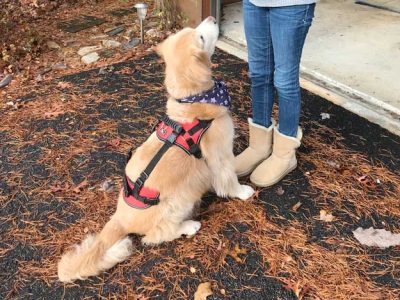 Rehab Exercise 2
Individual Paw Lifts/ 3-Leg Stands – to increase weight shift to opposite limbs, increase core strength, and improve balance.
We have Charlie stand, then gently flex the right and left hind limb at the hock (ankle) one at a time. He needs support in the front, so we make sure we use his front harness to support his weight in the front. We lift and hold the hind limb off the ground for up to 15 seconds.
Perform 3 to 5 repetitions for each hind leg
Frequency – 1 to 3 times per day 5 to 6 times per week.
Additional Rehab Treatment for Charlie
In addition to these exercises, Tripawd Golden Retriever Charlie has had two acupuncture sessions, and he will start hydrotherapy treatment on a treadmill next week. Charlie is a week out from graduating from Elias Immunotherapy treatment, and once we are 30 days out, Dr. Freeman will evaluate his diet, supplements, and other alternative holistic treatments.
Lessons Learned from Canine Rehab
What have I learned from this process? I have learned that through no fault of their own, doctors can't possibly prepare you for what is to come post-op, and I encourage every pet owner to do their research and learn about what is most important post-op and the importance of rehab for your pet. I wish we had  learned of this group prior to surgery as I think it would have had us a little more prepared. Arming your pet with the proper exercises and diet gives them the most significant opportunity for an excellent quality of life and longevity. Isn't that what we want for our pets when we make this decision for them? I fear our pup will have an injury if he is not in the best shape possible and has a strong core which is why we are taking the necessary steps to give him the best chance for success.
~ Melissa, Todd, & Charlie (aka charlibarry0531)