Tripawds Foundation ASAP grant #58 helps Tripawds member ladymaybelle pay for rear limb amputation surgery for new Tripawd Pirate Paul. Read on for his story, and learn more about the Tripawds Amputation Surgery Assistance Program. See if you or someone you know qualifies for our pet amputation financial assistance.

This Tripawds ASAP grant is made possible by the charitable contributions of Tripawds fans like you. Thank you for your support!
Lady May's Love Story
We live in the country on 5 acres. Nothing but dirt roads, and the closest neighbor about a mile away. I have chickens, (for eggs), and cats, (to keep mice away), and a few guinea hens, (to help with the snake population around here). I have one dog, a chihuahua, who stays indoors with us. I'm not particularly a "dog" person.
One morning, September 2022, I went onto my porch, to enjoy a cup of coffee, but I didn't get that chance to. There was a stray dog, standing there, on my steps. OH NO! No no no I said, but tried to pay it no mind, and go about my day. That dog had other plans, like chase all my guineas, cats too. I'd scream, I'd yell, (cuss too), while chasing her, as she chased them. She either didn't listen, or didn't care. A few days went by, and this game was tiring to me. I took some pictures of her and TRIED to give her away, for FREE on Facebook. No one wanted her. We don't have a pound or animal control to call, so I was stuck with this creature, that was dumped on me.
About 2 weeks had went by, and that dog had chewed up my grandbabies toys, chased my guineas until they were scared to come down from the trees, and the cats would NOT get off my porch!! But we had gotten to know each other, we had a real, "come to Jesus " meeting, one of those, "I'm the Boss" type deals. She stopped chasing, and chewing, (mostly). She followed me everywhere I walked. I told people, I felt as if she were looking out for me, watching for things,  like snakes, raccoons,  etc.  We've sat in the rain together,  we've swung together,  went on truck rides together.  She lays her head in my lap when I sit on the porch steps. My grandchildren,  4 & 2 years old, are crazy about her, THEY, chase HER through the yard. The next few weeks were good.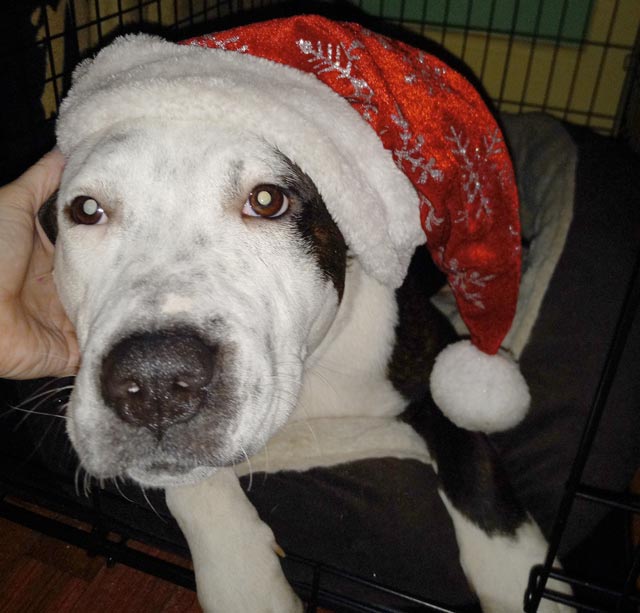 Rear Limb Amputation for Lady May
One day, we went, and called, Lady Maaaay….. she didn't come. We figured she was off in the woods chasing deer, or rabbits. That evening she never showed up either. Or the next day. We walked, looked for her, called her. Nothing. We drove down the road a bit, still didn't see her. Her food had been untouched. After a week went by, I figured, she must have found her way back to her home, (home as in, the people who dumped her here), or, someone saw her and stole her. Going into that second week of her missing, I felt the sadness of the realization that she was gone. My Lady May.
November 2022. Our neighbor from down the road, stopped by. Don't yall have a black and white dog, she ask. I replied: um, well, yea I guess so, I don't know, she's been missing for about 2 weeks now. Our neighbor tells us she had just returned home from Florida, and had seen our dog out on her property, looks like she's injured. We jumped in the truck and flew down the road. We found Lady May, victim of what appeared to be a 'hit and run'. Not just a broken leg, it was just a dangling limb from her body that had done swelled 3 times it's normal size, and had drug the ground so much that she had no foot left, and approximately 2inches of her claws were just hanging there. She did not seem to be in pain, she wagged her tail as soon as she saw us.
Unfortunately, it was the weekend, and we had to wait until Monday to make contact with a vet to see her. It seemed the longer we waited, the bigger her leg got, and the more of her foot went missing. I told Lady May, just hang in there, until Monday morning, and ill get you to the dr. Monday morning, the vet couldn't see Lady May until Wednesday, (I called every vet in 3 counties that I could come close to possibly affording with our bill money). So Wednesday it is. I had to tell Lady May, 2 MORE days.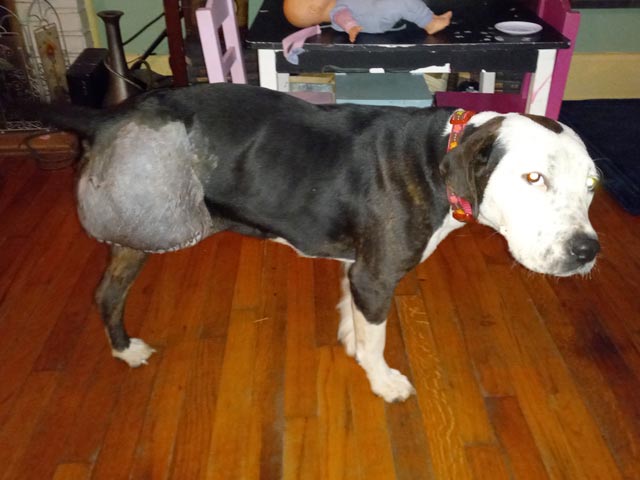 Lady May's long Road to Recovery
Wednesday came, I showed up an hour early for my appointment. As soon as Dr. Carter saw her, he said, she is gonna need an amputation. He gave her 2 shots of antibiotics, and told me I could pick her up Friday, today! I stopped by the hospital yesterday to check on her, the surgery had already been done. The Dr told me her bone was completely shattered, and she was lucky, considering the condition of the surrounding flesh as well, that she was still alive. He said that her entire hip was black bruised from the impact of the car, and if it had happened on her front, no doubt she'd be gone. He raved about the good nature of her, her sweetness, and gentleness. How she wagged her tail the entire time. She never growled, showed teeth or even barked. He told me she was a pit bull mix roughly 2 years old. He said she will quickly adapt to her new 3 legged life, she will be fine. She has stitches that have to be removed in 21 days, and on antibiotics twice a day. She can't get her stitches wet either.
2 months ago, a dog showed up that I did not want, did not like, and tried to get rid of…..2 months later, I've walked roads searching for her, paid for an amputation for her, and now, – she is an inside pet, who I've got completely attached to, and for whatever reason,  my heart has 100% latched onto her. Unexpected for sure, but this non-dog lover, sure does love her new dog. Thank you Lady May, for not just coming into our lives, but for having the strength to hang in there until you were found, and could be saved, so we could hold onto you, and love you a little longer. You are family now. 
~Tonya and Lady May (aka: ladymaybelle)