The new year is off to a great start thanks to generous donors who help Tripawds Foundation! Our amputation surgery help fund now grants two $1,000 gifts each month to assist with the costs of surgery for a dog or cat.
Tripawds Foundation just made the first $1,000 Amputation Surgery Assistance Program (ASAP) grant to Ash Carbon, a sweet little pup who got care at the North Shore Animal League clinic in Port Washington, New York!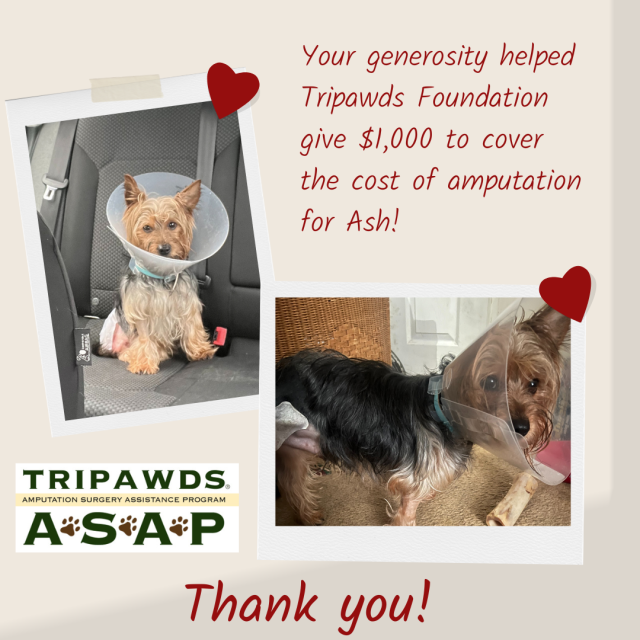 The 4 Pawsitive Changes to the Tripawds ASAP Fund
It's a big day for Tripawds Foundation. Back in 2016, we started the ASAP program with two monthly $500 grants to help financially distressed pet parents with pet amputation surgery costs. It started as a reimbursement grant, meaning that the foundation paid after surgery happened. The grant paid either the pet parent or veterinary clinic directly. For administrative reasons, it was not set up to pay before surgery.
But as we all know, veterinary costs have skyrocketed in the last few years. A $500 grant was nice, but not nearly enough to make a dent in amputation surgery costs that range from $2,000 to $7,000. The Tripawds Foundation board of directors wanted to do more. With the generosity of donors over the years, now we can!
Here's what's new with the ASAP program.
ASAP now grants $1,0000 instead of $500
The new $1,000 grant is making a bigger impact to help financially qualified pet parents pay for amputation surgery for their dog or cat. Thank you donors for making this possible!
The ASAP grant is now gifted before OR after amputation surgery happens
Our board of directors voted in favor of giving grants before or after surgery. Applicants still have to financially qualify for the program. But if money is requested before surgery, Tripawds Foundation can now pay their veterinary clinic directly, ahead of time. If money is requested after surgery happens, Tripawds Foundation can pay the veterinary clinic or the pet parent.
Applications now accepted on a first-come, first-served basis
Another big change to the ASAP program is that we no longer require applicants to apply within a certain timeframe each month. From now on, grants are made on a first-come, first-served basis, for a maximum of two grants per month. If an applicant applies after two grants are disbursed, they can re-apply in the following month.
Grant recipients are encouraged, but not required, to register as a Tripawds member and send their Tripawd hero story
The amputation surgery help fund formerly required applicants to join the Tripawds community as a member. It also required applicants to send their pet's story. These steps are no longer required so that pet parents with limited writing and English skills can benefit from the program. Applicants who are native speakers and writers are still encouraged to follow these steps, which help Tripawds Foundation get the word out about our services and community.
Thank YOU for making the ASAP program increase possible!
Getting to this stage as a foundation is momentous. The only way we were able to do it is through the generosity of YOU, Tripawds furmily! Please help us keep this program going. Helping pet parents with the financial and emotional needs caused by their pet's amputation surgery makes the world a better place!