HRA rescue dog Winnie is the latest recipient of our Tripawds Rescue Fund grant to help pay for her amputation surgery expenses. When MUTTS creator Patrick McDonnell's wife Karen notified us about Winnie, we immediately contacted Humane Rescue Alliance, the shelter taking care of her. Winnie is a sweet, mid-sized brindle dog who arrived at the shelter covered with horrific wounds. The infected injuries to her front left upper leg were severe and painful. Shelter staff quickly rushed Winnie to Friendship Hospital for Animals. Her limb could not be saved and needed immediate expensive amputation surgery to prevent the infection from spreading.
After seeing the fundraising plea to help pay for Winnie's amputation surgery expenses in the HRA newsletter, we also acted quickly. We informed them about the Tripawds Rescue Fund. The Tripawds Foundation can help any nonprofit shelter or rescue organization pay amputation surgery expenses for animals in their care. Since the HRA was actively fundraising for Winnie, we were able to provide a matching grant of $500.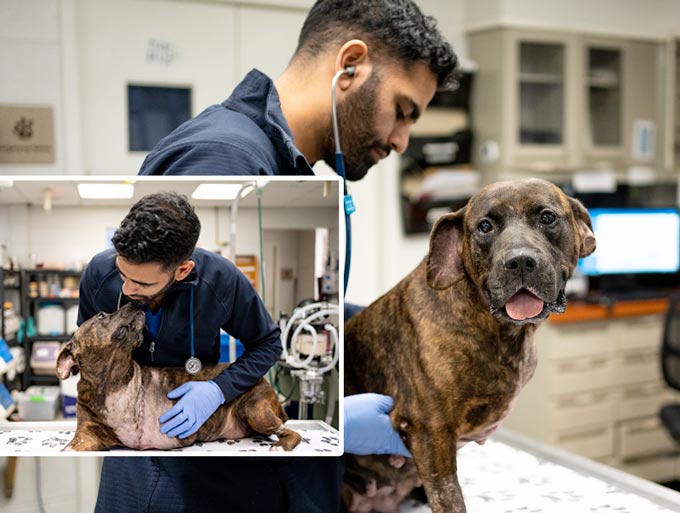 MUTTS to the Rescue
Upon hearing about our contribution, the pawesome pack at MUTTS Comics matched our matching grant! Patrick and Karen personally pitched in from their charitable fund to help pay for Winnie's amputation surgery expenses. Her injuries were so severe, the emergency surgery cost upward of $10,000. With funds from the HRA Ladybell Fund, an active fundraising campaign, and quick response from both the Tripawds Foundation and Team MUTTS, Winnie got the life saving help she needed.
"When I learned that Winnie needed amputation surgery, I immediately thought of Jim and Rene of Tripawds. I knew they would want to help. And, of course, they did. It made sense to match their grant to help both Winnie in her surgery and the Humane Rescue Alliance with costs. There is no other charity like Tripawds. They are the good-to source to help anyone who has to make a decision about pet amputation surgery, as well as the source for anyone living with a three-legged pet. And their foundation is unique in helping to fund amputation surgery expenses for injured homeless animals that need it. I can't thank them enough for all they do."

PATRICK MCDONNELL, MUTTS CREATOR
Long time Tripawds fans know our connection with MUTTS goes way back. We first met when attending a book signing with Wyatt Ray in 2009. Patrick wrote the foreword to our book Be More Dog: Learning to Live in the Now. And, we have common interests in supporting the needs of animals everywhere. As a result, it has been a privilege and joy developing our friendship over the years. Partnering to help Winnie and the HRA is another honor. But we couldn't have done it without your continued support.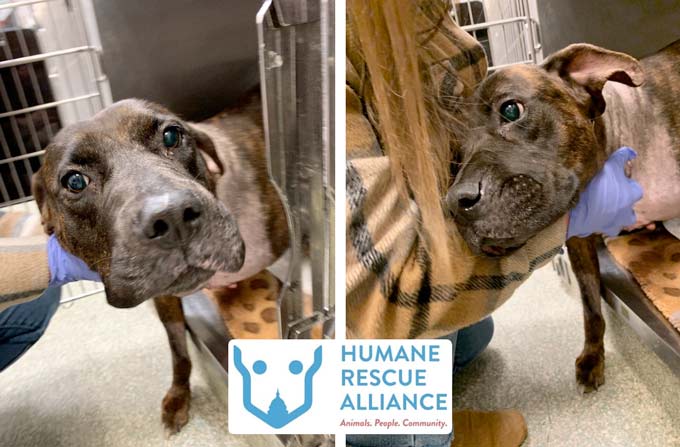 Thanks to everyone who supported Winnie's emergency medical needs, her strength is improving each day. She's starting to walk on her own, but will need ongoing care. You can help Winnie with a charitable contribution, or by helping her get adopted.
"We are incredibly grateful to Tripawds for providing a matching grant to help pay for Winnie's amputation surgery expenses. Through it all—despite this horrific diagnosis and her tremendous pain—this resilient little pup welcomed the team's love and would even roll over for belly rubs. Her joyful energy is so strong, and she has naturally become a staff favorite."

HUMANE RESCUE ALLIANCE
As of this writing, Winnie is doing well and recovering in foster care. Check out this Facebook video and share it everywhere so we can find Winnie her furever home.
Want to help more rescue dogs and cats with amputation surgery expenses? Let your local shelter or rescue organization know about matching grants available from the Tripawds Rescue Fund.