Front leg Tripawd Poodle Pretzel benefits from free canine rehab therapy thanks to Tripawds Foundation Rehab Grant #150. The free evaluation and rehab exercises help Pretzel stay strong and fit. Read her story, and learn how you can get a free veterinary rehab evaluation for your dog or cat.

Yes! Tri-kitties qualify for free feline rehab too. See all Tripawds who have received free rehab sessions thanks to your support.
Hello! I'd like to introduce my Tripawd, Pretzel! She is a former puppy mill mama.Our family adopted her one year ago from Multiple Breed Rescue out of Grafton, Ohio. Pretzel is almost 6 years old (in April) and is a red standard Poodle. She was surrendered from a puppy mill in southern Ohio. And, she lost her front right leg prior to me adopting her in 2022. From what I know, she caught her leg in some sort of fence accident. As a result, the mill had her leg amputated as they wanted to continue to breed her. After her amputation, they attempted to breed her again. Subsequently, she could not carry the weight of puppies and was unsuccessful. Thankfully, MBR convinced them to surrender her to them. Pretzel caught my eye on MBR's facebook page. I knew she was meant for me right away, despite only having 3 legs!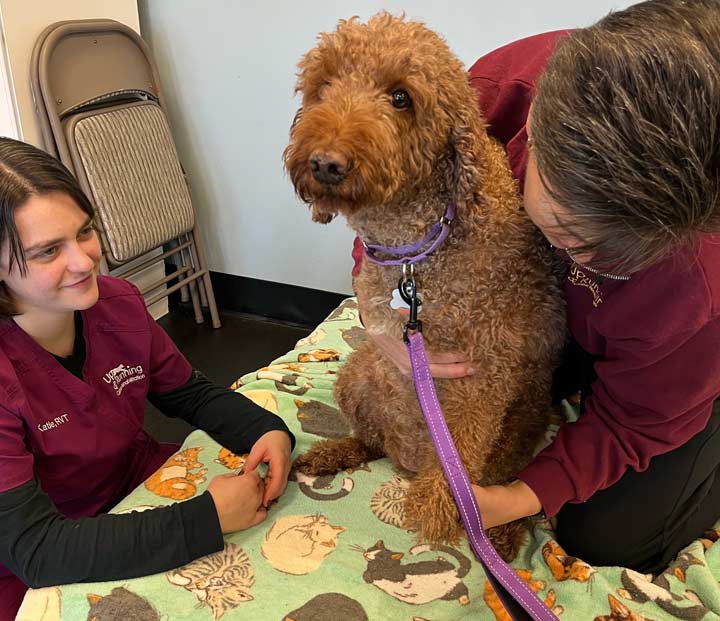 Tripawd Poodle Pretzel Loving Life on Three Legs
Tripawd Poodle Pretzel now lives the life of a queen. She has two other furry siblings, a fenced in yard, and plenty of attention! I decided to take Pretzel to see Dr. Julie Letosky, DVM, CCRP at the Up and Running Canine Rehabilitation at the Avon Lake Animal Clinic campus. She helped me better understand her mobility and health needs to ensure she has a long and healthy life. Dr. Julie was able to assess Pretzel and first wanted to see if she was having any pain. She noticed that Pretzel showed signs of discomfort near her back hips and the site where her leg was amputated. The surgery was at least a couple years ago, but was twitching. She said this could be from phantom limb pain!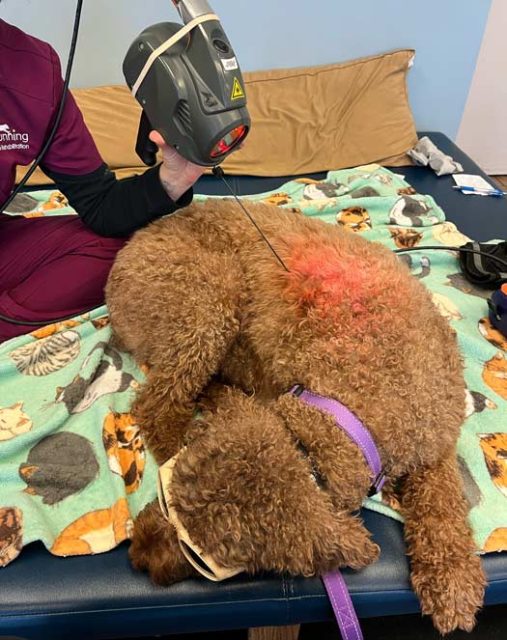 Dr. Julie and her staff started laser therapy to repair tissue, decrease any inflammation, and relax muscle spasms. We are scheduled for six follow up treatments. We'll continue laser therapy and hope to improve Pretzel's spasms and decrease residual pain.
Lessons Learned from Canine Rehab
The most important thing I have learned from this consultation is how to look for signs of pain and fatigue. I also now understand how to prevent injury to her remaining front leg. We discussed finding a carpal brace to fit her front leg to support the wrist-like area. In addition this can help prevent injury occurring in the future.
I first learned about Tripawds through a Facebook group, Tripod Dogs! When first adopting Pretzel, I wanted to learn as much as I could about being a Tripawd dog mama. I am very grateful for the Tripawds organization and the opportunity to apply for assistance in Pretzel's rehab.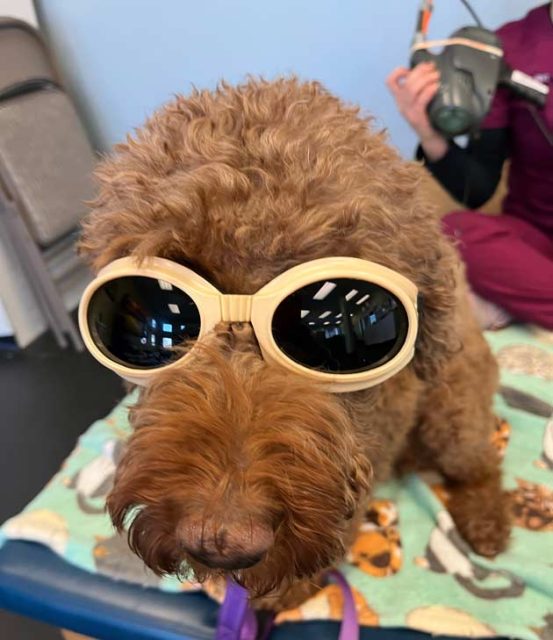 Pretzel has passed her Canine Good Citizen Test and comes with me to visit hospice patients in nursing homes. She brings comfort and joy to everyone she meets.
Thank you for this amazing resource!
~ Lisa and Pretzel