Can't wait for our next painting dog art auction? Neither can we! That's why we are kicking off the pawliday season with the 2023 Tripawds Foundation Mini Auction. Winning bids help fund the Kaiserin Pet Cancer Care Package Program!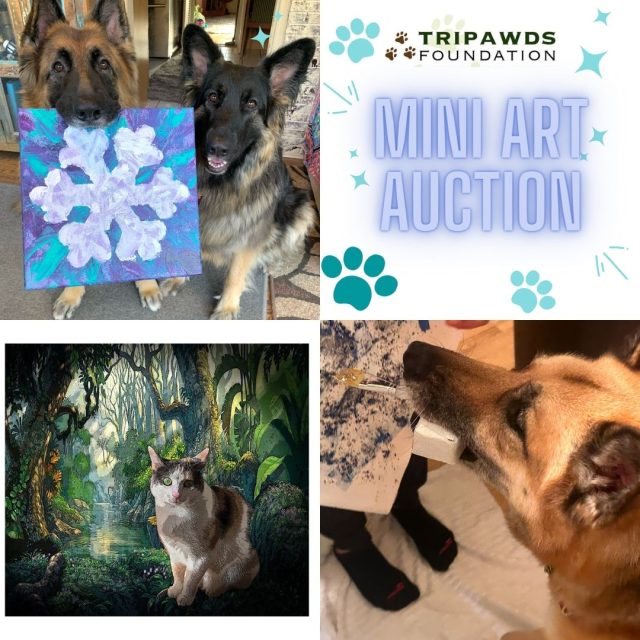 Win a perfect gift for that special someone, and help Tripa1wds too!
If you haven't seen our annual Tripawds Dog Art Auction, you're missing out on the world's biggest auction of original art painted by dogs. And it's also our biggest fundraiser of the year that helps to fund Tripawds Foundation programs. Mark your calendar for this annual spring fundraiser. And in the meantime, now's your chance to win original art for someone special on your pawliday shopping list.
How to Bid in the Tripawds Foundation 2023 Mini Auction
Thursday, November 23 through Sunday, November 26
3 masterpieces (2 painted by dogs, 1 by a human)
Proceeds help fund the Kaiserin Pet Cancer Care Package
Don't miss our early auction of original art to help Tripawds everywhere. Here's what you can win for your pawliday shopping list:
Item 1: "Snowy Days" by Schultz and Wilhelmina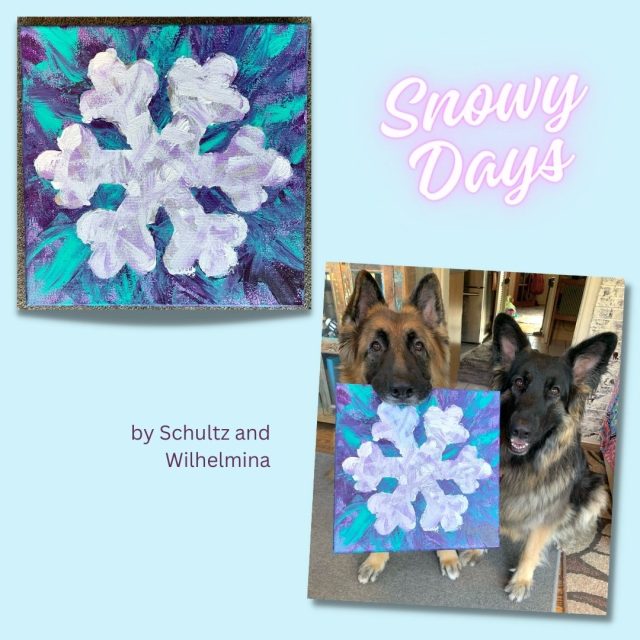 Are you ready for winter? These two painting dogs sure are! Schultz and his sister Wilhelmin are so excited they couldn't wait to share their enthusiasm by collaborating on a brand new, one-of-a-kind painting.
This beautiful 8×8 canvas artwork was created using a snowflake stencil, designed by their mama Natasha.
First, the stencil was overlaid onto the blank canvas so the background could be painted. Once the colours were exactly as they imagined, Natasha lifted the stencil to reval a blank area for step two of the painting, the actual snowflake.
Next, the amazing duo then added their signature style to the inner part of the canvas, and the result is what you see here.
Ready to add this beautiful gem to your dog art collection?
Item 2: "Sparkle & Shine" by Nellie and Schultz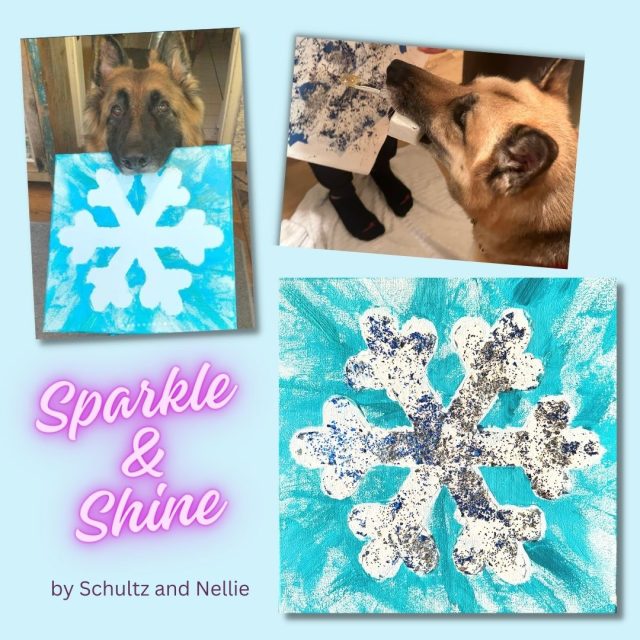 What a collaboration for your collection! This international team partnered up to create a one-of-a-kind original masterpiece to brighten your winter days.
With creative direction from mama Natasha, the artwork design was kicked off with Schultz painting the lovely background in his Toronto, Canada studio.
Once finished, Natasha shipped it to Tripawds Spokesdog Nellie in Alaska, where she added her signature painting style (and a little slobber for good measure) to the lovely snowflake in the middle.
And now, this painting can be yours!
Item 3: "Bad Art" by Codie Rae Shepherd
This item is anything but bad! It's a new offering to our dog art auction, and we think you are going to love it. Win a custom, truly original artwork commissioned just for you, in honor of your amazing animal.
What is a "Bad Art" Portrait, You Ask?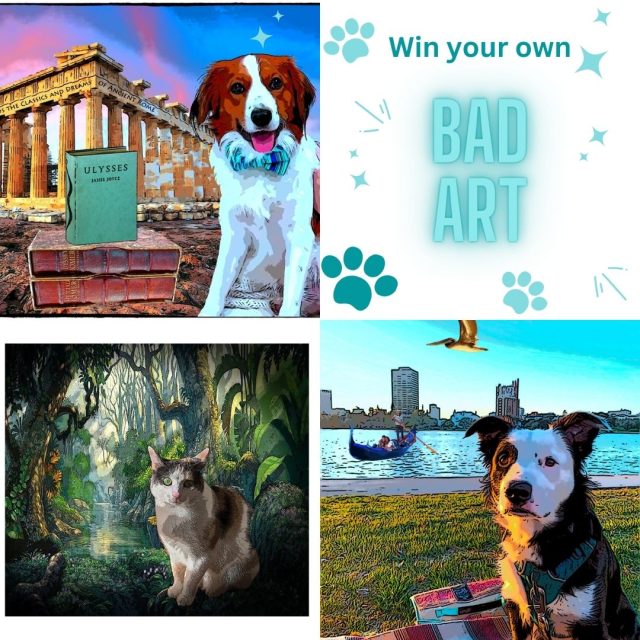 Our long-time member Codie Rae Shepherd recently participated in a "Bad Art" fundraiser for her local animal shelter. She had so much fun making bad art that she reached out to Tripawds to offer her talent to help raise funds for Tripawds!
"Bad Art" is created when a volunteer creates a custom portrait based on an individual animal's personality. Using any medium they wish, from ink and paper, to canvas and crayon, the artist creates an original piece of art to help raise funds for a great cause, like Tripawds Foundation!
This item will be a digital masterpiece is based on a photo of your pet, and any information you want to provide about their likes, dislikes, joys, favorite foods, locations, whatever you want to share.
Thanks to the artists and their humans for making our third auction another incredible fundraiser!
Extra BIG THANKS to Natasha Baguley, mom to the amazing trio of talented painting dogs Schultz, Wilhelmina, and Tripawd Angel Kaiserin. She is the genius behind this event, and each year leads the effort to make the annual Tripawds Dog Art Auction a huge success. We are so grateful all the work she puts into raising funds for Tripawds!