One year old Tripawd Puppy Bizkit benefits from canine rehab therapy thanks to Tripawds Foundation Rehab Grant #168. The free consultation and at-home rehab exercises help Biz regain strength and stay strong to love life on three legs. Read her story, and learn how you can get a free veterinary rehab evaluation for your dog or cat.

Yes! Tri-kitties qualify for free feline rehab too. See all Tripawds who have received free rehab sessions thanks to your support.
Meet Tripawd Puppy Bizkit
I fell for Bizkit at first sight, at seeing her on Pets Without Parents social media. She is a one year old, mixed breed, 26 pounds. She ran away from her previous owner and sustained a rear leg fracture, and was eventually brought to Pets Without Parents, a local shelter, who took her in even though they were full! Her injury was not recent or fixable, so amputation was recommended. My mom fostered her pre and post surgery, while I researched tripod dog care, and found Tripawds!
There I learned about a rehab visit… even though we were told Biz would be completely 'normal', we wanted to make sure. About three weeks post amputation, I took Biz in to Ohio State University Canine Sports Medicine center We saw Kelly Andrews, CVT, CCRVN, and Dr. Elgin.
They took her back for an evaluation and looked at her records. The great news was that she had no joint or muscle issues. Her gait was pretty squared off, which is what they like to see for a rear amputee, probably because she was young and had gotten around with her injured leg for at least a month pre-amputation.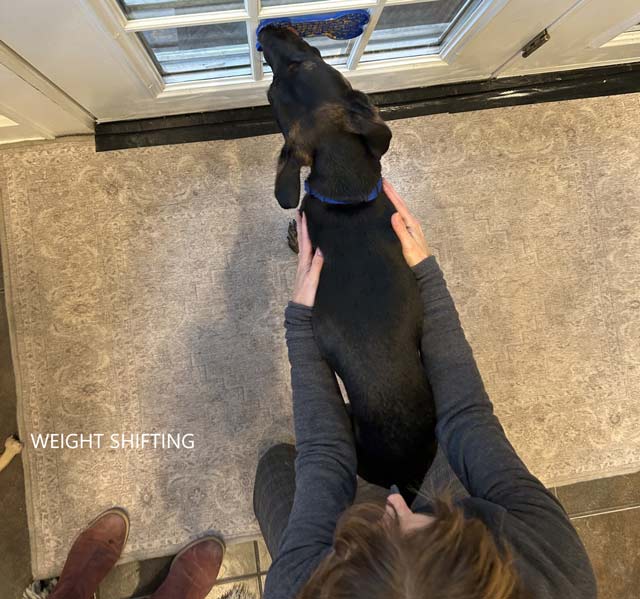 Bizkit's Tripawd Puppy Rehab Regimen
They recommended daily walks with hills/zigzags, Dasuquin and fish oil supplements, and daily massage and exercises. The massage is to decrease compensatory tension, the exercises will focus on core strength and balance, preventing arthritis, and desensitizing having her limbs touched. Maintaining a healthy weight is essential; so periodic weigh-ins are recommended.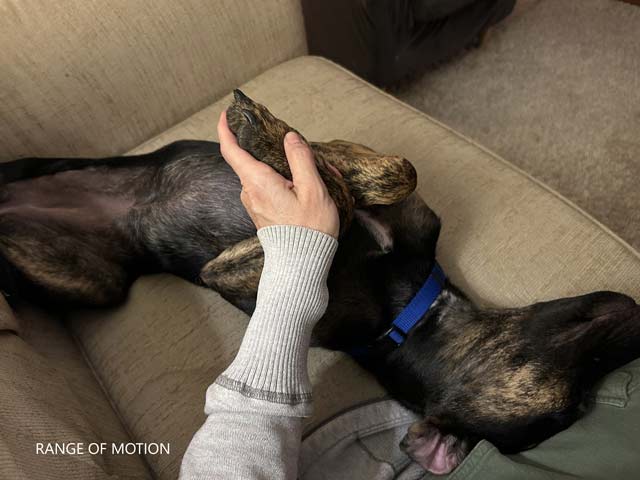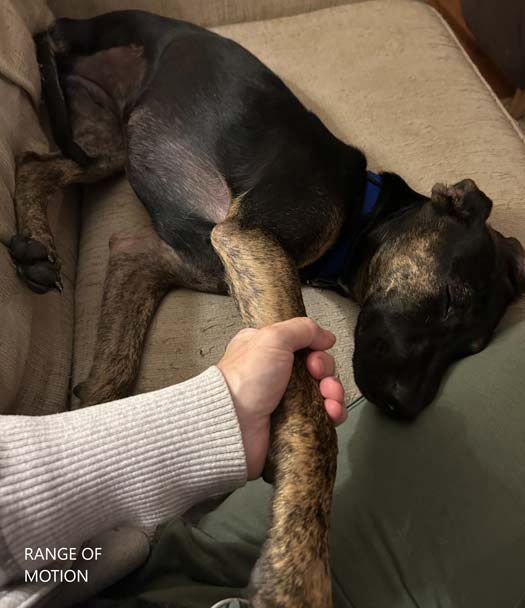 Passive Range Of Motion (PROM) Stretches
We are working towards 3-5 exercises 1-2/day. I have a printout of many, here are a few:
RANGE OF MOTION: Take her limbs through their range of motion while she is laying on side, each joint, and then a bicycle motion.
WEIGHT SHIFTING: While she is standing square, use my arms to gently shift her weight from side to side. Advance to standing on a soft or uneven surface.
COOKIE STRETCHES: While she is standing square, use a large treat to guide her nose around towards her shoulder, continue along her side to rear leg and eventually down rear leg. WAVE: While sitting, hold her front paw up above head and hold, each side.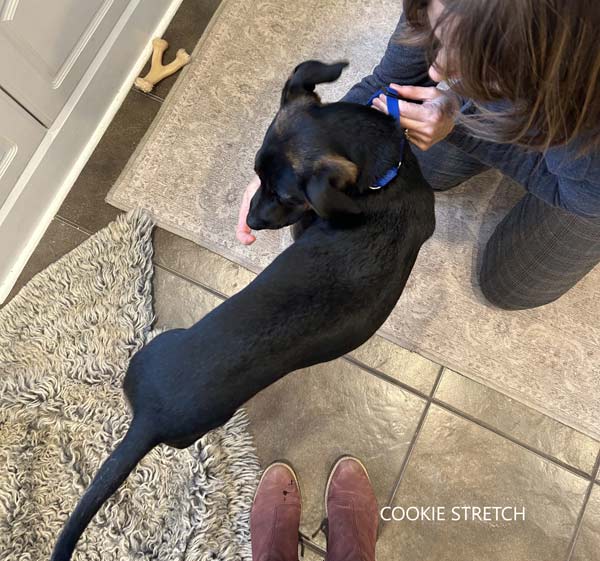 I am so grateful to have learned about tripawd rehab from Tripawds, and lucky that we have such a fantastic facility here! It is very reassuring that a specialist examined her and that yes…she can have all the activity of a four legged dog, with no restrictions. We plan hikes in our hilly area and she is playing away with her new brother.
I'm so grateful for the organizations and resources that led Biz to us and set us up for a happy and healthy future: Pets Without Parents, Tripawds, The Tripawds Foundation, my mom, and the Ohio State Veterinary Center. As we are out and about with Biz I'm sure I'll be mentioning Tripawds!
~ Katie & Biz
At Home Rear Limb Tripawd Rehab Program