Thanks to the Tripawds Rescue Fund made possible by Karbach Brewing, we were able to reimburse Tripawds member twinklelight for adopting another three legged dog in need from a local shelter…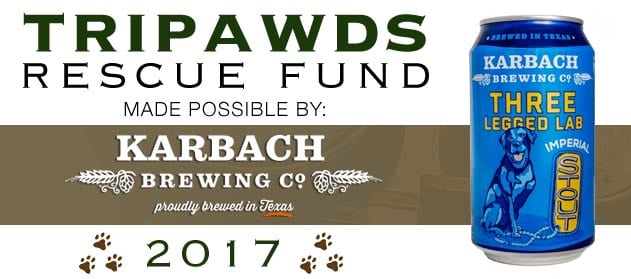 Have you recently rescued a three legged dog or cat? Get more information about the Tripawds Rescue Fund to see if you qualify.
Support Tripawds to Keep the Rescue Fund Going!
About Molly Wrightsville
My husband and I are the kind of people who love the idea of making plans, but more often than not, we get bumped along by life's circumstances and end up in unfamiliar and unexpected situations. We met in college where he studied music and I studied art. I found a job at a museum right after college and randomly started tutoring incarcerated young men to fill up some of my free time. I was planning on going to graduate school for art. Instead, I quit my job to work exclusively with young people with behavioral and emotional disabilities. Meanwhile, my husband ended up on a commercial fishing boat in Alaska one summer to supplement his income–first as a baker and then as a music teacher. His summer job turned into almost two decades (so far) of commercial fishing. He works in a school for nine months of the year and spends every summer running his salmon boat.
When life gave us the opportunity to move out of the city and onto a school campus ten years ago, we decided that we should adopt a dog. Foolishly, we went to the shelter and came home with a ten-year-old GSD with a history of abuse, no experience being on-leash, and serious reactivity to men and other dogs. The learning curve was steep. We studied, talked to experts, trained, and dedicated countless hours to helping her learn to navigate the world without aggression. She was a remarkable and loyal dog. She made tremendous progress in just three months and showed us her incredible intelligence. She learned over 80 words and was able to make friends with lots of neighborhood dogs. She also found a soulmate in our cat. She only lived for another year, but it was a great one full of hikes, peaceful days, and learning lots of fun new tricks.
In the time since, we have had two biological children. (I never thought I liked babies/children and had serious doubts about my maternal instincts). The plan was for me to go right back to work as a school administrator at a therapeutic school, but as is typical for us, the plan changed. I stayed home and we decided that with my free time, our spacious home, and amazing community, we should think about fostering children. That plan also quickly changed when we became a foster-to-adopt family. We are still committed keeping our house open to kids who need a safe and loving home until they find a permanent situation, but we are also hoping to adopt our foster daughter who has been with us for the past two years. In the meantime, our house is always full to the brim with neighborhood kids. We start every morning with four or five kids and end every afternoon with at least as many. I assure you, this was not part of any plan!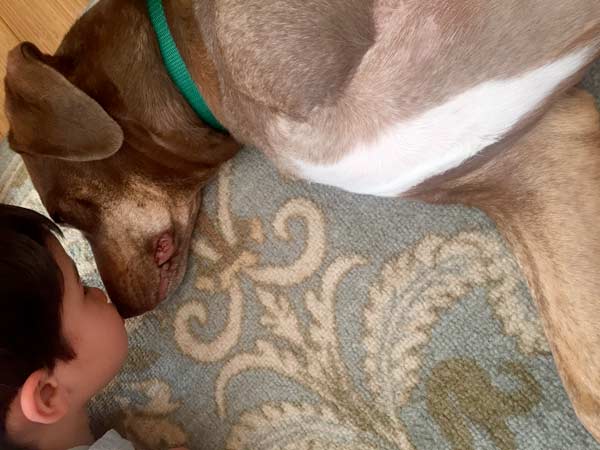 Our second dog, Hank, was an Eeyore-ish fellow who never quite got over losing his original person. The story was that his person went to work one day and died while he was away from the house. Hank never stopped waiting for him. We loved him and did our best for him. Still, we always had a sense that he was looking for his old life. Our foster daughter was the first person to really emotionally connect with Hank. This melancholy guy who had never taken an interest in kids before stuck by her side and gently protected her from stressful situations. It was as if he could relate to her grief and trauma and wanted to protect her from further harm. She was ridiculously adorable, with endless rolls of sweet baby chub. Everywhere we went, people wanted to hug her, hold her, touch her. Although she loves attention, she also has her limits. Hank always knew when she was reaching hers. He would quietly place himself in the middle of things and shield her from unwanted contact. When he passed away, we were devastated and thought maybe it was time to focus on our children. We decided to take a break from dogs.
You can guess what happened next. Plans changed. Our oldest daughter expressed an interest in training and working with a therapy dog. We loved the idea because she is shy and it would be a way for her to come out of her shell and gain confidence. We tentatively dipped our feet into the idea of adopting another dog. We would wait as long as it took to find the perfect companion. We had a list of criteria: only a young dog with an amazingly calm temperament. No health issues. Must love other dogs and attention from little kids. The list was firm.
We started visiting shelters. We put in an application with a rescue organization and decided to go to an event to meet a few dogs. As we lined up, we spoke with a woman about our list. She said, "We have one dog who might be perfect, but there is another family ahead of you. There's a very sweet pit bull in the back of the room, but she is very scared of new situations. And we also have a great tripawd."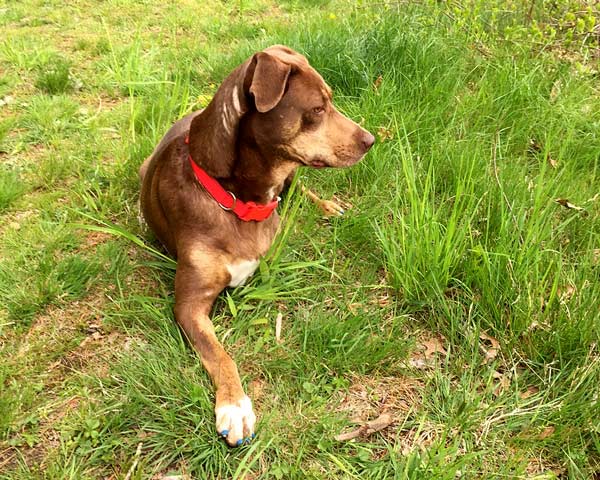 I had read the tripawd's description on their website. There was a line about possible food guarding. So we skipped her and went to the back. The little pit bull was very sweet and very submissive and clearly not going to feel at peace in our very busy house. I suggested that we meet the tripawd. My husband hesitated. We have stairs and live in an upside-down house (bedrooms downstairs, living spaces upstairs). Would it be fair to her to make her go up and down steep stairs multiple times every day? Would she have other health issues that would come up as a result of her amputation? No, she would not be a good fit for our family. We decided we would say hello and then head home.
When we went over to say hello, Molly connected with our daughter right off the bat. She was calm, sweet, and so patient. Her foster parents said she was good with everyone. She had been found with two litters of puppies and a badly damaged leg that had to be amputated in December. Lots of other families spent time with her. She was the calmest dog in the room. We felt good that she would be adopted by the right family (not us) and left.
Hours later I had a knot in my stomach and told my husband that I felt like we might be missing out on the right dog. We talked to our vet about whether it would be too hard on her to live in our house. We read as much as we could about the implications of limb amputations on young dogs. Then we called the rescue the next day to see if anyone had put in an application to adopt her. No one had. We adopted her that week.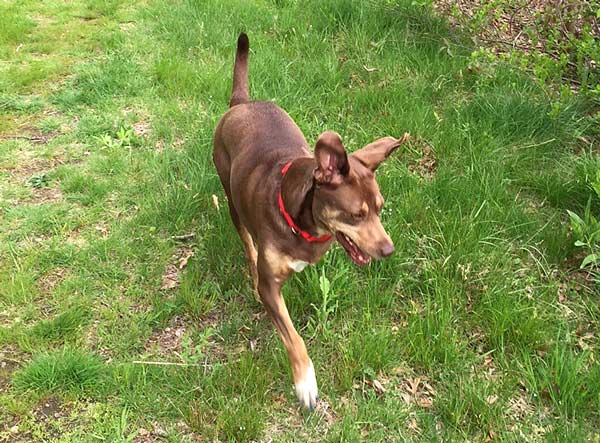 She doesn't love all dogs, she sometimes barks at strangers, and she might or might not become a therapy dog, but she is the perfect dog for us. It's a steep learning curve to do everything we can for her physical health (lots of experimenting with things like toe-grips, adhesive paw stickers, exercises, toe hair trims, careful paw maintenance, etc.), but we feel like we will get there. In the meantime, Molly is well-loved and learning to be a part of our busy, messy family. We are the kind of family that likes making plans, but loves the possibilities that open up when we stray from them.