Thanks to the Tripawds Rescue Fund made possible by Karbach Brewing, we were able to reimburse Tripawds member chaurie for adopting another three legged cat in need. Read on for the story of Tri-kitty Rescue Squirrel…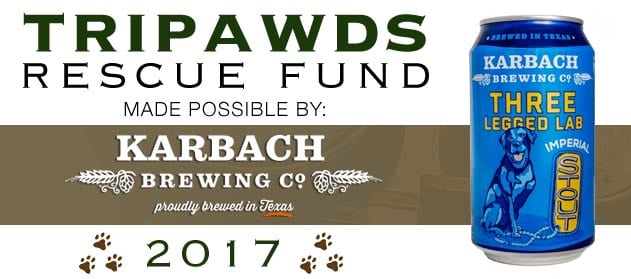 Have you recently rescued a three legged dog or cat? Get more information about the Tripawds Rescue Fund to see if you qualify.
Support Tripawds to Keep the Rescue Fund Going!
Squirrel's Tripawd Rescue Story
In October, Cause for Paws MN posted a Facebook message about a small kitten that had been hit by a car. A good Samaritan saw a car hit what they thought was a squirrel but then they realized it was a very small grey kitten! They brought the kitten to their vet clinic in St Paul. MN where the little kitten received wonderful medical and foster care. Unfortunately, her back right leg was so severely damaged that they had to amputate it. Her pelvis was broken on the left side. They tried to straighten it as much as possible but she still has a curve.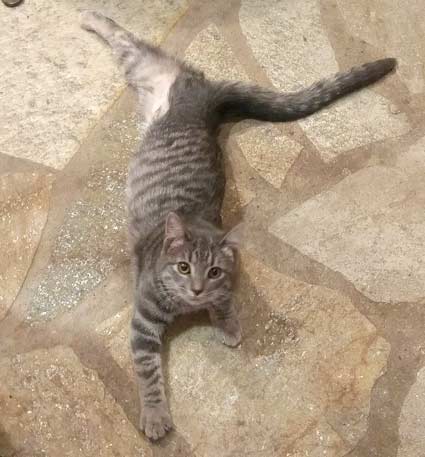 When I saw the Cause for Paws Facebook post, I said the kitten would be a great match for our current tripawd cat, Pi (named for her 3.14 legs!). My husband and I went to meet Kitten Little – as the clinic had named her. She played and played; she was not shy and she was very comfortable meeting new people. She came home with us that day and we named her Squirrel since the Good Samaritan that saved her initially thought she was a squirrel.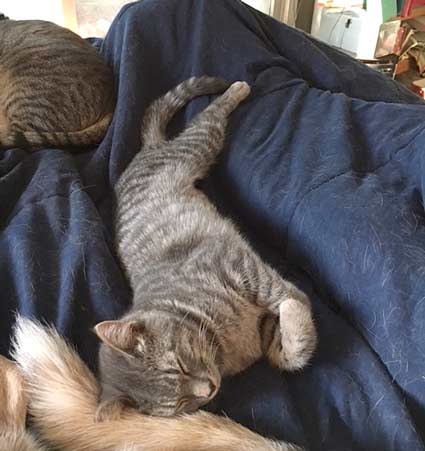 Squirrel has rapidly moved into our home and our hearts. She's a confident kitten with a loud rumbly purr. She loves to nuzzle into our necks at night. She curls up next to our dog during the day and pounces on his wagging tail. Squirrel runs up and down the stairs as fast as any other cat. Due to her curved pelvis, she looks like a running comma! She chases and plays with our cats. Because she is missing a back leg, she doesn't have the strength to jump as high as other cats. To help her get into our bed, we have bought a set of pet stairs which she readily uses.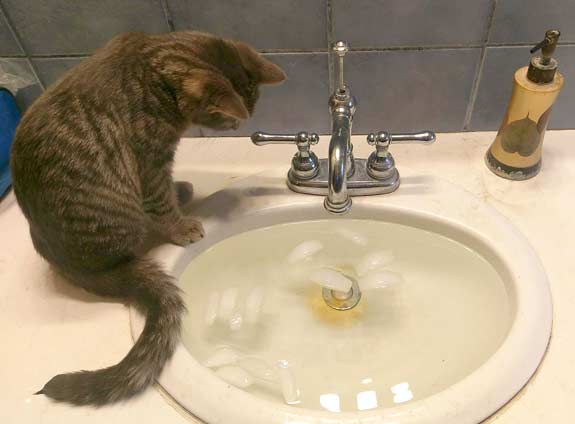 Squirrel loves water! She eagerly jumps from the floor to the toilet to the sink so she can drink out of the faucet. When she was first found, she only weighed one pound! She was four pounds when we adopted her. We will have to be extra vigilant that she does not become overweight. While obesity is a concern for any pet, excessive weight gain can result in arthritis or other health problems in Tripawds, partly because they have fewer limbs to distribute their body weight.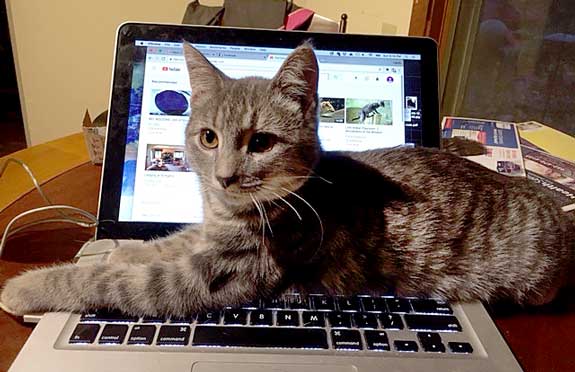 Years ago, I saw someone call a tripawd broken. They are not broken! They don't know or even care that they are missing a limb. They love, they play, they run, they cuddle as much as any 4 legged pet!
~Laurie (aka: chaurie)