Thanks to the Tripawds Rescue Fund made possible by supporters like you, we were able to reimburse Tripawds member jchen for adopting another three legged cat in need. Read on for the story of Tripawd Rescue Daisy…
Have you recently rescued a three legged dog or cat? Get more information about the Tripawds Rescue Fund to see if you qualify.
Support Tripawds to Keep the Rescue Fund Going!
See all available program sponsorships.
Meet Tri-kitty Daisy
Despite growing up with an array of household pets, I have never had the chance to care for a special needs animal. Daisy was gentle but cautious with me the first time I met her at Second Chance for Homeless Pets, and quickly warmed up as I visited her almost every other day the following week. As I grew more certain of adopting her, I began to converse with the shelter staff about ways to make Daisy's life easier on three-legs. She was so shy that some of the staff didn't even notice that she was a Tripawd Kitty!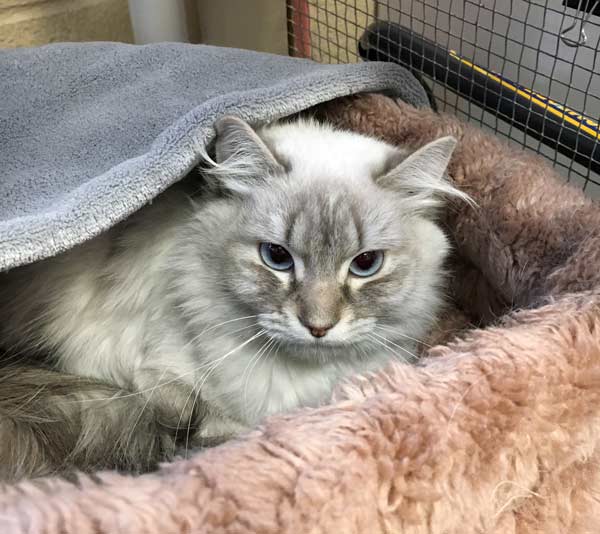 They all agreed that she had no problem jumping or getting around in general, and adjusted extremely well as a young cat. I went home and did more independent research on caring for three-legged animals, which is how I heard about the Tripawds community. I was amazed that there was such a strong bond between owners sharing their experiences and seeking advice on how to best care for their Tripawd companions. Following the advice of numerous cat owners and veterinarians in the online community, I quickly rearranged my furniture to make future jumps and steps up to higher vantage points easier for Daisy. I also bought plenty of toys to engage healthy and active behavior, as well as maintain strong abdominal muscles to support her weight evenly.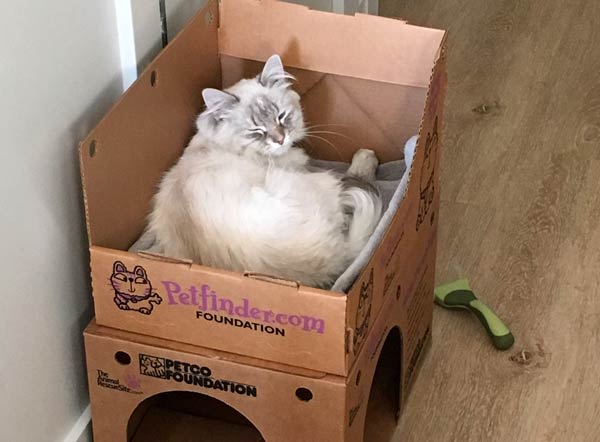 Before adopting Daisy, I didn't have any particular perception of special needs animals because I had not come in contact with many. The main thing I would say to someone who is thinking of adopting a three-legged cat or dog is to pay attention to the animal's accessibility and weight management as far as choices in diet. It is important to keep the animal in a healthy range, and not strain its limbs with excess weight. The most important thing is to allow the animal their independence and freedom in your home as a treasured pet and special member of the household. We admire animals for their resilience and survival strengths, and it is truly an honor to be able to provide a safe space for them to live their lives as our three-legged companions.
~Joell (aka: jchen)
Support Tripawds to Keep the Rescue Fund Going!