Thanks to the Tripawds Rescue Fund made possible by supporters like you, we were able to reimburse Tripawds member mathvxn for adopting another three legged dog in need. Read on for the story of Tripawd Rescue Dougie…
Have you recently rescued a three legged dog or cat? Get more information about the Tripawds Rescue Fund to see if you qualify.
Support Tripawds to Keep the Rescue Fund Going!
See all available program sponsorships.
Meet #TripawdRescue Dougie
Our family is currently owned by two dogs – Corgan, our 12 year old Cavalier King Charles Spaniel (CKCS) and Dougie – our 6 month old mixed-breed Tripawd.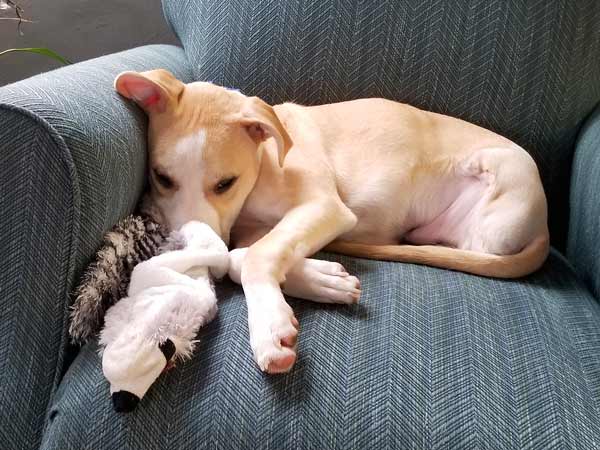 We decided we wanted another CKCS and searched and searched for someone to adopt. After being passed over by a number of rescues, we decided to broaden our search. We began applying for all kinds of (smallish) dogs – and again and again we were too late, they were already adopted. At that point, we contacted the owner of Adopt A Pit Rescue and asked if she had someone who fit our criteria: young, housetrained, and gets along with kids and dogs. She said yes! She had the perfect someone for us – he met all of our criteria, but he only had 3 legs.  This didn't bother us one bit.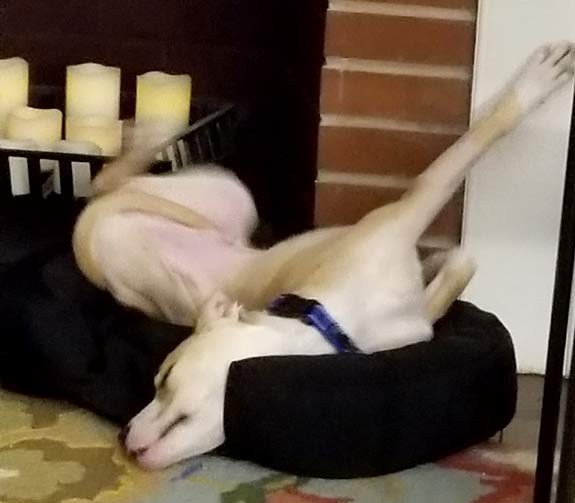 We went to visit him and fell in love. He was just what we wanted in a dog, and he's super smart to boot! We have a friend who has a Tripawd pit bull and I told him about our new family member and he congratulated us and referred to our new pets as "Tripawds". I used this search term and found the Tripawds community, where we were welcomed with open arms. We learned about this Tripawds Rescue Fund and also the Maggie Moo Fund for Tripawd Rehab.
We looked, and learned there's a certified rehab practitioner just 15 minutes from our house! In order to keep Dougie live longer, healthier, and injury-free on three legs, we hope to meet with a practitioner soon to have him evaluated and learn exercises we can do at home.  We also hope to learn about supplements and whether we should start him on them now or wait until he's older and "needs" them.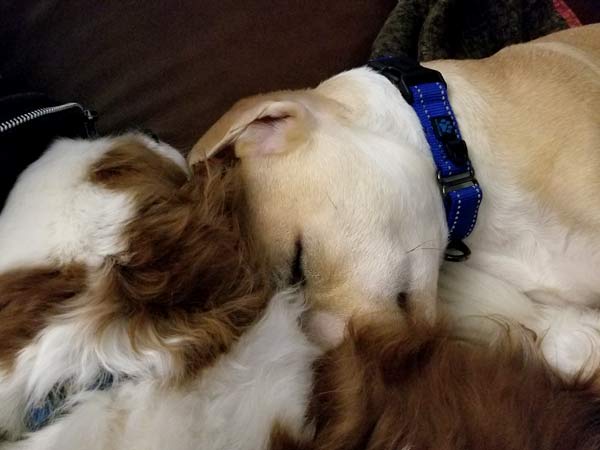 Finally, we will continue feeding him good quality food for the rest of his life. It never occurred to me that a Tripawd pet would be considered "special needs," though I suppose now that is true. Dougie will require extra exercises and maybe supplements, but really there's not a whole lot different from what a 4-legged dog would need. I would encourage potential adopters to consider a Tripawd – there's not much they can't do, and so much love they can give!
Sincerely,
~Jenni (aka: mathvxn) and Dougie Thompson
Support Tripawds to Keep the Rescue Fund Going!