On behalf of the entire Tripawds Community, we give That Pet Place a great big three paws up for supporting the Tripawds Foundation! Again.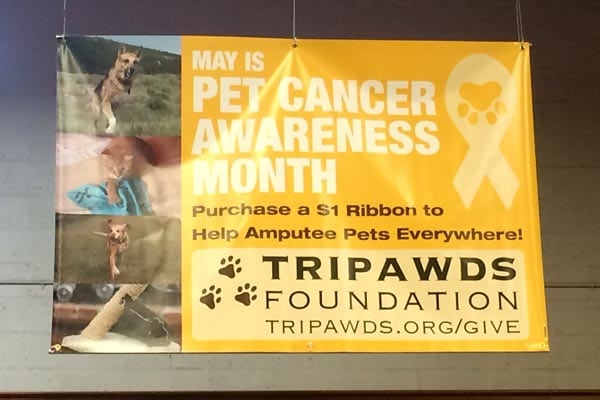 That Pet Place – That Fish Place Supports Tripawds Foundation
For the fourth year in a row, That Pet Place selected Tripawds as their chosen charity for Pet Cancer Awareness Month. And we can't thank them enough. By asking customers at their Lancaster, Pennsylvania store to purchase a ribbon at checkout, this year they made a charitable contribution of $2527.57 to support the cause.
What cause is that you ask? Our mission is to help amputee pets and their people everywhere!
The majority of Tripawds members are well aware that cancer is the leading cause of limb amputation in pets. Thanks to That Pet Place for spreading this awareness to so many more people, who gave from the heart to help maintain the many free resources and keep assistance programs going.
Local Tripawds members Bud and his mom Kim were once again there to represent the largest online support community for three legged pets and their people.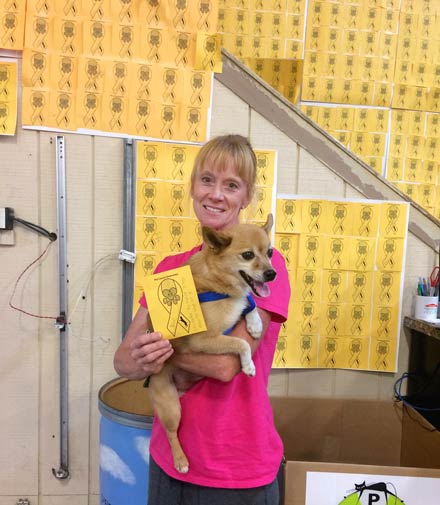 Plenty of That Pet Place customers clearly came out to show there support, with donation ribbons covering the walls at the store. Store staff and management did there part too.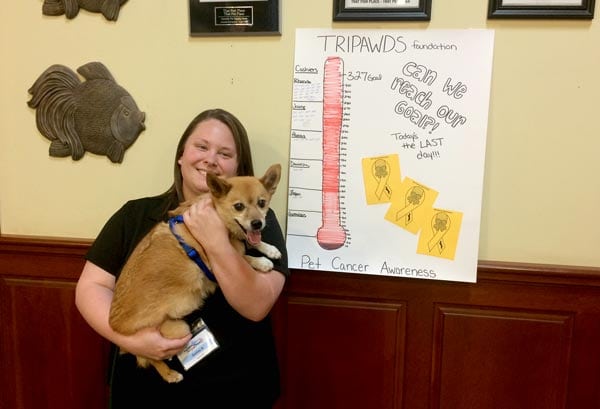 With their help, cashiers collected more than $2500 which almost brought us up to date for reaching our fundraising goal this year. Almost.

We are now more than half way through the year, but the Tripawds Foundation is still falling short of 50% its annual fundraising goal. Programs have already been cut to help maintain financial assistance and the many free resources, so your help is needed now more than ever.
Support Tripawds to Honor Your Angels & Heroes Here
How Can You Help?
Please consider making a charitable contribution of any amount. Every little bit helps! Or… Follow the lead of those fine folks at That Pet Place / That Fish Place!
If you have a business or know of a local pet store that hosts fundraising campaigns for animal health causes, approach them about supporting the Tripawds Foundation, a 501c3 public charity dedicated to spreading awareness about cancer in pets and supporting the people who care for them. Grab the Tripawds contact info or get some free outreach brochures to help explain the good we are all doing to help Tripawds everywhere!