The Tripawds Foundation ASAP grant #36 goes to Tripawds member katevickers123 to help pay for Tripawd Roo's front leg amputation surgery. Read on for her story, and learn more about the Tripawds Amputation Surgery Assistance Program to see if you qualify for pet amputation financial assistance.

This grant is made possible by the charitable contributions of Tripawds fans like you. Thank you for your support!
Financial Help for Tripawd Roo
My name is Kate, and I'm 27 years old.  I live in Zillah Washington with my 9 month old female labradoodle Roo and my cat Olaf. We have a lovely country life out here in the orchards, where my brother Marc is my roommate. I'm currently in school to get my special education certificate in order to become a self contained teacher here in the Yakima School District! In the meantime I work as a para in an autism classroom, as well as a part time home care aid.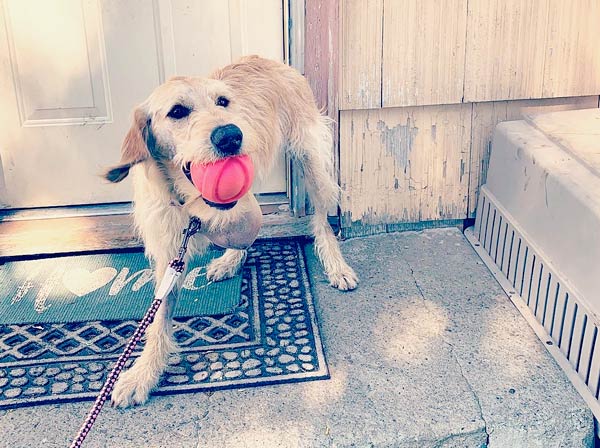 On May 19th, 2020, tragedy stuck as I got a call from my brother Marc at 6am. He told me Roo had just been hit by a car. He made the bad judgement call to not leash her on their morning walk, as the strip of road before heading onto the canal is short (a mistake he would come to feel extremely guilty for). Sure enough a car hit her, speeding up as it drove away. We immediately got her to the emergency pet hospital, where she was stabilized until our vet clinic opened. While she showed overall improvement, one leg was showing signs of nerve damage. We wouldn't know for sure until we gave it some time.
Fast forward a week later, and she tore up the bottom of her paw out of irritation. She seemed distressed and was only walking on three legs. We went to the vet, and it was what we feared – her nerve damage was to the point she would need to lose her leg. She had surgery on Thursday May 28th. At such a young age, we knew she would handle the amputation with strength, and that has proven to be true! She is recovering well and we are so proud of how she is transitioning to life as a Tripawd.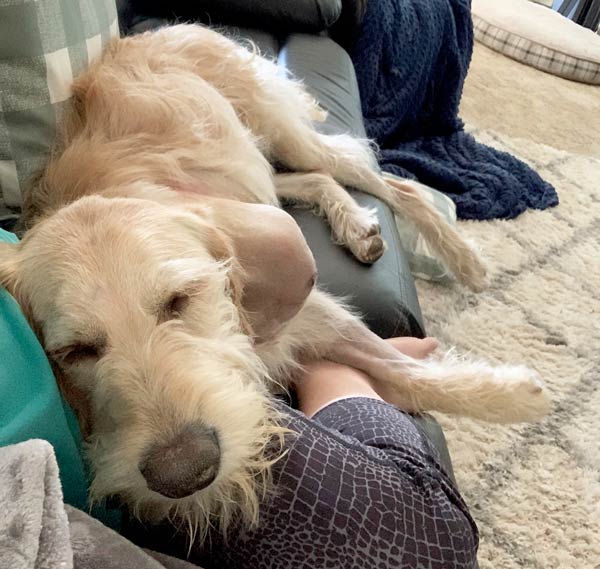 While my brother did help with the initial bills, the cost of those plus paying for surgery has taken up almost all my savings. I'd been saving to pay for my bachelors program in the fall (I just finished my AA). Having some of the financial burden of this sudden trauma would mean the world to me.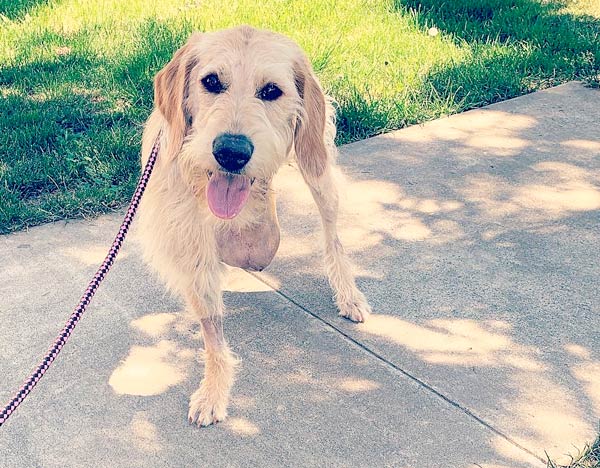 I came across the Tripawds Community site looking for resources on how to best assist her in recovery. I love Roo, and am so incredibly grateful she's still alive through all this. I just want her happy and healthy again- this amputation surgery seems to have done just that. Thank you for this opportunity and all the assistance you give for those going through this process!
~ Kate & Roo (aka: katevickers123)