Tripawds Community member rjz123456789 is recipient #96 of the Maggie Moo Fund for Tripawd Rehab After Amputation. Read about how a free Tripawd rehab session helped three-legged senior dog Ranger, and learn how you can get a free veterinary rehab evaluation for your dog or cat.

Yes! Tri-kitties qualify for free feline rehab too. See all Tripawds who have received free rehab sessions thanks to your support.
Ranger's Tripawd Rehab Session
Ranger is ~10 years old. He is adopted, likely a Hound-Retriever Mix. We adopted him in May 2014. When we adopted him he had all four legs. He had a lot of issues when we adopted him, including Heartworm, and we weren't sure if he was going to make it. He pulled through and has turned out to be a very sweet dog. I wanted a dog that I could train to visit nursing homes and other therapy dog-type of activities. Ranger turned out to be perfect for these activities.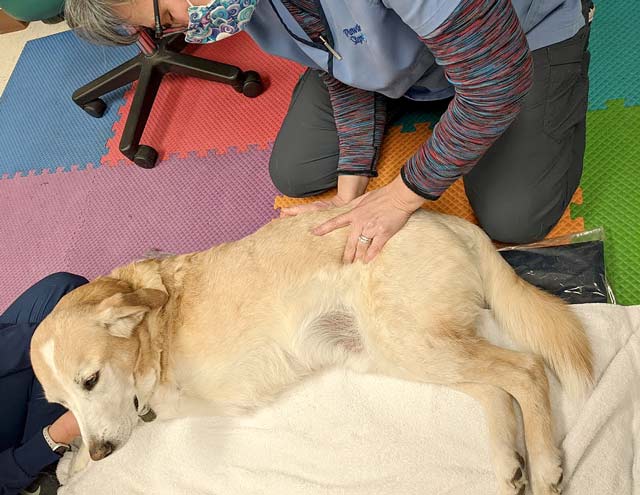 Ranger was diagnosed with Osteosarcoma of his front, left leg (Humerus) on September 16, 2020. We had the leg amputated nine days later. His chemotherapy sessions started two weeks later.
We contacted a local physical therapist at Pawsitive Steps, to whom we were referred by a friend. Due to their excellent reputation, they had a long wait list to get in for a Tripawd rehab session evaluation and our appointment was scheduled for two months later, December 2020.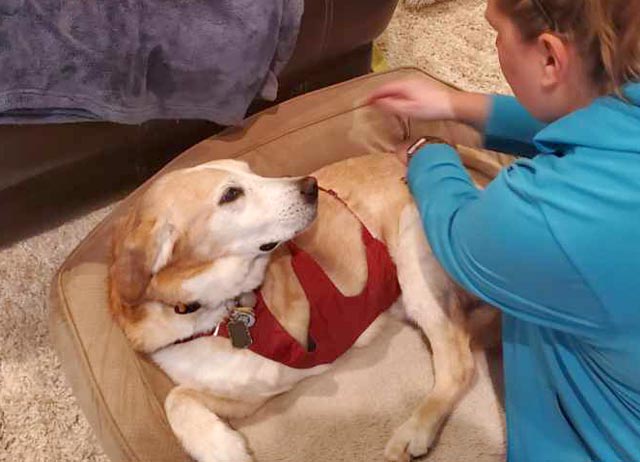 Tripawd Rehab Exercises for Ranger
Pawsitive Steps prescribed a number of stretching exercises and massage techniques that we perform daily.
Cookie Side Bends – With dog standing, using a treat, (1) lead nose toward right and then left side of body; (2) lead nose up toward ceiling then down toward chest. Perform slowly and hold each position for 5 seconds. Perform 5 reps, two times daily.
Shoulder Glides and Extension Stretch – Using the palm of your hands, you will slide your pet's shoulder glides in several directions. Once you reach the end of the movement, you will hold the shoulder blade for 10-15 seconds, before returning to normal.
Massage – 5-10 minutes daily each of these areas: back, neck, front limb, and hind limbs.
These prescribed Tripawd rehab session exercises help relieve the discomfort associated with his arthritis, spondylosis, back pain, and muscle atrophy. These exercises provide relief of back discomfort, strengthen core muscles, strengthen thigh and hip muscles, improve balance and body awareness, improve flexibility and quality of movement, and overall maintain an excellent quality of life. Ranger also receives acupuncture weekly at Pawsitive Steps to help with his arthritis. Acupuncture has been wonderful for this. Lastly, we just started renting a front-leg wheelchair from Pawsitive Steps and he is learning to use it.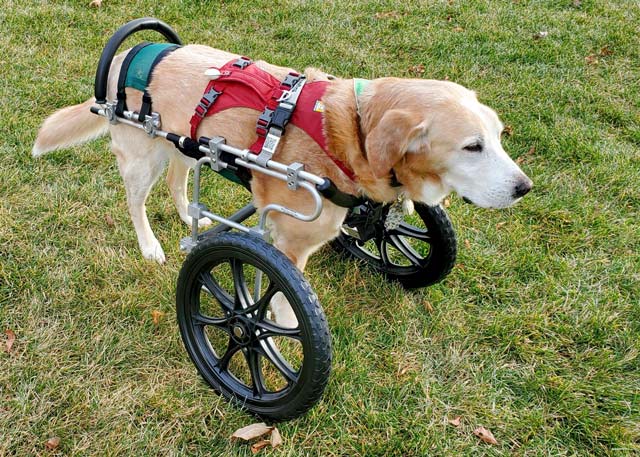 The most important thing that I learned during his PT evaluation was that he has back pain. I focused on his shaky/weak legs and arthritis prior to the PT evaluation because that was most obvious to me. I was sad to learn he was also suffering from back pain and I'm so thankful Dr. Kern was able to identify this and have her team start treating it right away.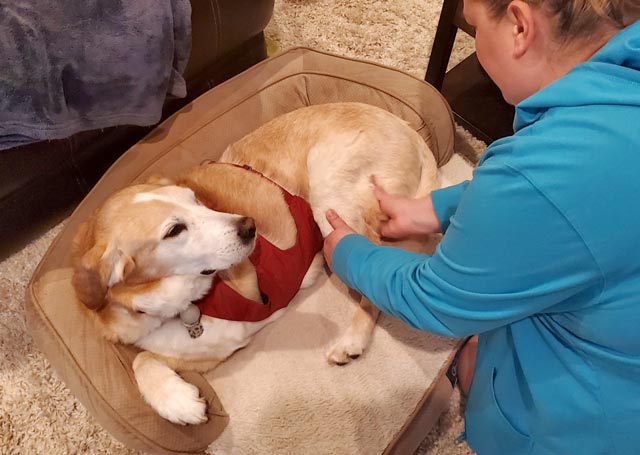 We learned about the Tripawds Community via Google. Once we met the surgeon and were told Ranger needed amputation, we only had nine days from that decision until surgery day. We did a lot of reading in preparation for surgery in those nine days. Tripawds was an invaluable resource as we prepared Ranger, ourselves, and our home for the Tripawd lifestyle.
~ Renee and Ranger (ala: rjz123456789)