Tripawds Community member eringkey is recipient #95 of the Maggie Moo Fund for Tripawd Rehab After Amputation. Read about free Tripawd rehab assessment for three-legged cattle dog mix Roux, and learn how you can get a free veterinary rehab evaluation for your dog or cat.

Yes! Tri-kitties qualify for free feline rehab too. See all Tripawds who have received free rehab sessions thanks to your support.
Our family adopted Roux, a shepherd-cattle dog mix, in August of 2020. Born approximately in May 2020, on August 4, 2020 she ended up at Ruff Love Recuse in Thomasville, NC after being hit by a car. After a thorough examination it was determined that her back left leg could not be saved and it was amputated. Less than 3 weeks later she came home to live with us!
Rehab Assesment Helps Roux Be a "Normal Dog"
At the rescue and then at a follow-up vet appointment we were given the advice to just "treat her like a normal dog". Especially since she was a puppy, she would adapt very easily to the missing limb and would be as active as any other dog. Everything was fine for a couple of months. We took multiple walks a day and she even liked to break into a sprint. However, I noticed that the nails on her (only) back leg were really ground down. I took to Google to see if I could find out more info, like if I should have her wear a bootie of some kind of protection.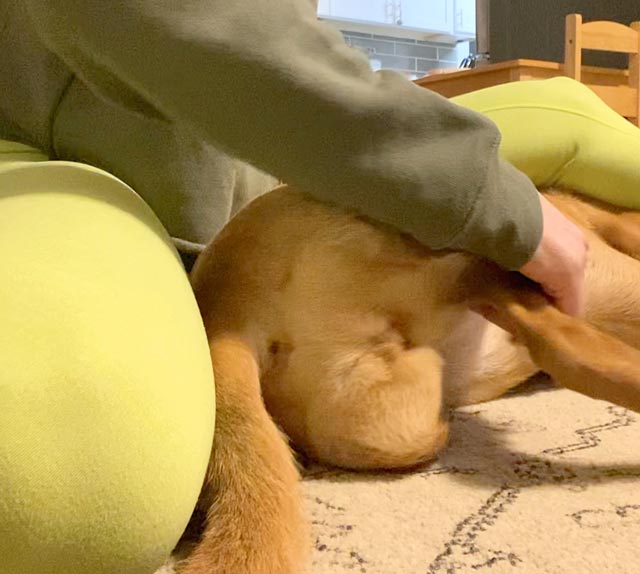 I found the Tripawds Forums and posted a question about her paw to which quickly had multiple responses. Not only did I get feedback for her paw, but I was recommended a PT in my area and informed about the Tripawds Rehab Reimbursement program.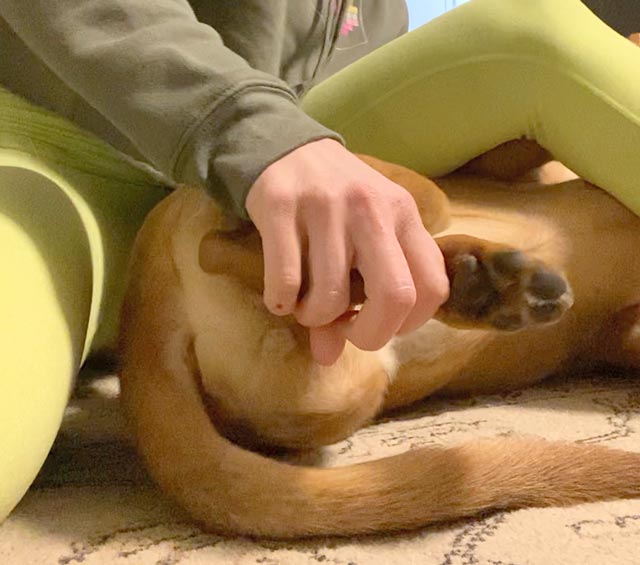 I took Roux on November 30 for Tripawd rehab assessment with Dr. Shannon Jarvis at Old Town Vet in Winston-Salem, NC. Dr. Jarvis spent almost an hour examining her inside while I waited in the car (COVID-19 protocol). She then spent an additional 20 minutes at the car with me explaining the exercises she wanted me to do (hip flexion, hip and stifle extension, stifle flexion, hock flexion/extension) about 10 minutes a day. Dr Jarvis also recommended heating the area first (to warm up the muscle) and also gave me info about a harness that could help support Roux's remaining back leg. And she told me to scale back on the walks (especially since Roux is still a puppy) but to take her on shorter therapy walks (10-15 min) where she walks at a controlled pace to help strengthen the back leg.
Overall, I am really glad we found this vet and had the opportunity for a free Tripawd rehab assessment. I feel much more informed as the owner of a "special" dog and that I can meet her needs better. I have a better grasp on her physical capabilities and limitations. Thanks for creating this opportunity!
~ Erin and Roux (aka: eringkey)