The Tripawds community is filled with mighty big hearts. We are over the moon about a Tripawds Dog Art Auction matching gift!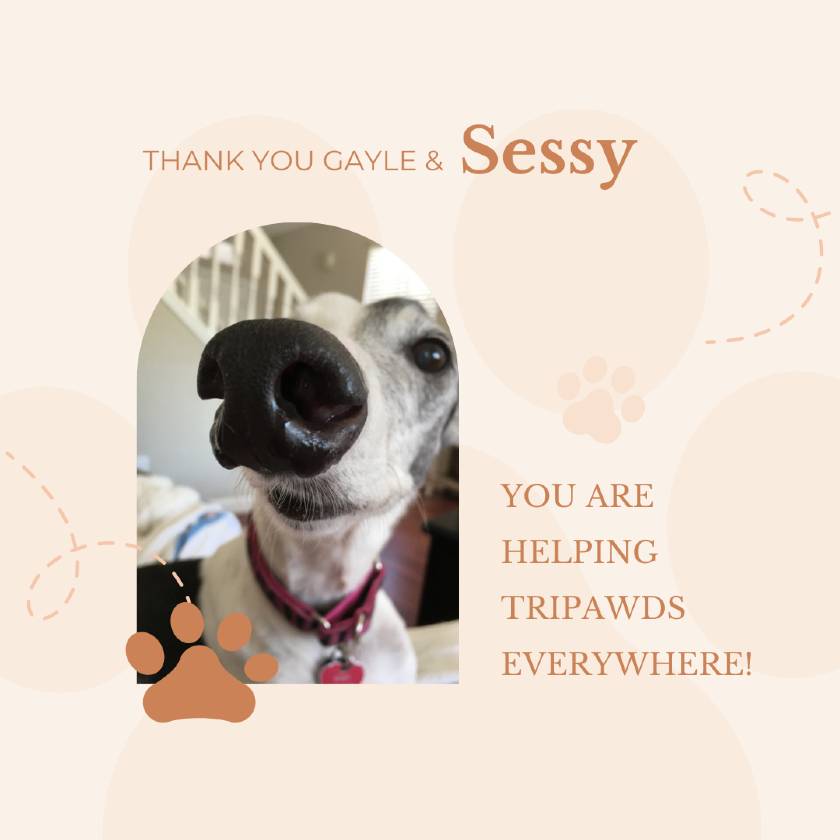 We got a message on opening day of the Tripawds Dog Art Auction. It was from Gayle, a longtime Tripawds member, Helpline Host and mom to Angel Sessy. Her beautiful Greyhound Tripawd was diagnosed with osteosarcoma in December, 2016. She did a spectacular job kicking cancer's butt! Nearly one year later, Gayle wrote:
For now…..Sessy is feeling good……so I am feeling good……..and for a greyhound that turns 12 next month she looks a GREAT!!!!! I love my girl!!!!!!!
A few days ago after she previewed the Tripawds Dog Art Auction paintings, Gayle reached out to us. "I'm willing to match the first $1000" she wrote.
WOW!
We did an earth-shaking hoppy dance. Gayle's generous offer will be a huge help to this fundraising event. One thousand more for the Kaiserin Pet Cancer Care Package fund means more pets can receive tasty, fun, and helpful gifts to help them fight cancer and enjoy life.
Ready to Start a Tripawds Auction Matching Gift Campaign?
The good news is, that generous Tripawds Dog Art Auction bidders have already raised just over $1000 for the fund. This is AMAZING! Gayle matched the first $1000 bid, now how about you? We appreciate matching gifts of any size. Let's keep this pawty going! Contact us today and let us know that you want a Tripawds Auction Matching Gift Campaign too.