Free pet rehab program grant #107 from the Maggie Moo Fund for Tripawd Rehab went to help Blue, a front-leg Tripawd Golden. Free rehab for Senior Tripawd Blue helps him regain strength and stay strong. Read his story, and learn how you can get a free veterinary rehab evaluation for your dog or cat.


Yes! Tri-kitties qualify for free feline rehab too. See all Tripawds who have received free rehab sessions thanks to your support.
Canine Rehab for Senior Tripawd Golden
Hi there! We saw Daizie and Kristen at Circle Oak Rehabilitation on Friday, September 24th and they were absolutely wonderful! We are very glad that we got started on this process as soon as possible, which we were advised to do after speaking with Renee from the super helpful Tripawds Helpline.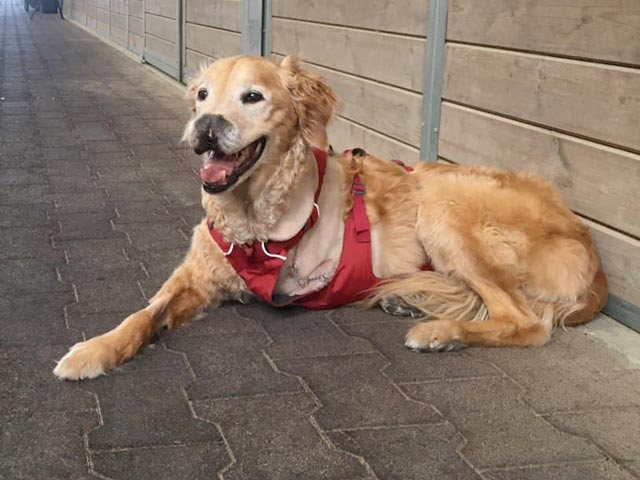 My 13.5+ year rescue old dog, Blue – a Senior Tripawd Golden – recently completed his 3rd cancer surgery for squamous cell carcinoma: a front leg amputation. We are so deeply grateful for the extra time and quality of life this amputation has afforded us together. He was not using the leg for the 3 weeks prior to the time that it broke, and he was in excruciating pain. Finally just hours before the break, we got a diagnosis of likely cancer. Our only other option at the point of breaking was amputation.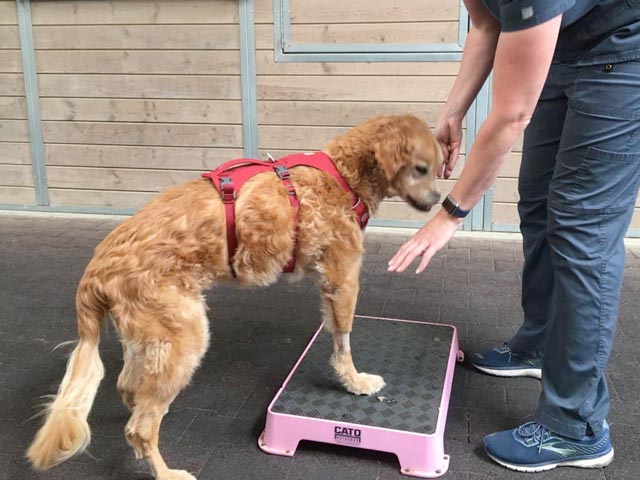 While we had originally booked the appointment with Circle Oak under the advice that Blue was suffering from calcification of the shoulder, they were quite nimble about the change in direction. On our first visit, they helped us develop our plan for hydrotherapy and shockwave, wrist support for his tripod leg, a front wheel cart, as well as a plethora of home exercises and home care supplements/techniques. Daizie and Kristen both seem highly knowledgeable, empathic, and exceptionally easy to schedule with.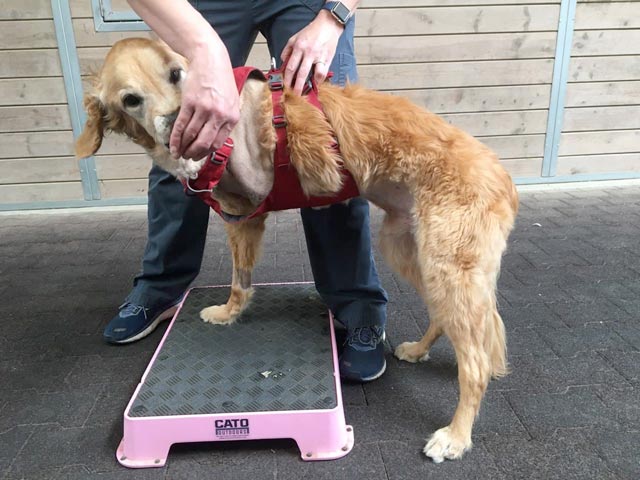 We are so grateful to be in their care during this new phase of less mobility but more presence and joy! I believe we are in really good hands and that Blue will get the highest quality of possible strengthening, pain management, and physical assistive devices to give him the quality of life he deserves.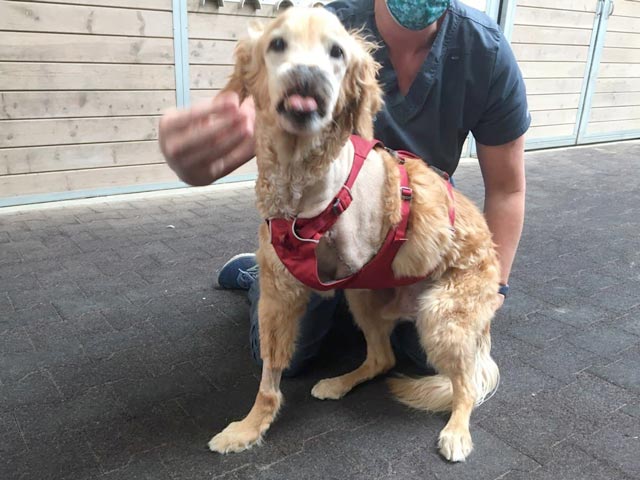 At Home Rehab for Senior Tripawd Blue
The home care PT plan they provided was extremely thorough. So thorough that I am switching to the treats they use to keep him motivated! I've attached a handful of pictures of the prescribed exercises they showed us. The recommended exercises they gave us were: Thermal Therapy, Manual Therapy, Cookie Stretch, Side to Side Body Transitions, Side to Side Sit Ups, Sit to Downs, Weight Shifting with Front Legs Elevated, and Sit-to-Stands. These are to be done multiple times per day each (the entire plan is below). The intention of the exercises is to reverse atrophy and increase strength and body condition. The thing I learned most is that he is not a good candidate for a canine prosthesis. And so we're going with the cart!
To the Tripawd Foundation: thank you so much for the recommendation!
~ Dan and Blue
At Home Front Limb Tripawd Rehab Program
Learn more about Senior Tripawds.