Ready, get set, hop!  2021 Tour de Tripawds registration is open.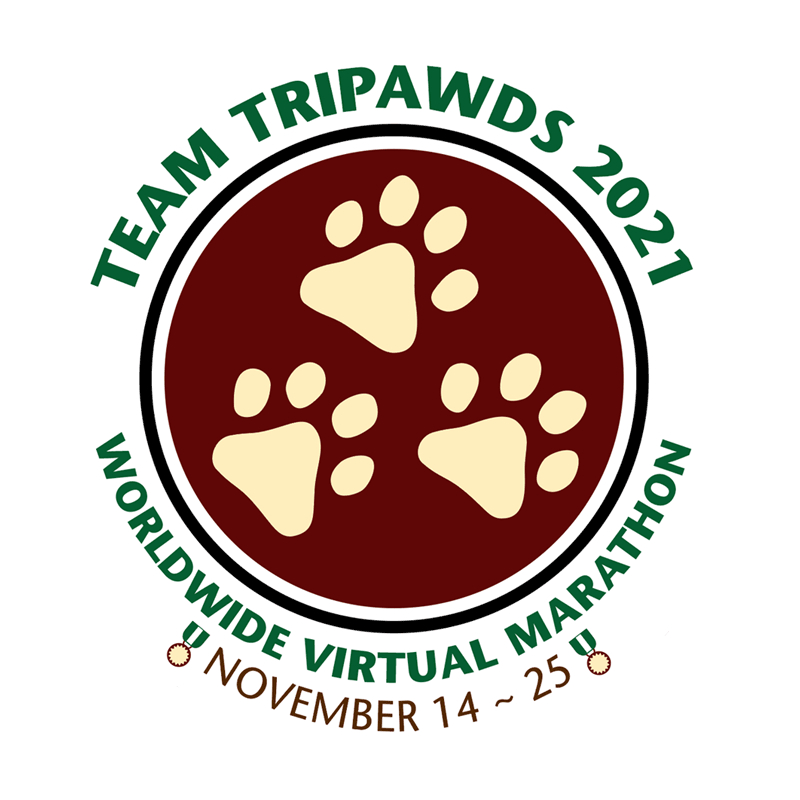 We need YOU on #TeamTripawds to help us reach the 2021 Tripawds Foundation Community Fund annual goal. Let's do this together!
The 2021 Tour de Tripawds Virtual Race happens
Sunday, November 14 — Thursday. November 25
REGISTER HERE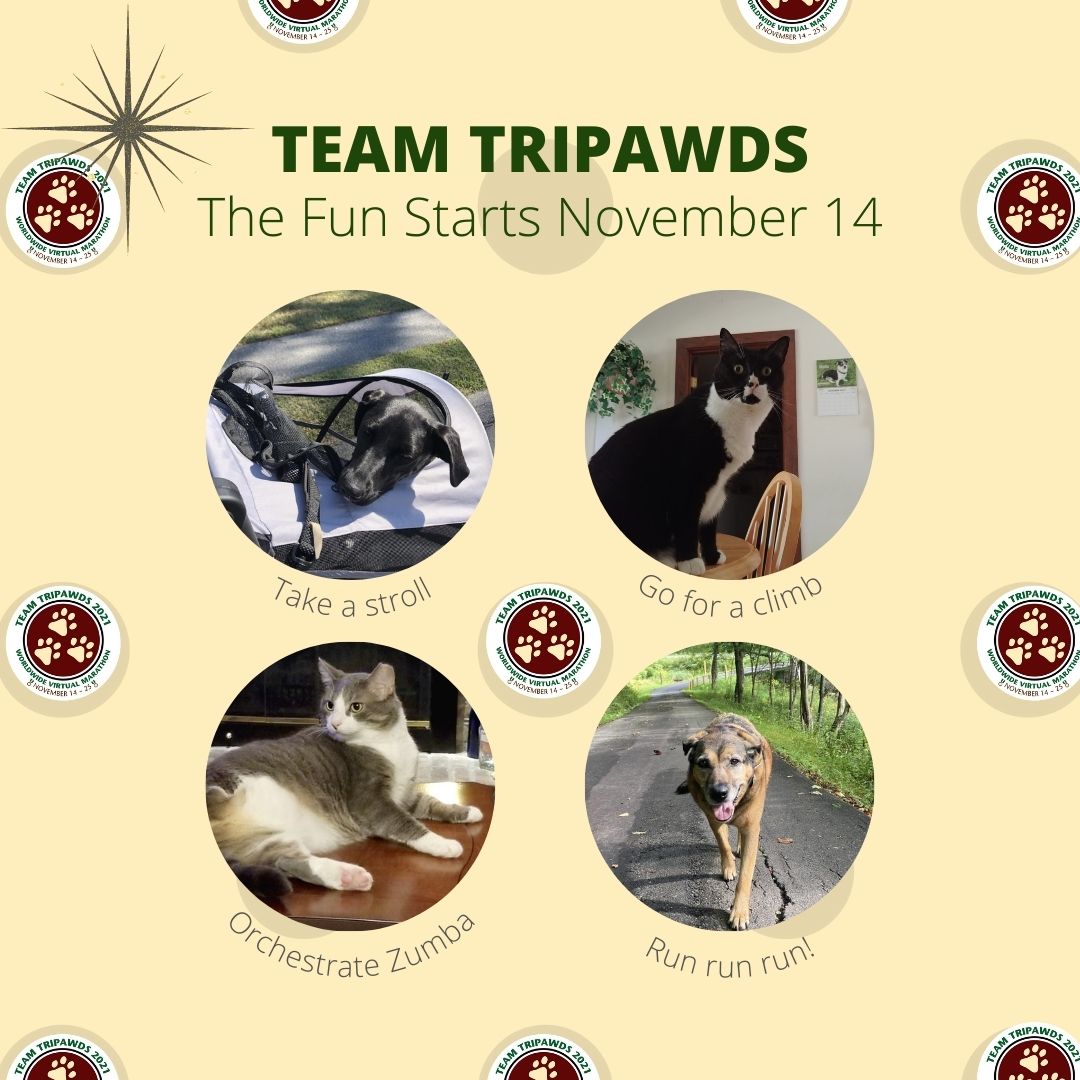 It's time to get your shirt and start raising funds for Tripawds everywhere. Help us break our 2020 fundraising record of $3700. This year we are aiming big and shooting for $4,000 raised.
Hop, Skip, Walk, Run and Race for Tripawds Everywhere
Tripawds annual Racery virtual race fundraiser is back! This time, Team Tripawds is taking an autumn tour of the lovely city of Toronto.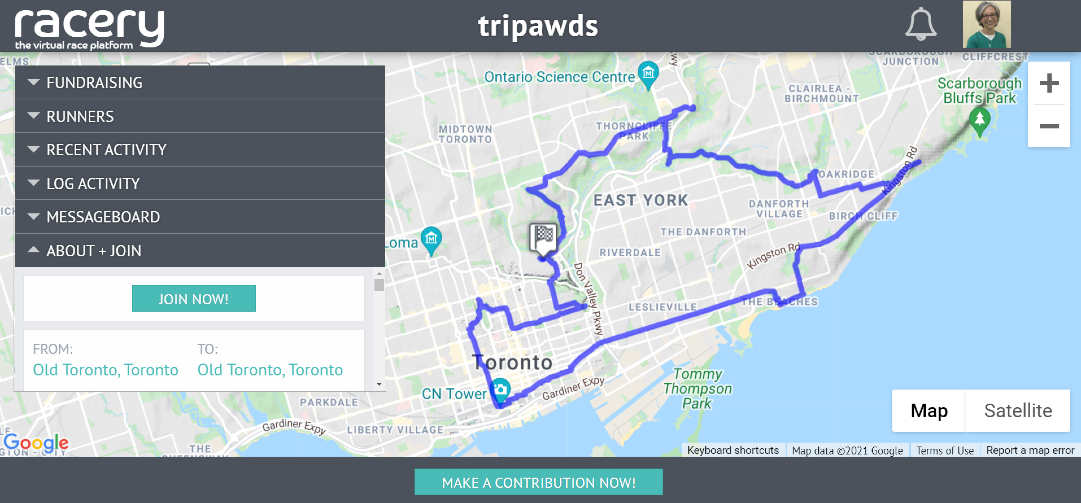 Everyone is welcome to join the fun. You don't need to be a runner to do this "race"! All you need is a willingness to shake your booty and do something physical. Just get physical in one of the many ways that qualify, and you can rack up 26.2 miles to finish the race!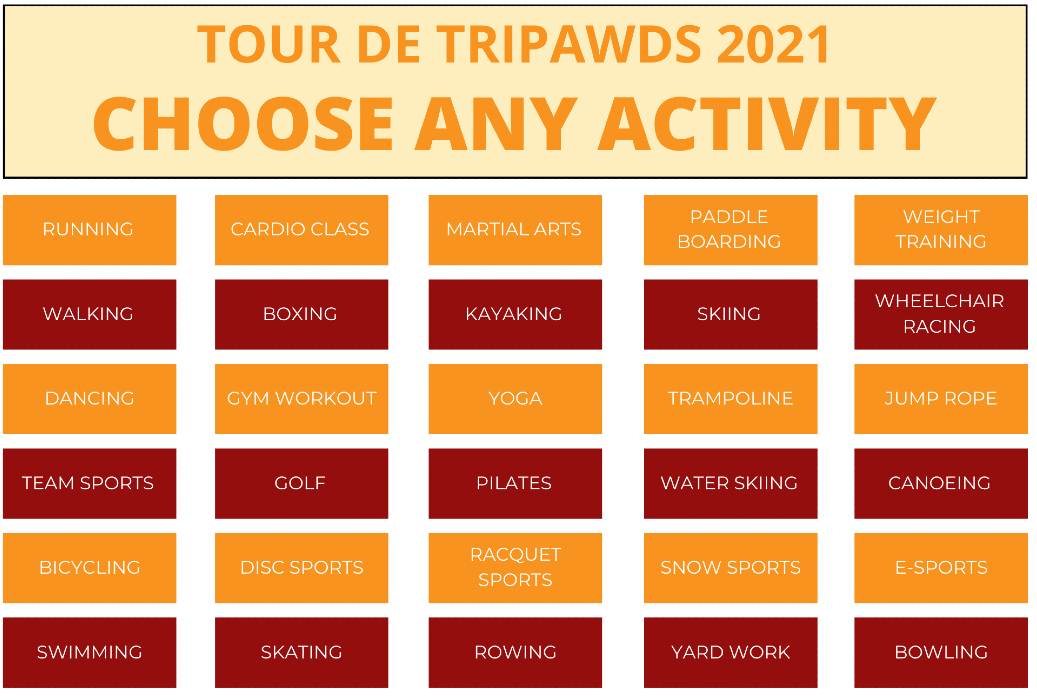 The 2021 Tour de Tripawds Virtual Race happens
Sunday, November 14 — Thursday. November 25
REGISTER HERE
Our virtual trip to Toronto is an important fundraiser for Tripawds Foundation programs. Please join Team Tripawds and make it our best race yet. It costs just $20 to enter, and $10 of your race fee goes to Tripawds Foundation.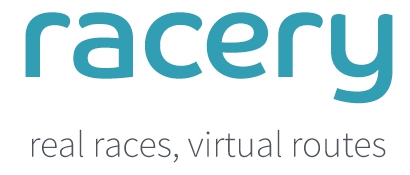 The pawesome people at Racery Virtual Races
donated resources to make this happen!
You can do this! Please register, and help us get the word out on social media. It's the best way to tell your friends and family about how Tripawds Foundation helps our 3-legged heroes . . . and get donations too!
Cross the border with us to Canada!
Last year in the Tripawds 2020 Virtual Race, the team "ran" across the Continental Divide in Yellowstone National Park. This time, we are racing through Toronto. Why Toronto? Because that's where a very special Tripawd cancer hero lived, Tripawd Angel Kaiserin.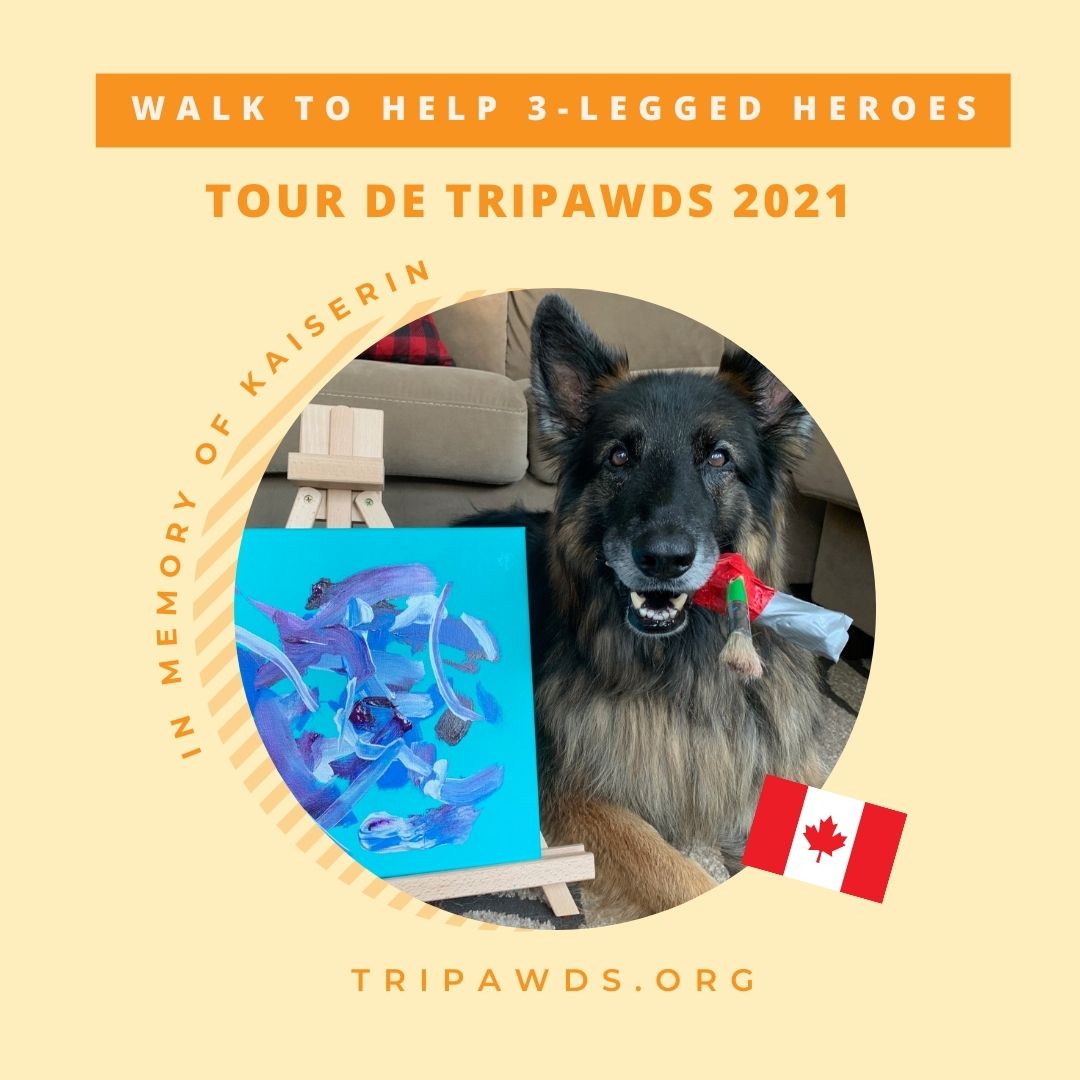 Kaiserin is the namesake of the the Tripawds Foundation Pet Cancer Care Package. Her beautiful spirit lives on, through the gorgeous dog paintings made today by her siblings, Schultz and Wilhelmina. Their work can be seen on Instagram  @thelifeofschultz and is sold on Etsy at Art4TripawdKaiserin. Proceeds go to the Kaiserin Fund to help 3-legged heroes with cancer live hoppier lives on three legs. In honor of this special girl, we chose Toronto for this year's race.
Tour Toronto's Best Dog Friendly Places
This year's race goes to all of the best places for pets in Toronto. Like the Berczy Park Dog Fountain, St. Lawrence Market, and Kew Gardens Off-Leash Dog Beach.
Every mile you log in the Racery App appears as a point on the tour map. It's a fun way to check out Toronto's must-see dog destinations!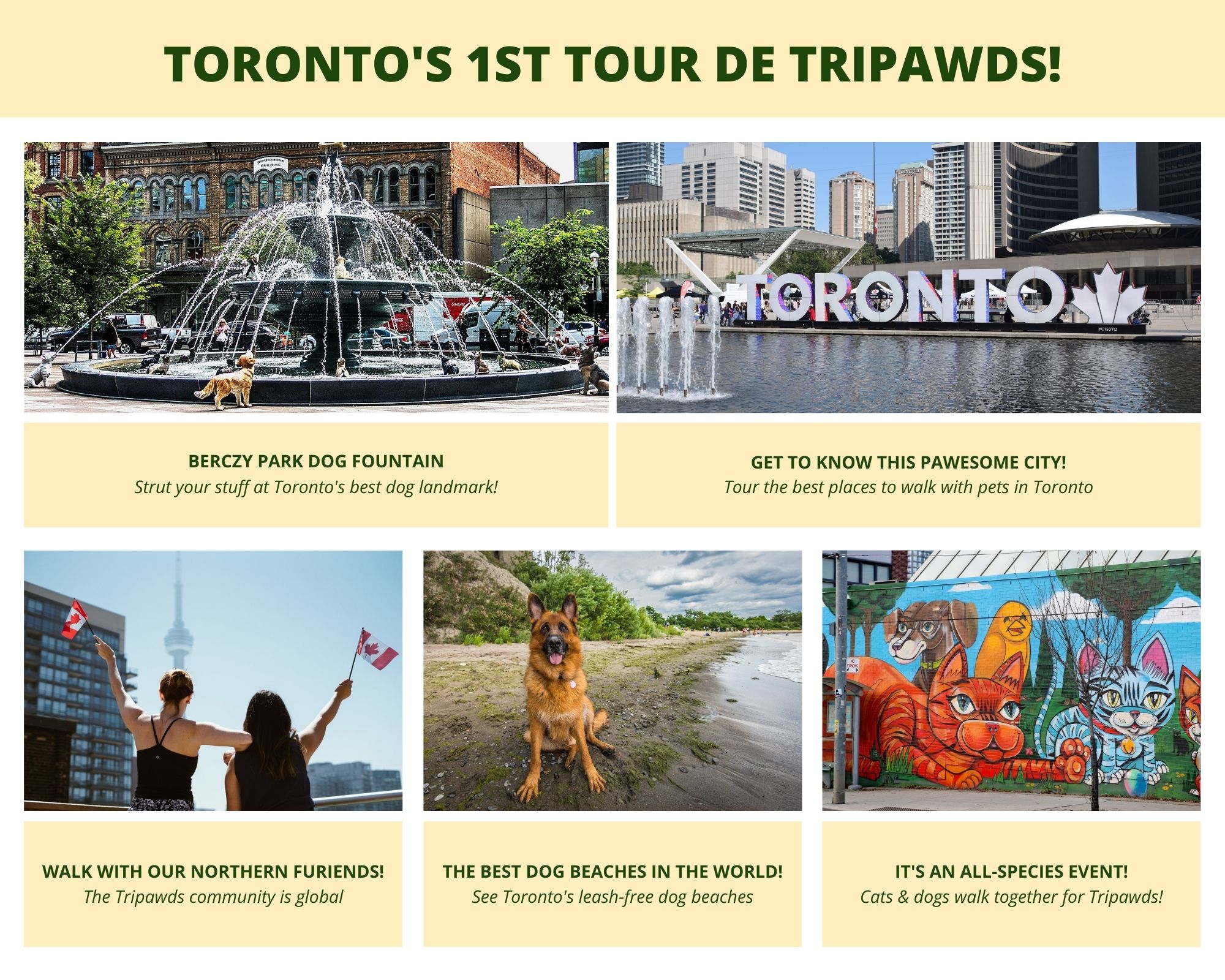 The more you share your progress with family, friends, and followers, the more money we can raise together.
Show Your Tripawd Pride Along the Way
You asked, we listened. The official 2021 Tour de Tripawds shirts are ready to order! You have plenty of time to order so whatcha waiting for?
Official race shirts are designed for the "Sport-Tek Competitor T-Shirt" sweat-wicking fabric. But you can also order a plain cotton t-shirt. Or, transfer the design to products like hats, totes, and even car flags!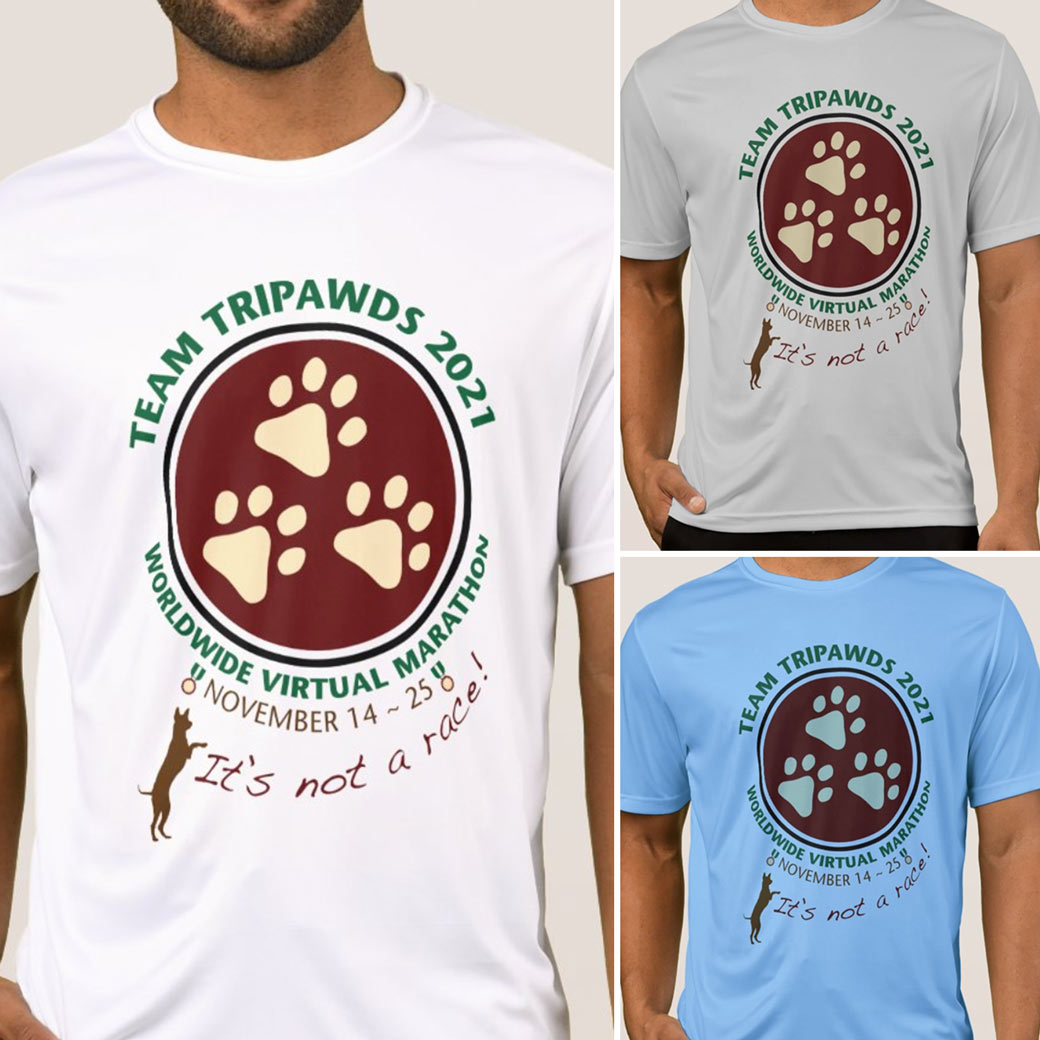 Join us, get some exercise, and experience this magnificent city together. The 2021 Tour de Tripawds helps build awareness of our community. The resources we provide, like the Tripawds Amputation Surgery Assistance Program, can only happen with donations from wonderful friends like YOU.
Thanks for globetrotting with us! Welcome to the team!