We are so thankful for the support of everypawdy participating in the 2021 Tour de Tripawds! By the time you read this, we hope to have raised $4000 for the Tripawds Foundation. With just two days to go in the Fourth Annual Tripawds Virtual Marathon, participants have raised $3,616 for Tripawds programs helping amputee pets and their people everywhere. If we're not quite there yet, it's not too late to support the cause.
The official "race" ends at midnight on Thanksgiving day. So get out there and join us for a final Turkey Trot! Share your personal fundraising link with friends and family. And no, it's not a race! 🙂 But we do have some special prizes for certain places – like the #1 Fundraiser. Nothing is official yet, but we have a feeling we know who that is going to be…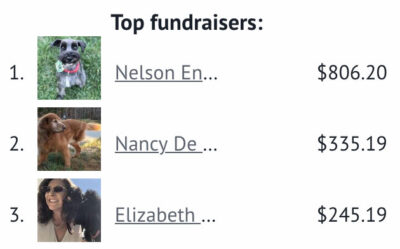 We are especially grateful for the kind folks at Racery the Virtual Race Platform. Thank to their continued sponsorship, this has been our best virtual event ever! Check out this short video to see how simple and fun the Racery platform makes it to to log activity and see your location on the course, comment on the progress of others, AND help raise funds to support the cause.
If you missed all the fun this year, it's not too late to back the team! Then, subscribe to Tripawds News and be sure to follow Tripawds on Facebook so you get notified in time for next year's virtual marathon. We sincerely hope that Racery will be on board again. We are so thankful for your support that we hope you'll join us too!
Hoppy Thanksgiving!
Please stay tuned for an official wrap-up with complete details about the 2021 Tour de Tripawds…