Yes! Tripawd cat rehab can help tri-kitties stay strong. Free pet rehab program grant #110 from the Maggie Moo Fund for Tripawd Rehab went to Tripawds community member jdm2803. Free feline rehab therapy helps Athena get strong and enjoy a happy healthy life on three legs. Read her story, and learn how you can get a free veterinary rehab evaluation for your dog or cat.


Yes! Tri-kitties qualify for free feline rehab too. See all Tripawds who have received free rehab sessions thanks to your support.
Athena's Tripawd Cat Rehab
Athena is a 1 year old Calico female who I initially fostered from 2 weeks old. We aren't sure what happened to the leg, I just noticed one day when she was 4 weeks old she was holding up her back leg and shaking all over, she improved on meds but the x-ray was so unusual that 4 different vets looked at it and couldn't decide what was wrong. We decided to adopt her to see how she grew hoping the leg would heal over time.
At 8 months I was concerned she might be in pain as the limping had got worse. Another x-ray – this time it showed the knee joint in pieces so we decide to amputate.
She initially recovered well but then after about a month started to sit with every step. She was still able to run and play madly just like she did when she had the bad leg but the walking gait was very odd. I put a message on the Tripawds forums asking if anyone else had a similar experience and Jerry kindly suggested Tripawd cat rehab and this support scheme.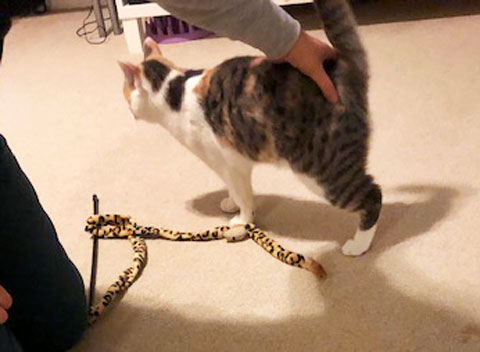 Physiotherapy for Felines?
Our vet has a trained physiotherapist who comes in each week. She watched Athena hop around the room and looked at the videos I had sent in. She also very gently touched her spine and when she got to the lower spine poor Athena jumped as she obviously had a sore bit there. The physio said the muscle all around the missing leg was quivering and she thought the pain was going into that muscle. She put some electrolysis through the affected muscles and you could see Athena relaxing and falling asleep – she looked very content. It could have been nerve pain which has caused her odd walk or the odd walk has caused the pain. There is no way to tell but the physio wants to treat what she can see which is the back \ muscle pain and see if that helps the walking.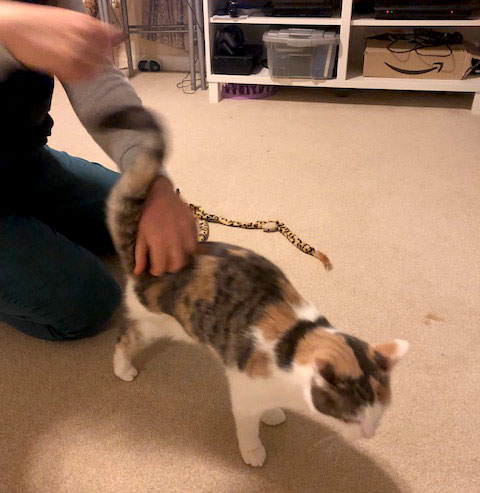 Feline Rehab Exercises for Athena
We have 2 Tripawd cat rehab exercises to do 3 times a day. The first is easy and involves stroking down Athena's spine and around the base of her tail as this encourages most cats to stand straight and extends her back. It also encourages blood flow around the area which aids in healing. The second is much harder. We are supposed to put her over a cushion or foam roller so that holds her weight making sure all her legs are in the right position. Then rock her gently back and forwards and side to side. Both exercises are about making her get used to standing correctly and not hooking her back leg under her. We can't get her to stay still over anything though so I am holding her in the right position and then doing the rocking.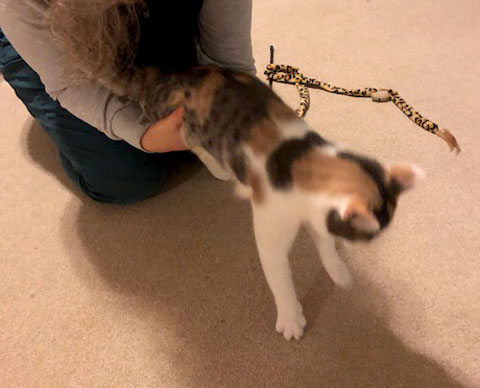 The physio wants us to go back for a few sessions and then evaluate if she needs to see a neurologist etc. I have learnt how hard it is to get a cat to stand still for Tripawd cat rehab. Also that I have to be patient as there isn't going to be a quick fix. Athena is still walking oddly but she has been a lot more playful and mad over the last week. I hope this means she is in less pain.
~ Juliette and Athena (aka: jdm2803)
About Athena: Kitten sits down on each walking step